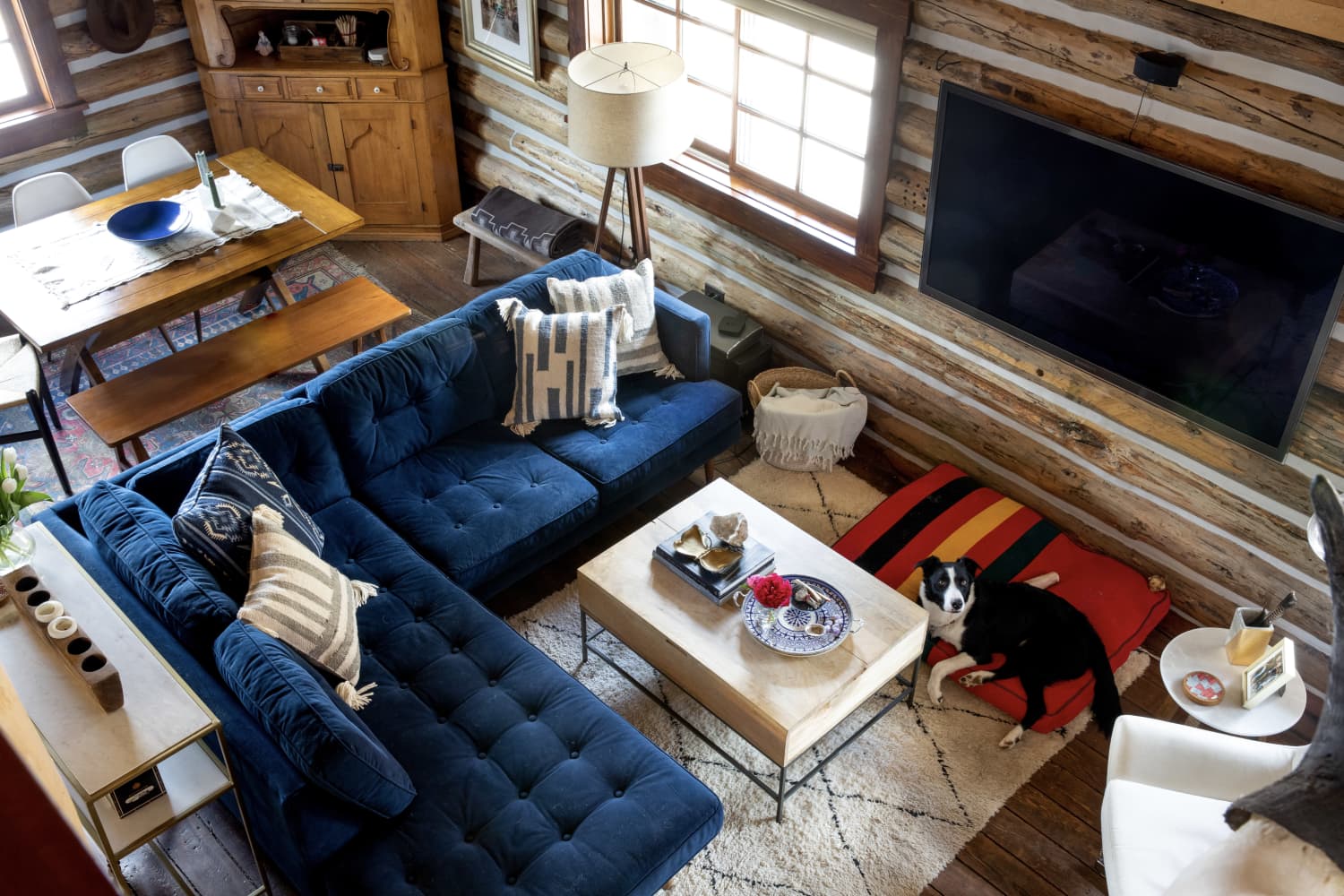 Name: Meagan Murtagh and her boyfriend, Adamo, with their two dogs Rudy Boots and Waldo
Location: Jackson Hole, Wyoming
Size: 760 square feet
Type of Home: Historic log cabin
Years lived in: 2 years, renting
"My friends were looking for someone to rent their remodeled historic cabin guest house smack dab in the middle of town so I jumped on it," begins Meagan Murtagh, an associate real estate broker and mountain town influencer in Jackson Hole, Wyoming. "Living next to my friends and in this amazing spot? How could I say no?! It's one of the best locations in Jackson Hole, within walking distance to restaurants, shopping, and even the ski hill. It's also only four blocks to my office. After work in the winter I'll throw on my ski boots and walk over to the local ski resort, Snow King Mountain, and in the summers I hop on my e-bike and cruise to date nights with my boyfriend. So many of our friends are within walking distance — it's such a lovely community!"
"My friend bought the cabin and fully remodeled it in early 2011-2012 after going to cabin-making school with his dad. He did such an awesome job bringing it back to life after it was an old wood shop that had no foundation, electricity, or water. The cabin feels really spacious after they bumped out the ceiling and added two lofts, one where we have our guest bedroom, and another above the front door, which is a smart way to add storage in a small space. The ladder is super lightweight with wheels so I can roll it from one loft to the other when I need to get up there. The best thing in the world is waking up early in the morning and walking across the creaky original wood floors when it's dumping snow outside, then starting a crackling fire to snuggle up with the dogs and sip coffee."
Apartment Therapy Survey:
My Style: Collected Mountain Chic
Inspiration: As a realtor, I see a lot of homes in Jackson Hole. I'm constantly inspired by different ways mountain homes are showcased. I like to take snap shots of different rooms or design elements in the houses so pull inspiration from. It's my favorite part of my job!
Favorite Element: My favorite aspect of space is the wood burning fireplace that keeps the cabin extra warm in the winter. Log homes stay warm in the winter and cool in the summer. I love having to haul the wood inside when it's snowing outside — I feel like a real mountain girl — and really getting it to roar. It smells so good!
Biggest Challenge: When I first moved in, it was just me. Then I added a dog. Then I added a boyfriend and his dog. Our biggest challenge was making all of our stuff fit but we consolidated and donated a lot. I'm a big KonMari fan, so I'm happy to say we all fit with even extra room to grow. He does have 20 pairs of skis (yes, 20!) but those live in the crawlspace until ski season starts.
Proudest DIY: Closet space is limited and my boyfriend needed a dresser of his own, but our bedroom is tight… I searched far and wide for the right shape and height online but couldn't find anything. A few weeks before he was supposed to move in, I found the perfect sized dresser at a consignment store in town, painted it, and then added fun leather pulls I found on Etsy. I think it fits wonderfully and we nailed it with the color. I am not a great DIYer so this was a big task for me and I'm pretty proud of it!
Biggest Indulgence: I traveled to Morocco in 2019 on the most epic solo trip. I fell in love with the white Moroccan Berber rug in my living room while visiting the city of Fez. It was so much fun bartering with the shop owner and shipping it directly to Wyoming… It was at my doorstep by the time I returned home! I told myself when I got a dog, I would never let him on the rug and that lasted a whole three days, ha! Now they both have a bed on it. Luckily it's high quality and the natural fibers clean easily. I take it to the cleaner often.
Is there something unique about your home or the way you use it? Not a lot of people can say they live in a true log cabin. The rich dark logs make the walls so unique and I personally think anything looks awesome hung on them. I'm a sucker for the white chinking between each log; it adds so much character.
What are your favorite products you have bought for your home and why? My dream in life is to travel the world and to fill my home with things I've found along the way. I love that everything in my cabin has its place and a purpose. Living in a small space has taught me that I can't survive with clutter. Lots of the décor and art was found abroad or gifted. I love having a house full of stories. I inherited a painting of a mountain range from my late grandfather after he passed away, and he captured the mountains in my most favorite way: when the light dips low and every layer has a different shade of blue. My other grandpa gave me his beloved fishing pole and it warms my heart to see it every day on the wall. My boyfriend's grandfather was a cowboy and his Stetson cowboy hat hangs on the bison skull. All of it warms my heart so much.
Please describe any helpful, inspiring, brilliant, or just plain useful small space maximizing and/or organizing tips you have: When you've got a unique bedroom wall, like logs or stones, it's useful to have a platform bed as it only has one touching point. The logs also add a lot of visual interest so a headboard isn't necessary. Cove heating is all the rage in homes out West as they offer more wall space for furniture to be placed next do without having to worry about fire hazards. Mine are up high and blend into the logs, which offers additional heat when I don't have time to start a fire. It's also really energy efficient!
What's your absolute best home secret or decorating advice? When you live in a unique space, let the house shine by adding to its charm.
This house tour's responses were edited for length and clarity.