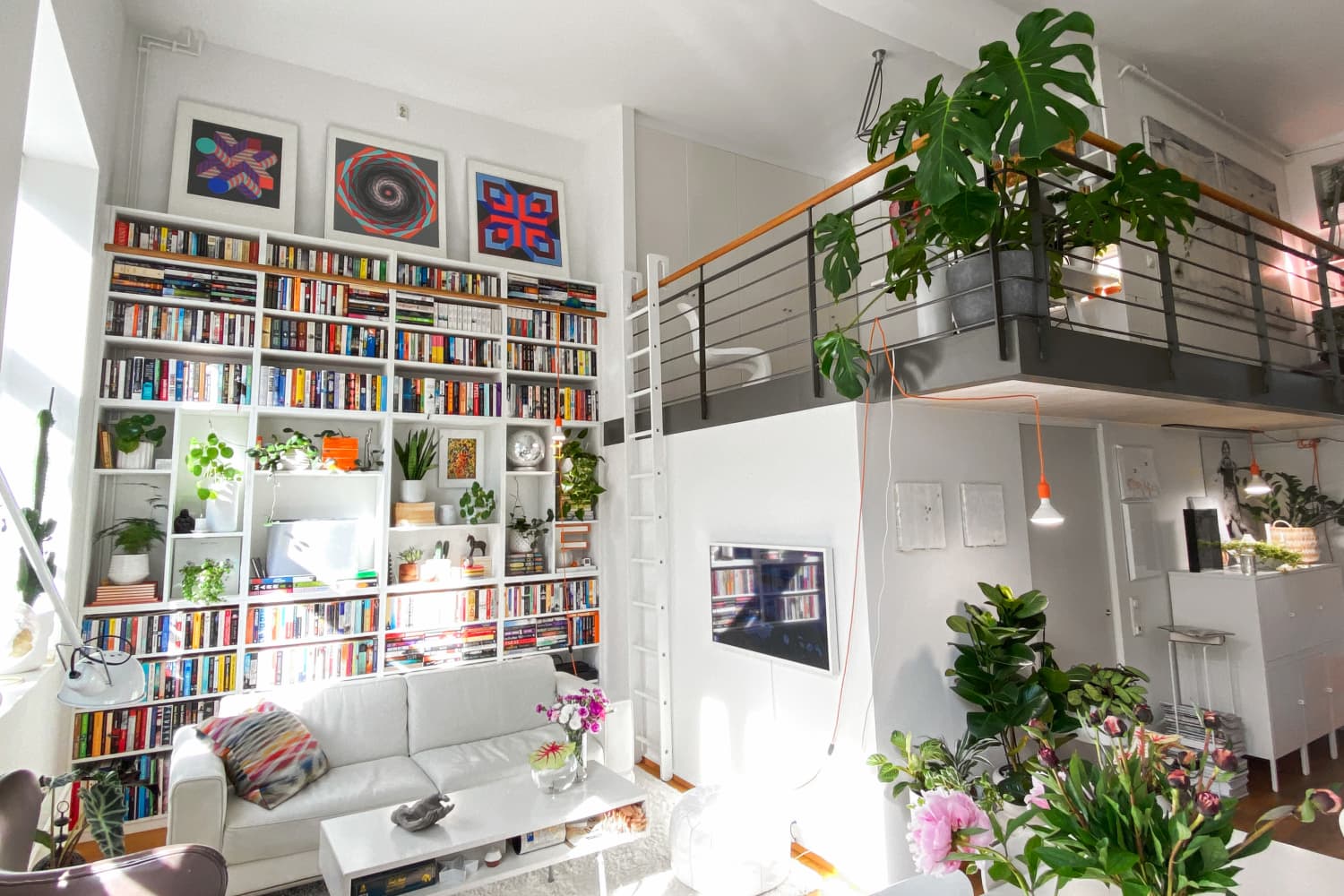 Name: Elisabeth Riksen
Location: Grünerløkka — Oslo, Norway
Size: 818 square feet
Type of Home: Factory apartment
Years lived in: 1 year, owned
I've been lucky enough to live in some great houses and apartments but had a long-time dream of living in a loft or factory apartment. A space with that indescribable wow-factor, preferably with an industrial vibe, plus more room for art, books, and everything else that I love and collect. Having made my stir-crazy-from-WFH-in-my-kitchen-during-a-pandemic mind up to go for it I literally listed, showed, sold, viewed, purchased, and moved in within 12 weeks in the summer of 2020.
I impulsively stopped by this space on my way to a viewing in the building next door and fell head over heels. It just felt so right! Working from home, with lockdown after lockdown, I have spent an unprecedented amount of time at home and am so thankful for the joy and energy this space continues to give me. I love the neighbourhood with its mix of independent shops and markets, restaurant, cafés, and bustling bars and concert venues, plus the quiet residential streets, riverside walks, parks, and squares. Also I adore that I have an operational chocolate factory next door.
I have almost 100 plants, and probably 1000 books. I love music and work with music PR. I have worked in the Norwegian and international music industry for most of my adult life but couldn't carry a tune or play an instrument even if my life depended on it. I sold 90% of my record collection before moving here and it feels strange, but also liberating, that it no longer defines my interior as it has done previously.
Apartment Therapy Survey:
My Style: Scandinavian minimalism done wrong. I aspire to a light, orderly, and neutral space with pared down design. And then, without really noticing, fill it up with art, books, plants and, well, stuff. It looks semi-cluttered, but there is order in the madness and if you open closets, drawers, and cupboards you'll see I run a tight ship.
Inspiration: Homes with a distinctive character where you can tell something about who lives there, whether it's minimal or maximal, neutral or bright, modern or classic. I find real homes in magazines, online, and on Instagram — especially "house tours" such as on Apartment Therapy — very inspirational, as I much prefer that to something overly styled and trendy. I love variety and personality and find a lot of inspiration and pleasure in seeing homes that are very different to mine!
Favorite Element: Apart from the sense of space the double height living space gives, most definitely the bespoke bookcase in the living room! I really like how you can't see it until you've walked almost all the way through the apartment as otherwise it would've defined the space instantly, plus because the "grand reveal" is so fun. Even people who have seen photos are wowed by it.
Biggest Challenge: The apartment was very pared down when I viewed it. Super cool, but not at all practical with the almost totally open plan solution. The entry with hardly any storage leading almost directly into the galley kitchen and through to the living room, plus a bedroom with no storage, and the open mezzanine area. I needed for it to be a practical home and home office with plenty of both out-of-view and on-display storage. Also, the acoustics were abysmal. And there were lockdowns. And I was on a budget. When it turned out that the ceiling spotlights in the bathroom were a fire hazard that needed to be addressed promptly, that naturally ate up the chunk of money I had set aside for more fun things. So some things were put on hold while I found alternative solutions for others.
Proudest DIY: I did a bit of painting, repurposing, and some assembling, including the huge white metal sideboard constructed from six small IKEA lockers that hold a massive amount of overspill from the entry and kitchen both. They fit together so perfectly I should've realized they meant for this to be a hack, but I felt very clever at the time. However, I am probably most proud of the 5'10" by 3'11" picture on the living room wall. It is a photo of my horse that I took myself and had printed in a shop where they make advertising banners. I stapled the fabric to oak trim that I got cheap from a carpentry store, then somehow managed to cut the trim to size with the tools I had available and screwed the whole thing directly onto the wall. Even though I know someone professional would have done a more perfect job I really like how it looks, how it improved the acoustics, and that it only cost me around $80 USD altogether. That includes a couple of dollars to the swear jar.
Biggest Indulgence: 818 not-very-practical square feet all to myself! And, of course, the massive custom bookcase in the living room. That is something that I have dreamt of since I was a child and wanted to live in a library. Even if I drew up the design and had a lot of input, I can't take credit for the superb work of craftsman Tore Bjørnstad of Feiring, Norway. His company Deja Wood works mainly with reclaimed wood, hence the name, and he combined the creative with the practical perfectly. By creating modules in his studio, he saved me a lot of money both because of the material he could use, and how it was both easier and quicker to assemble once he was on site.
Is there something unique about your home or the way you use it? The mezzanine loft style apartment is located in one of several old factories built in an U-shaped complex in the 1890s. These were repurposed around 2005, adding a huge communal backyard and massive rooftop terrace. The apartments in this building are all slightly different in layout, most with very high ceilings or double height spaces. They are accessed by covered walkways that double as balconies. Despite the fairly generous size my apartment is essentially a one bed, one bath. Where I live, currently work and — when the time comes again — entertain.
What are your favorite products you have bought for your home and why? I am happy with having purchased very few brand-new pieces. Thumbs up from a financial and environmental aspect. But also, I have collected things that I love over time, and am so happy that almost everything has found a place. That being said, my go to for affordable design, practical storage, and heaps of inspiration is IKEA. I have pieces from there that I have owned since the eighties and will normally check if I can get stuff second hand before going to the store.
I did a quick count of brand-new stuff and came to roughly 10 items including the bookshelves, valet stand, bed with storage, living room rug, desk, wall-mounted TV, and three lamps. This if you count the metal lockers as one and disregard small storage bits and bobs and frames that are mostly picked up from IKEA. The apartment is filled with furniture and items I have had for years, decades even, others are bought new or second hand with this space in mind. I needed to trade my lovely tan leather couch in for something smaller and am very happy I experimented with colour by getting the third-hand white leather couch. It's vintage IKEA, only cost me $75 USD including having someone pick it up for me.
And I absolutely love the look and comfort of the pre-loved Arne Jacobsen chairs that were all sourced over time, including one made in 1973 that was gifted to me. The eight have only cost me a bit more in total than two brand new ones would have.
Please describe any helpful, inspiring, brilliant, or just plain useful small space maximizing and/or organizing tips you have: Have realistic expectations and embrace what you love in combination with how you live. Being tidy and organized is key, but if you're not make sure you have plenty of out-of-sight storage. A combo of purpose-built, smart, and cheap (hello IKEA) storage does the trick for me. Also any furniture that does double duty by having storage is a winner.
Finally, what's your absolute best home secret or decorating advice? Make it personal!
Build your home like you would an art collection: over time and by getting things that speak to you. When you love every single piece, it somehow always ends up working as a whole. Also, when it isn't totally fashionable or on trend, neither does it end up being totally unfashionable or dated. Adding just a few custom or vintage pieces, some original art, and a statement plant or two that you like the look of will transform a generic space. And if you think scented candles are expensive, I recommend moving next door to a chocolate factory!
This house tour's responses were edited for length and clarity.