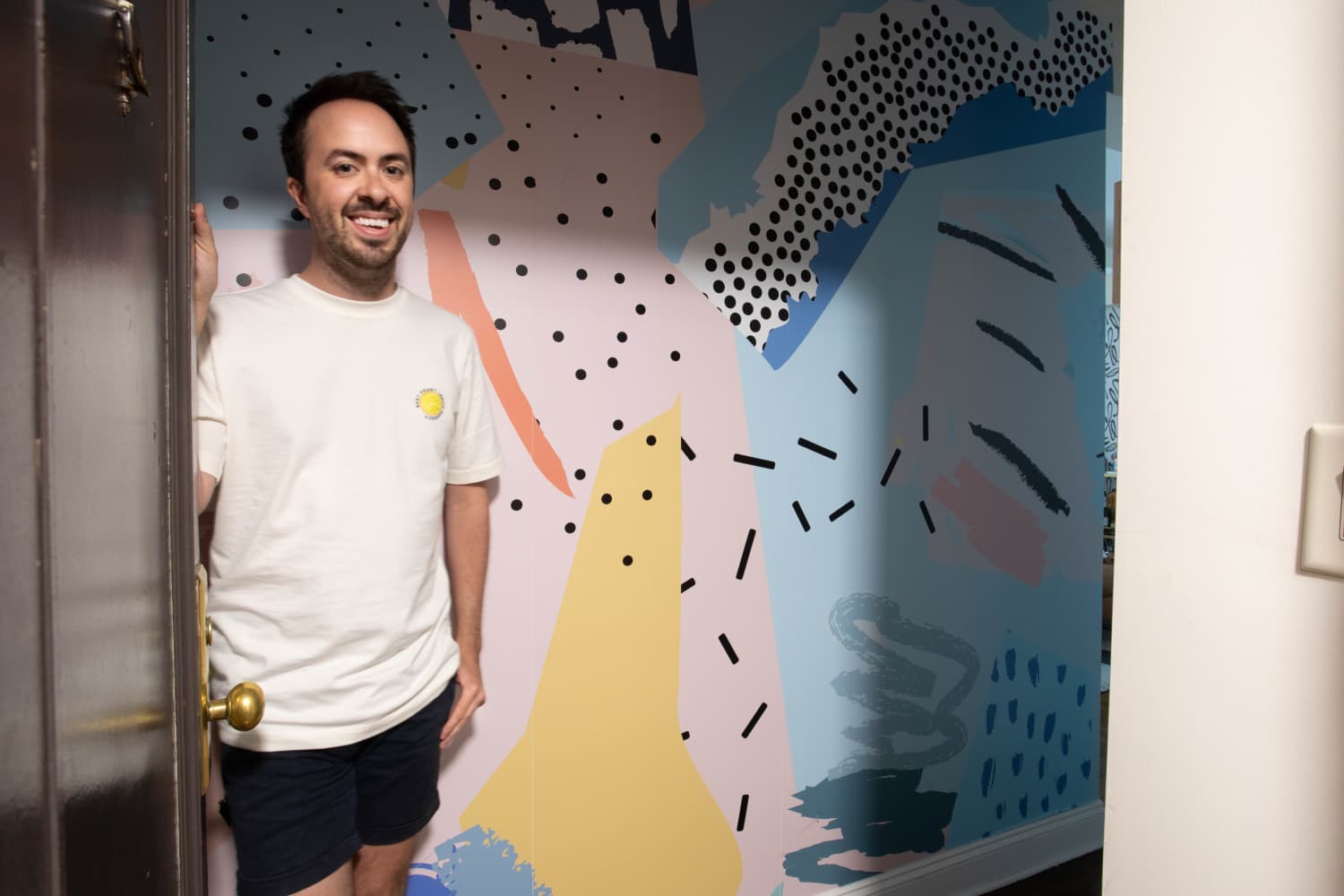 We independently select these products—if you buy from one of our links, we may earn a commission.
Name: Logan West (@mrloganwest on TikTok)
Location: Columbus Circle — New York, New York
Size: 500 square feet
Type of Home: 1bd/1ba Apartment
Time lived in: 6 months, renting
Logan West, who's Manager of Digital Marketing and Strategy for The School of The New York Times and Sotheby's Institute of Art, had been living in a studio on the tenth floor of this building for a year and a half before the pandemic. During COVID, Logan says he was able to negotiate a deal to upgrade to a larger unit, and moved into this 500-square-foot one-bedroom apartment six months ago. "I love the natural light and the layout is perfect for post-COVID cocktail parties," he shares. "I am really looking forward to entertaining in a place that truly feels like an extension of me. The natural light is amazing in this unit and is paired with a stunning view of the cityscape. This apartment is a dream that I never thought I could secure before I was thirty."
"Each room feels like an extension of the next with a unique visual cadence. I was drawn to both texture and color and loved how the dynamic wallpapers felt connected with a hand-drawn element. I worked with neutral tones layered with pops of yellow to make the space feel lighter. The goal for my home was to strike a balance between playful and dramatic while staying sophisticated."
Apartment Therapy Survey:
My Style: I'd like to think I'm a maximalist who values minimalism. I am drawn to carefully curated spaces that make you look twice and spark conversation. I'm a sucker for art of all sizes and love pieces with character. Sourcing unique pieces is key, whether they have been passed down from family, selected from a thrift store, or purchased brand new. Every piece feels like an extension of me and when you pour your soul into a space, people respond to that energy.
Inspiration: I don't have any specific accounts that I am inspired by, but I would offer the following: bold lines, unique sight lines, intentional color, and natural elements.
Favorite Element: I love my view and natural light but if I had to choose one object it would be the $20 sconces in my living room that my twin brother and his partner thrifted for me in Denver, Colorado. They feel as if they could be original with the apartment.
Also, I have three huge closets in this apartment. One unique element of this space is when the building changed the layouts of these apartments, they kept parts of the old architecture footprint. The old front door of this apartment is located in my storage closet and could act as a second front door if needed.
Biggest Challenge: Finding mid-century modern-inspired dining chairs without paying over $600 for them. I knew I wanted unique dining chairs that would catch your eye as you walked in the room. These yellow chairs were found on Amazon for half the price I was seeing on other websites. They are extremely comfortable and lead to yellow being a primary accent color in my main living space.
Proudest DIY: My wallpaper is my proudest DIY and it comes in three different forms. I have a mural in my front entrance that provides a surprising element when you immediately walk in the door. There is a traditional step-and-repeat pattern in the living room that makes the wall truly pop and provides depth. Then, in the bedroom, I divided the wall in half and used matte black wallpaper to bring a unique visual element to the room. We had to tape off the design, lay out the wallpaper, and then cut the design out by hand in one swift cut. Nerve-wracking! But so worth the outcome.
Oh! Did I mention it's removable? When the day comes that I move out, it will all peel off like a giant sticker.
Biggest Indulgence: The wallpaper was expensive. I spent just over $500 on that alone for all the walls. It was important to me to invest in a major part of the space that was going to give it the most character.
Is there something unique about your home or the way you use it? The way I designed my entryway has naturally become an extension of my living space. So many of my friends and I end up in the hallway engaging in conversation and I didn't expect the space to evolve like that. It just goes to show how no space in a home should be wasted.
What are your favorite products you have bought for your home and why? I love my dining table. It is sleek in design and also offers extra storage outside of my kitchen. It was a practical purchase that has evolved in every space I've had. In my studio, it would fold down when I wasn't using it but, in this space, its sleek lines are on full display.
I also would be lying to myself if I didn't say my Peloton. After COVID I was determined to build a home gym in my one-bedroom, and this has offered the perfect routine to start my day. If I'm not running in the park, I am on my Peloton.
Please describe any helpful, inspiring, brilliant, or just plain useful small space maximizing and/or organizing tips you have: When you are dealing with really small square footage you should ask yourself how each space can have multiple uses or adapt to new environments. This question allowed for me to be really intentional with my furniture purchases. My table completely folds down and could be moved out of the way if I needed it to. My bedframe can accommodate storage underneath it when I run out of closet space. I opted for a loveseat vs. a larger traditional couch to allow for it to fit in a variety of future spaces.
What's your absolute best home secret or decorating advice? We have all held that item and said, "I love this, but what would I do with it?" My advice is buy that item. It will absolutely find a place in your home because you were attracted to it and as you work to build your space it should reflect all of the things you love and nothing else.
This house tour's responses were edited for length and clarity.