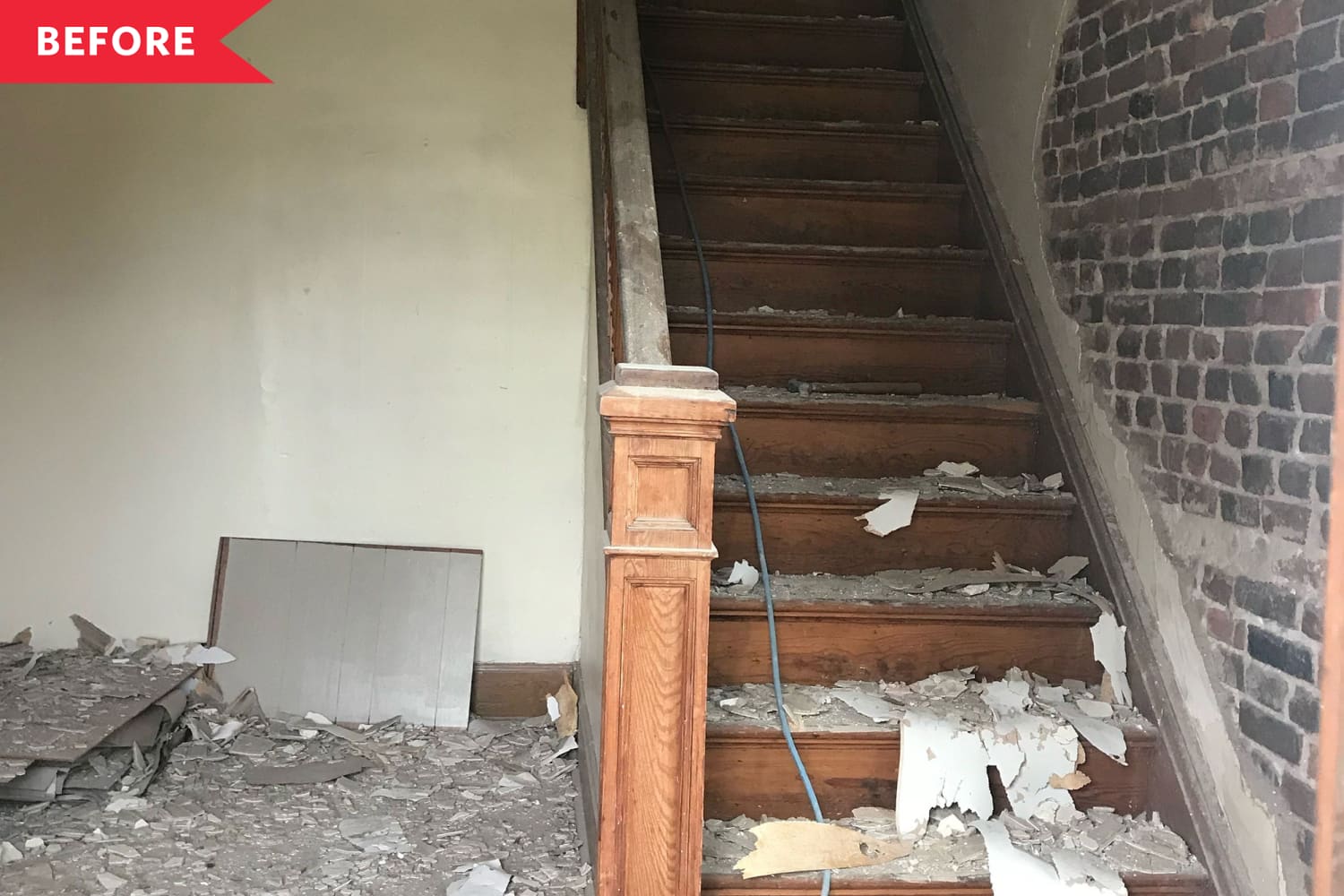 We independently select these products—if you buy from one of our links, we may earn a commission.
Name: Mick, Paige, and dogs Blue and Tres
Location: Ozarks of Southwest Missouri
Size: 1,800 square feet
Type of Home: House
Years lived in: The house was renovated for two years, and we have lived in it for two years. So, we have owned the house for four years total.
First impressions matter, and this historic home makes a grand one. When guests walk into Mick and Paige's house, they immediately enter a library of curiosities. The shelves are adorned with books with gold leaf engravings and Victorian-era scientific instruments. Also located in the entry library is an 18th-century French harp and a functioning phonograph, which make great conversation pieces. In fact, nearly every object in the home has a tale behind it.
The duplex-turned-single home was decaying when they first saw it. But as full-time artists, the couple had the creative intuition to envision its potential. Looking past the rough edges, they purchased the 1,800 square-foot building and transformed it back into a single-occupant home while preserving its history.
"We fell in love with our home after walking by it for years in the historic district of our city," explains Mick. "When it finally came up for sale, we knew that we had to buy it. Our house was built in 1881, and it is a dramatically different style of architecture than any other residential buildings in the area. The original inhabitants were the family of a member of the Brick Mason's society. After he was killed on the job, the Society of Brick Masons built a home for his family, and because they specialized in industrial buildings, the architectural design of the building is far more similar to commercial buildings of the 19th century than the popular Victorian styles of the late 1800s."
The two have amassed an art collection and have become friends with most of the creators. They've also brought back multiple antiques from their travels in their carry-ons — Mick swears by packing a roll of bubble wrap.
Apartment Therapy Survey:
My Style: My design taste is influenced by art and natural history museums that we have encountered during our travels.
Inspiration: My collections and career are based in mechanical and scientific innovations of the 18th and 19th centuries. I have always been enthralled by the small window of time that birthed the technologies we live by today. The pieces I have collected for my home showcase the humble origins of modern industry.
Favorite Element: My favorite element about our house is all of the windows. It was built prior to household electricity, so there was a necessity to have an abundance of natural light.
Biggest Challenge: Our biggest challenge while renovating our home was exposing the interior brick. It was a very messy and laborious process of removing 140-year-old horsehair plaster. Removing the plaster was necessary for structural purposes as well as aesthetic. Over the years, the mortar had eroded between some of the bricks, and the house needed to be tuck-pointed both inside and out. We did the demo ourselves with the help of some friends and were careful to remove the plaster without further damaging the underlying brick and mortar.
Proudest DIY: I think every man's proudest project is probably his home bar. I've always been a fan of hidden spaces in a home, and what better thing to hide than your drinking habits? While I was framing in spaces for the air ducts to feed the vents on the second floor, I found that the majority of the space was wasted with just two ducts filling a fairly large shaft. I used this space to build a hidden bar behind a painting mounted to piano hinges to create a hidden door. The painting hung in a small town courthouse for nearly 100 years and depicts Lady Justice. This painting alludes to a huge number of subtle imagery and seemed like a perfect piece to hide the secret that lies behind it.
Biggest Indulgence: The most expensive non-essential project in our renovation was certainly the library. I am constantly in awe of the grand libraries seen in estates throughout Europe. I wanted the first impression when entering our home to be that you are walking into a curiosity cabinet of the 19th century. Upon entering the house, you are immediately surrounded by knowledge, culture, and innovations of the past. I think the entrance creates an interesting juxtaposition with the contemporary world; it removes guests from their modern surroundings and places them into the design theme of our home.
Is there something unique about your home or the way you use it? When we bought the house, it was in a severe state of decay. While it was originally built as a single-family home, the previous owners had the floors divided, turning it into a duplex. This adaptation left a makeshift kitchen in the original upstairs bedroom, a weight lifting bench in the downstairs dining room, and a laundry machine in what is now the library. While our use of the spaces is fairly traditional, the history of the house has not always been that way.
What are your favorite products you have bought for your home and why? My favorite products in our home would have to be our couches. I am from a family of very large humans, and conventional seating becomes less comfortable for people of a certain height. Restoration Hardware's luxe size couches, whether it is the Lancaster downstairs or the Chesterfield upstairs, are four feet deep and well worth every penny!
Please describe any helpful, inspiring, brilliant, or just plain useful small space maximizing and/or organizing tips you have: Display cabinets are wonderful for hiding things! Rather than console or end tables, I typically utilize apothecary or general store cabinets. These have available space on top for display but enclosed drawers to hide essentials from candles to screwdrivers that are less attractive to guests.
What's your absolute best home secret or decorating advice? My career has been in finding and building from rare items of the past. I have learned from those pursuits to buy what you love when you come across it. My greatest regrets have always been in the things I passed up rather than the things I purchased. Designing spaces is one of the greatest forms of art; it allows you to live inside the beauty you have created and share it with those who you care about.
This house tour's responses were edited for length and clarity.