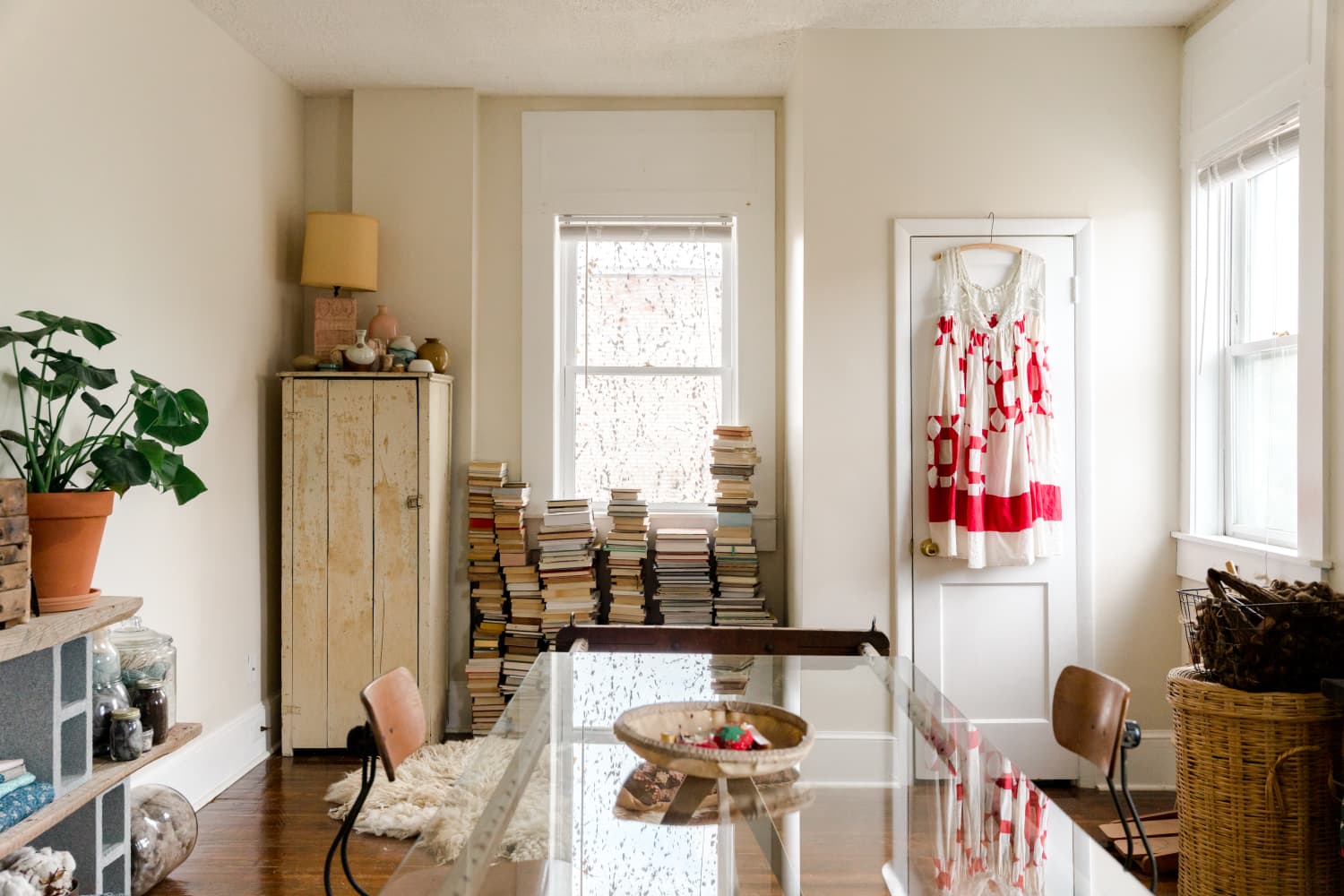 We independently select these products—if you buy from one of our links, we may earn a commission.
Name: Leney Breeden, founder of Folkling. Along with partner Owen.
Location: Gordonsville, Virginia
Size: 1,045 square feet
Time lived in: 7 months, renting
A photographer for over a decade, Leney Breeden has spent a lot of time on the road, actually driving across the US more than once. She started Folkling in 2017 in an "effort to create new lives for the old things" she picked up on her travels. In 2020, she opened her brick and mortar vintage store of the same name, and began renting this lovely home in Gordonsville, Virginia with her partner, Owen. This 1045-square-foot house is not only filled with vintage goods from Leney's travels around the country, but also a variety of special family heirlooms. Revering and reusing vintage pieces — and celebrating the stories behind storied objects — is a common thread that runs through her home and her business.
"Something that's incredibly important to every area of my life, and not just my home, is to shop secondhand or handmade whenever possible, which you can definitely see reflected throughout my home! Things that have character and are unlike anything you can get at a typical big-box store are more often than not the things that I am drawn to," she explains. "Most things from 100 years ago were made with remarkable craftsmanship and created with explicit purpose and beauty vs. frivolity. While I decorate my home with things that could be seen as frivolous, they are all things that at one time held, or still hold, usefulness and have inherent beauty because of the intentional way they were created. I do not feel that can be said of most things that you see in home decor stores today."
"It is an age-old adage repeated by many much older than I that things aren't made like they used to be… but it's so incredibly true," explains Leney. "In line with that is my belief in the importance of caring for and being good stewards of your possessions. Loving them despite perceived imperfections and mending them when they break or even further — learning to do without."
Apartment Therapy Survey:
My Style: Is very centered around things with layered stories. Most everything in my home is at least 50 years old! Save for my couch and a few pieces of furniture my dad made, everything is from no later than the 1970s but most things are much older.
Inspiration: I find a lot of inspiration in slower and more elemental ways of living as well as the amount of time I have spent living out on The Road. I strive to be intentional with each and every piece I bring into my home. Most things have been in the back of my Subaru Outback at one time or another so pieces that are easy to move with my more mobile lifestyle, but also able to be versatile and moved throughout my home, are important to me.
I rearrange a lot. That's partially because I often use my home to stage pieces I am selling in the shop (check out the Folkling web shop — you may recognize a few you see here!), but it's also because it's an outlet of creativity for me and allows me to be satisfied more often than not with the things I already own vs. feeling the tug of dissatisfaction to buy more. Moving things around and finding new ways to love and appreciate them allows me to feel content with what I have.
Everything I own has either explicit purpose and usefulness or is something I find to be inherently beautiful, but the best things are the ones that hold both of those traits.
Favorite Element: In a way my home is a physical and stationary representation of my very motion and travel-driven life. Many of the things that line the walls and shelves are from my many travels around this country and others. They remind me of the people I have had the honor of crossing paths with or the places I have been. I love that nearly everything in my home is a one-of-a-kind piece from a bygone era and that each item holds a story and history all on its own that I get to add to.
Biggest Challenge: I thrive on natural light and the middle of the apartment can get quite dark. It's definitely challenging for me to create vignettes that feel cozy and happy despite the lack of light. Another would be shelving… The apartment is all sheetrock and plaster, which I can't anchor shelving into (understandable landlord rule!). Alternatively, I seem to fall in love exclusively with very large industrial shelving that I can neither fit in my car or carry up my very narrow stairwell… I feel like I am still trying to remedy many shelving situations throughout my home!
What Friends Say: "What's the story with ___?" Everything in my home is unique and has a story and most everyone in my life knows it! So everyone's always asking where I found something or the story behind it.
Biggest Embarrassment: The kitchen floor… It's impossible to make it look clean. The tile is small with wide grout that has long since gotten dirty and discolored from past tenants. I wish I had the ability to change it!
Proudest DIY: The antique quilting frame in my study that I turned into a table! I found the piece of glass on Facebook Marketplace for $20 and I love how it showcases the old wood of the frame, right down to the bits of fabric that were left in some corners of the joints. It feels special to sit at it and make things, like so many women before me did.
Biggest Indulgence: My quilt collection! I source a lot of quilts for Folkling because I list a weekly collection online, and I am constantly amazed by the artistry of them. They are endlessly fascinating to learn about and I spend a lot of time dating and identifying the ones we have in the shop. The fact that each and every one is a one-of-a-kind work of art and has so much unquantifiable time put into its creation is so incredible. Admittedly my personal collection rotates with ones from the shop fairly often… but I try to keep the ones in my possession down to a manageable number! There are definitely a few though that I plan to never part with.
The 1840s jelly cupboard in my dining room was probably the biggest splurge and indulgence I have ever made for a home of mine as far as one piece goes though! But it's my hands down favorite piece of furniture I own. Even though it is a little crooked… I love how much character it has and the persimmon color is unlike anything I've ever owned before and feels really fun to style around.
Best Advice: Let your home grow with you — don't be afraid to let something go if you don't love it. I am constantly editing my home and keeping things around that only make me feel good and remind me of people I love or places I've been.
Dream Sources: Any antique mall, old barn, or junk store off the side of an old back road that I haven't been in yet! Traveling and picking is my dream source always. I feel fortunate that I now get to do it for a living full time with having Folkling and that by proxy that trickles into my own personal living space. It feels like a dream to just simply get to follow my curiosity and the pull of The Road and get to find unique and beautiful things for my home, and others, along the way.
This house tour's responses were edited for length and clarity.