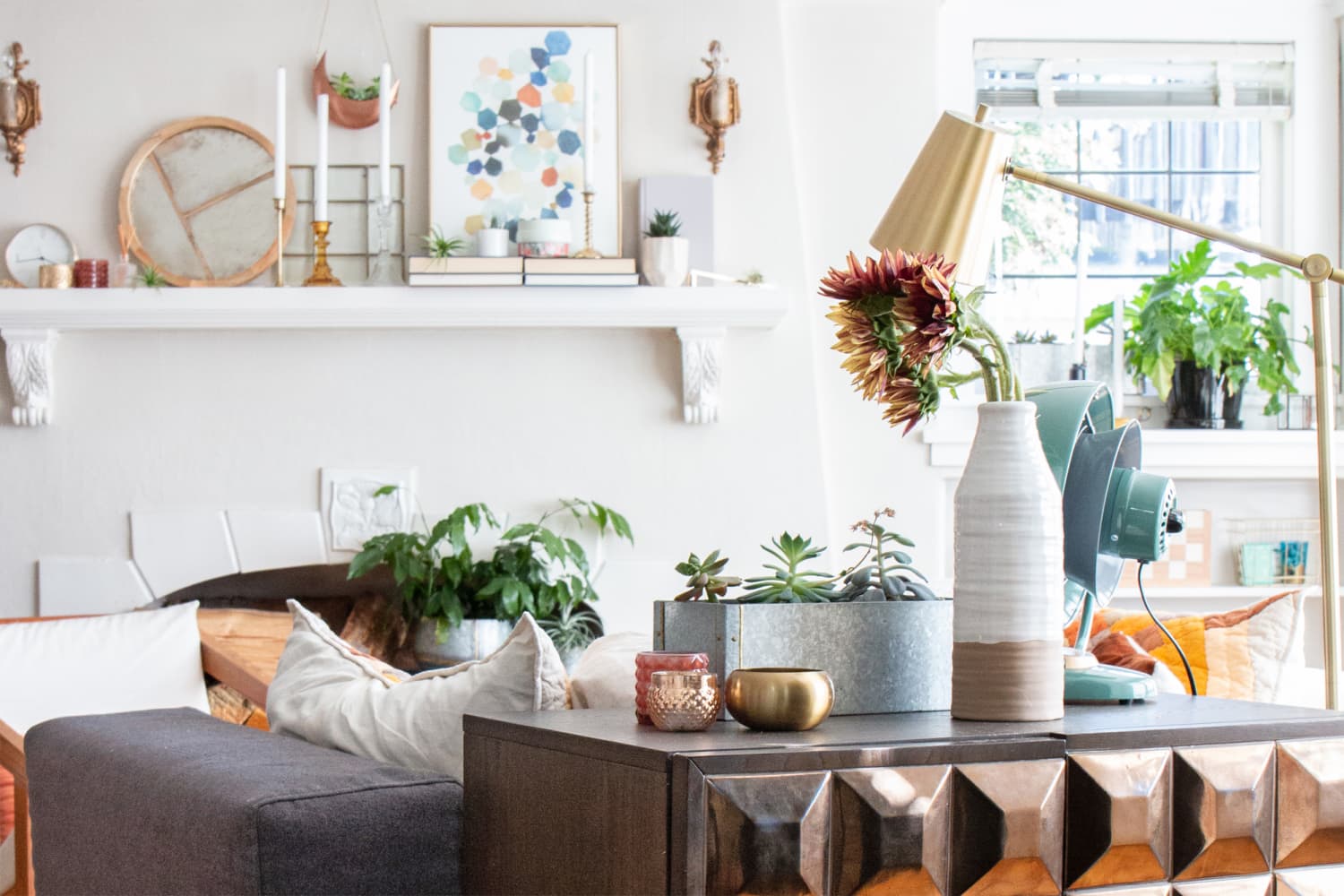 We independently select these products—if you buy from one of our links, we may earn a commission.
Name: Mackenzie Schieck with cats Franklin and Louisa
Location: Seattle, Washington
Size: 1,000 square feet
Years lived in: 1 year, renting
The trouble with being someone who loves to decorate is that you are never really done. But want to know the best part of being someone who loves to decorate? You're never really done—yay! Let's keep decorating until forever and live happily ever after! But, when you also happen to be an Apartment Therapy House Tour writer, it poses a legit issue: When will I be done enough to do a tour of my own place? So, saaayyy you moved in August of 2017. Maybe you'd be ready by November-ish? Yeah, November. (Or not.) Okay, maybe after the first of the year? That should work. (That didn't work.) March? (Again, no.)
Well, it got to the point where I needed to commit myself to it. Okay, June. This is happening. I have a deadline, so it is happening. And aside from some bathroom sprucing and things to wrap up in the bedroom, I was in pretty good shape. My TV room came together first, and pretty easily, last fall. I opted to skip the formal dining area the generations before me had pegged that room for, and just leaned into the fact that this part of the apartment only had one window that offered terrible light. I figured, if it's gonna be dark in here, let's just go dark: black, forest green, chocolate brown, and a little dusty rose just for the heck of it. And stuff…cram lots and lots of stuff in until all the accessories create a bit of a cocoon-like feeling so that all you want to do is sink into the couch and watch the first four seasons of Younger faster than you care to admit. The result? Mission accomplished and no regrets.
The remaining seven months between then and now have been about getting the rest of the rooms put together in a way that makes sense for my life. I write a food blog and do recipe development and food photography, so I needed to deck out the kitchen and have an area available by my front window for shooting. Check! I work mostly from home, so I needed a space with a lot of pretty things around a desk to make me excited to dig in every day. (And I wanted a cozy area by the desk where I could, ya know, just sit and summon creative inspiration. Because that's totally how it happens. It happens like that all the time.) Check! (And check—kinda.)
And kittens. I got my little fluff balls, Franklin and Louisa, in January, so I needed to make a few—[ahem]—adjustments to the decor: RIP West Elm wall hanging; see ya, wouldn't wanna be ya, kitchen fern; and thanks for your service, stripe-y tablecloth—your new assignment: kitten blanket. (Also, my dining table is less a table these days than it is a kitty lounge area. Did I say, "dining table?" I meant, literally every flat surface in my apartment. It's a good thing they're cute.)
Phew. Almost a year in, and I think I'm done. Or, done enough.
Apartment Therapy Survey:
My Style: I think my style is all the styles, balanced. I love to pair really ornate and flowery things with modern elements, hard textures with soft, solid colors with patterned pieces, and so on and so forth. I don't like anything all the time or all over, so I tend to mix it up within a space at any one time, as well as over time by swapping things in and out.
Inspiration: Lately, it's all the homes I've photographed over the past couple years. I have definitely borrowed elements in my own home from every single tour I've done for Apartment Therapy.
Favorite Element: This is a tough one, but it's probably my kitchen. I've never actually taken the time to decorate the kitchens in my other apartments—partly because some of the set-ups weren't really conducive to doing so, but mostly because it just never occurred to me. So this time, I went a little nuts and really love how it all came out—bursting with greenery was definitely the way to go.
Biggest Challenge: The DIY lighting scheme in the kitchen! I almost didn't take the apartment because there was fluorescent lighting in there—it's bad. Real bad. Made-me-wanna-cry-every-time-I-flipped-the-switch bad. But the rest of the place was so beautiful that I just figured I'd find a way around it. Once I found the light fixtures it was easy, but it is much harder than it seems like it should be to find lighting—that are not lamps—that doesn't need to be hardwired.
What Friends Say: One friend said it looks and smells like Anthropologie—high praise! But most friends usually say that it feels warm and comfortable, and then they ask if I can please decorate their homes. Equally high praise.
Biggest Embarrassment: I wish the kitchen had different surfaces. I'm really not crazy about the counter tops and flooring, but it's a rental, so it is what it is.
Proudest DIY: The half-wall between my desk and living room that hides my computer cords. I really lucked out finding two separate pieces at Ballard Reuse (a salvage store in Seattle) that both had the exact color wood. All I did was clean both pieces up, finish with an oil, and attach them together. It's perfect.
Biggest Indulgence: Plants. I'm getting better about keeping green things alive, but it doesn't come naturally to me, so it takes a little extra cash here and there to replace ones that go south. It's so worth it, though. I don't know how I went so long without realizing how wonderful it is to have plant life in the home.
Best Advice: Everyone always says this, but it's because it's true: be patient and live in your space for a while before you make big purchases, so you know how you're going to use the space first. And don't be too rigid about what you think you want things to look like.
After living in this apartment for four months, one night I rearranged every piece of furniture in my living room because it was really bugging me that I looked at wall every time I sat down at my computer—and hey, I thought, those shelves over there would make for a pretty nice office corner. I knew if I moved my desk, I'd have to move everything, which was daunting, but I just went for it and it paid off.
Lastly, when decorating a room, I always say to start with something you love. It could be a pillow, a painting, a piece of furniture, etc. For me, once I commit to that particular item, I start to come across other things that work with it and that build off of it, and the room just starts to take shape.
Dream Sources: One King's Lane, Apartment Therapy (duh!), Room & Board, Schoolhouse Electric, and a whole bunch of Seattle shops that I'll do a weekend crawl of when I'm in need: Fleurt Collective, Anders, Tides and Pines, Glasswing Shop, Isla House + Flower, RetroFit Home, Prism, Digs—just to name a few.
TV ROOM
Couch — Macy's
TV desk — Consignment shop
Side chair — A friend of my dad's in college made it.
Coffee table and gold side table — Target
White and gold footstool — Marshall's
Eucalyptus wall hanging — Teressa Johnson
Green footstool under TV — World Market
Shell chandelier — West Elm
Black wood piece — West Elm (leftover merchandising piece)
Palm art — Pier One Imports
Cat art — Spruce
Zenith radio — vintage, it was my grandpa's
Woven wall hanging — Anders
Geometric pendant lamp — World Market
Black planter behind couch — The Palm Room
Green vase behind couch — Hearth & Hand, Target
Black and gold vase behind couch — Isla House + Flower
BATHROOM
Blue cart — Vintage find
Shelves — Salvaged wood
Assorted vases — Target
Painting — Kimothy Joy