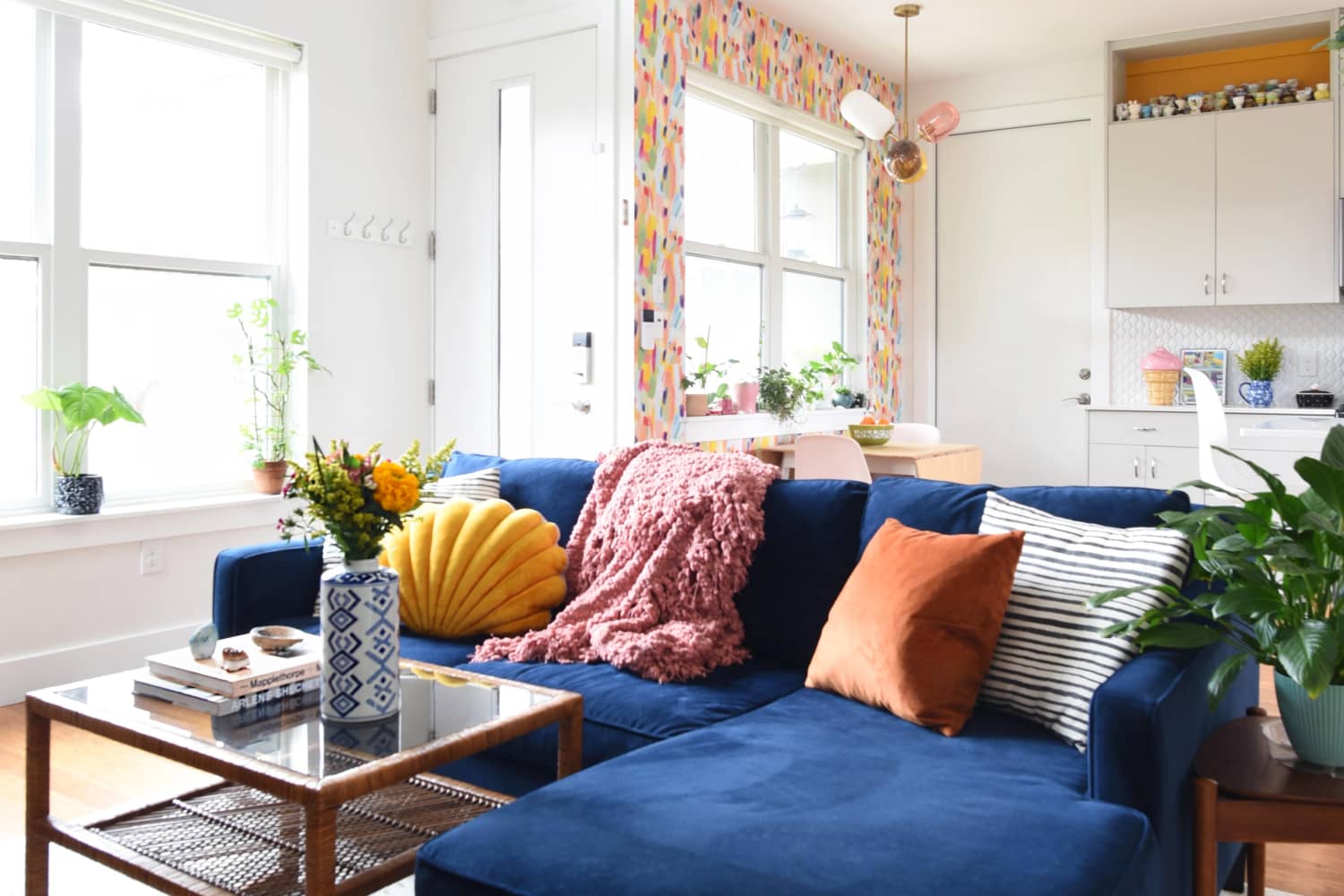 We independently select these products—if you buy from one of our links, we may earn a commission.
Name: Missy McCabe, my girlfriend, Elizabeth, and our two dogs Edie and Lucy.
Location: Brentwood — Austin, Texas
Type of home: House
Size: 840 square feet
Years lived in: 3 years, owned
Tell us a little (or a lot) about your home and the people who live there: I work in marketing at a tech company by day and run a virtual interior decorating business in my spare time, @cutehouseatx. I live with my girlfriend of three years, Elizabeth, who works for a nonprofit here in Austin and our two children (dogs), Edie and Lucy. When I bought the house, it was a completely generic new-build white box. I think that's one of the things that most excited me about it — there was truly nothing interesting going on, so it felt like a blank canvas for whatever I wanted to make of it. A big part of my design philosophy is that you can create a unique space that's all your own without spending a ton and that's how we've approached the house so far. I ultimately want to renovate the kitchen and bathrooms one day, but for now we've had fun with accent walls, wallpaper, and the vintage and heirloom pieces we've filled it with.
The house is super colorful and full of treasures throughout, and there's something unique about every room. It's also a constant work in progress! I've wanted every space to feel like it has its own personality while still feeling like a cohesive part of a whole, tied together with a color palette that carries throughout.
Since quarantine began last March, we've re-painted the downstairs bathroom and installed new shelving, re-arranged the guest room, changed up the gallery wall a few times and built a deck/lounge space in the backyard. I am too good at inventing new house projects for myself, which is why I started offering virtual interior decorating services through my business Cute House ATX last fall — I needed a new outlet!
I'd say our house is really personal. Elizabeth is into plants, so there's houseplants everywhere. At last count, we had about 80 house plants inside. We recently had to expand some to a pop-up greenhouse in the backyard. Many of our art pieces are family heirlooms, or meaningful to us in some way. I have my grandmother's collection of 200+ eggcups above the cabinets in my kitchen. She's been collecting them since the 1950s and gave them to me when she moved into a nursing home a few years ago. I also love our gallery wall along the stairs, which is full of pieces we've gifted to each other, bought on trips, or were passed down from family. Those are some of my favorite things in the house and it makes me happy to look at them every day.
Describe your home's style in 5 words or less: Colorful, approachable, whimsical.
What is your favorite room and why? I love our little dining nook in the kitchen because it's so colorful and vibrant and just perfectly encapsulates the feeling I want in all of my spaces. One of the first projects I did upon moving in was to wallpaper that wall. I looked for a new light fixture that was worthy of that great wallpaper for months, and when I finally found the one we have now, which reminds me of jelly beans, I almost died with excitement.
What's the last thing you bought (or found!) for your home? I recently splurged on this Hay Matin Table Lamp. The guest room I use as an office doesn't get great natural light and I really needed this. If I'm going to spend 8 hours a day looking at it, I figured it should be cute!
Any advice for creating a home you love? Don't rush it. Every time I've moved and quickly purchased new things to fill a space, I've ended up hating it and wanting to change it all again later. It's better to use what you already have while you take your time looking for new pieces you really love than rush to buy big box items you'll end up replacing. Also, every designer would say this, but it's true: go with your gut and what you love over trends. Even if you're buying some trendy pieces, there's always a way to incorporate family heirlooms and thrifted treasures you love into your home, even if they seem out of place with a specific aesthetic. We have a mix of mid-century modern, western, and heirlooms filling our house, and since it's all personal and specific to our tastes, I think it works!
This submission's responses and photos were edited for length/size and clarity.