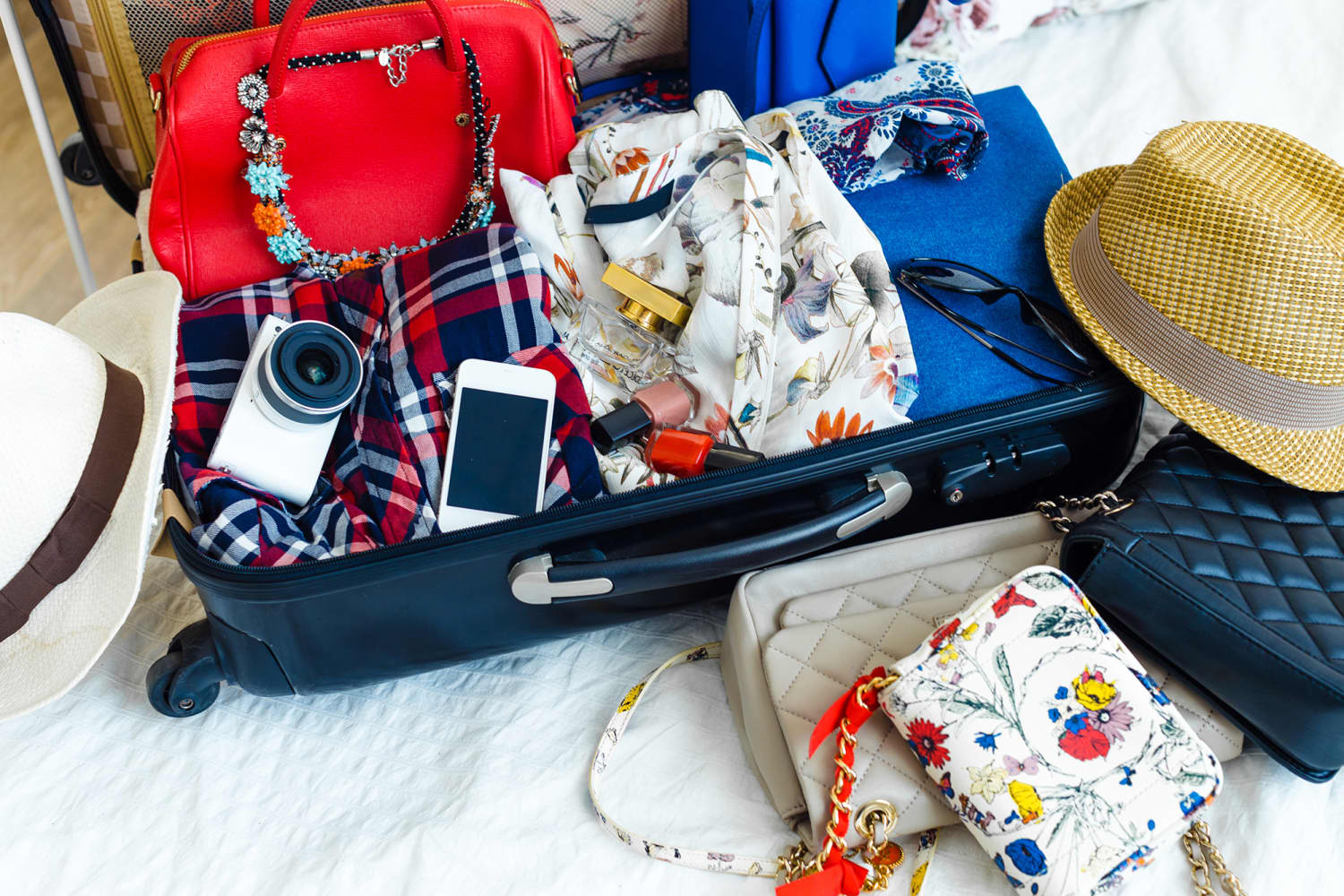 As more people get vaccinated against COVID-19, many states and countries are loosening safety restrictions or lifting them entirely. As a result, people are beginning to revisit the idea of traveling for work and pleasure. That, of course, means the return of packing, whether for a weekend trip or an extended stay. If you prefer to pack light but still have your essentials at the ready, you know that packing smart is key to arriving at your destination feeling (mostly) stress-free and ready for anything.
Whatever your reason for travel, it's important to follow CDC guidelines about mask-wearing and other precautions to minimize the spread of COVID-19. Be sure to check the outbreak rate both at home and at your destination, pack plenty of masks, and keep your distance from people not within your travel pod as much as possible. Then follow these packing tips from travel enthusiasts and frequent flyers, which will get you through TSA and on your way with ease and peace of mind.
Don't: Waste precious suitcase space with full-sized products.
Do: Stock up on travel sizes — or DIY the perfect amount.
Plenty of your favorite products are available in travel size to reduce pre-travel tasks, and now's the time to stock up. "I always buy travel sizes of the actual toiletries I use at home," says Amy Levine of Savannah, Georgia, who was once a "chronic overpacker" but now brings only the essentials so nothing is unworn or unused. "That way I know they work and there are no surprises. There's nothing worse than ending up with shampoo that makes your hair look greasy or a face wash that doesn't work!"
If you're packing products that don't come in travel size — such as your foundation or a fancy moisturizer — but you don't want to deal with the full size, reduce their footprint by decanting them into contact lens containers.
If you're traveling a ton, it pays to keep a beauty bag constantly packed and at the ready. "I have a 'master' toiletry bag that is stocked and ready to go at any time," says Clare Perreault of Detroit, Michigan, who frequently traveled for work several years ago and now tries to hit the road six to eight times per year. To make this happen, she keeps shampoo and conditioner, soap, and a razor in her bag, but also includes Q-tips, makeup wipes, tampons, and OTC medications. "At the end of each trip, I check that everything is replenished so it's ready for the next trip," she explains.
Don't: Miss out on an opportunity to be extra-organized.
Do: Embrace packing cubes, which make life so much easier.
Even the least-organized among us can benefit from packing cubes, which keep all of your items neatly contained in your bag. "I use cubes to pack by outfit," Levine says. "That way if a dress needs a special bra or you have white jeans that require specific underwear, these items are together and you don't have to open a bunch of separate cubes." Levine adds that this tip also works if you're stopping at multiple destinations; you don't have to unpack everything to find what you need.
Don't: Pack 7 different black t-shirts because "you never know" what you'll need.
Do: Make a plan for each piece of clothing.
Hanna Hope of Atlanta, Georgia, takes organization to the next level when packing for a trip. She's been traveling since she was a few weeks old, and during a period in 2018, she was traveling three weeks out of every month. "I start out by creating a chart that lists what the different segments of my day will be," she shares. "Then I pull the outfits together, try everything on (including jewelry, purses, jackets) and take a picture of it and write it all out in the chart. The chart helps me pack without overpacking and the pictures help me easily get dressed every day while I'm traveling without spending any time or mental energy on it."
You can also plan your suitcase by color, if that helps you stay organized. "Choose a travel wardrobe that sticks to a color or pattern scheme that will allow for a lot of mixing and matching," says Cara M. of Washington, DC, who once took a four-week, three-contient trip in one checked bag plus a backpack — and she did everything from office work to a safari to a wedding in Greece! "I bring a travel pouch or two of laundry detergent for sink laundry if needed, no more than three pairs of shoes for the whole trip, and maybe flip flops that will slide in anywhere," she says. She also packs items that don't require a lot of maintenance. "Stretchy ponte blazers are the best invention ever for work travel," she notes.
Don't: Forget to pack charging essentials.
Do: Take your tech to go.
Digital devices have become an integral part of travel, from checking in on the airline app to occupying your brain while you wait at your gate. "I always have a charged-up battery pack or charging block for emergency phone charging," Cara says. "I can't live without my white noise app on my phone for when I'm trying to catch a nap on a plane or sleep in a noisy hotel or a room with a loud A/C unit."
"I have a second set of chargers (phone and Apple Watch, plus portable batteries) and headphones that always stay packed and ready to go," Levine agrees.
"I always keep all my electronics chargers in a zipped bag that's easy to find in the bottom of any kind of bag," says Chelsea White of Ypsilanti, Michigan, who traveled at least once a month pre-COVID. "I also have a bright-colored zip pouch in my carry-on bag that I keep my wallet, phone, AirPods, and other essentials in while I'm traveling so I can find what I need quickly."
Don't: Think of your carry-on as an afterthought.
Do: Make sure you pack the absolute essentials in your bag.
Even if you do check a bag, pack the essentials in a carry-on in case your bag is lost. "Things you should definitely have in your carry-on: basic toiletries, two pairs of underwear, sleeping clothes, and an entire change of clothing," says Bombay Taxi Boutique owner Shibani Faehnle, who took her first flight at age one. "Always carry your jewelry and essential medications in your carry-on. Do not check these."