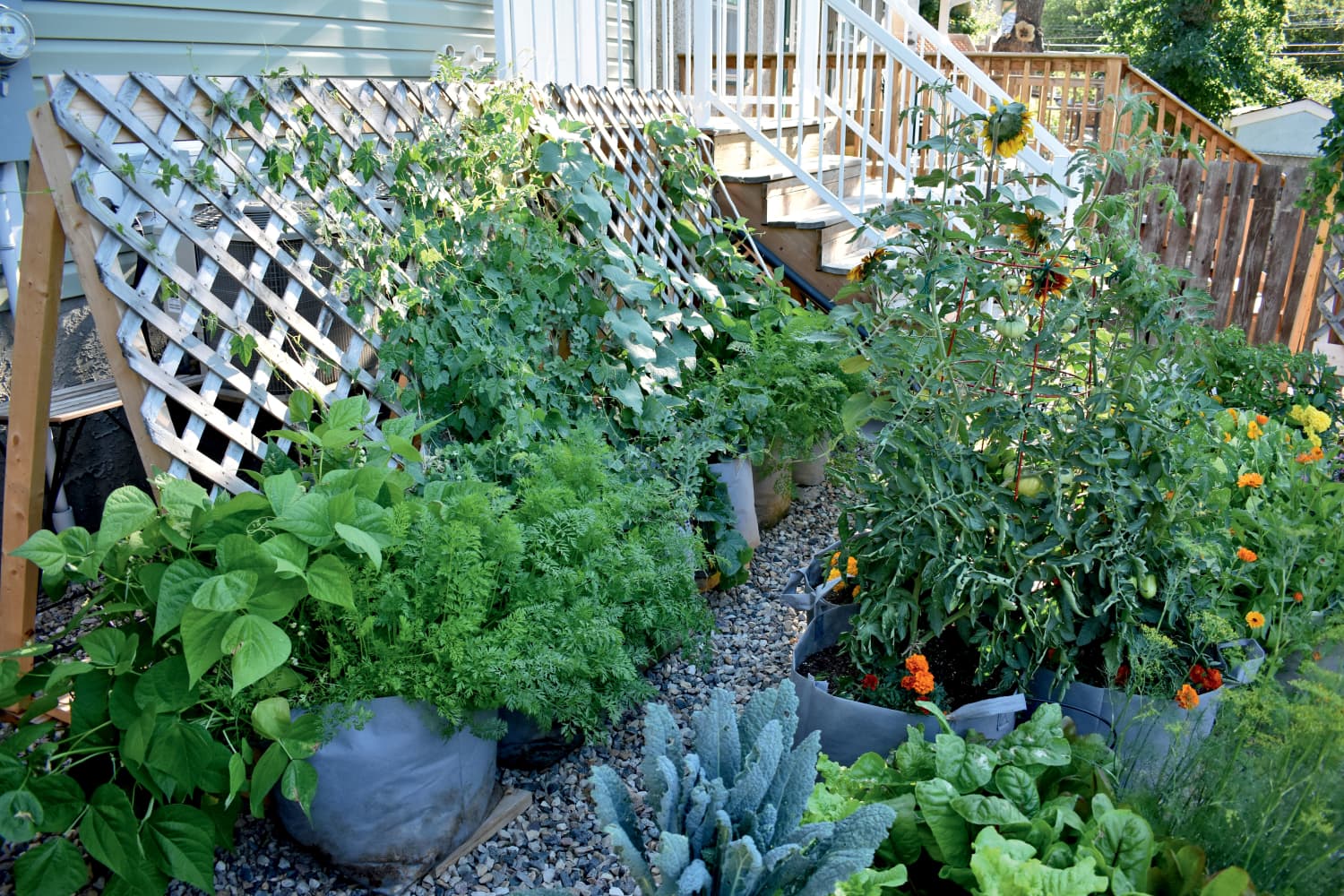 Raise your hand if you're one of the many homeowners who became a first-time homesteader once the pandemic hit. Well, maybe you didn't start growing all your food on your own land, but the spike in gardening and yard improvements last year made vegetable gardens a very 2020 yard feature.
The good news, aside from 2020 being in the rearview mirror, is that your sweat equity building raised beds and digging into the earth has paid off — not just in fresh produce, but also in boosting your property's value. Having an edible garden — especially if it's an attractive one — appeals to potential buyers. I asked two experts how to showcase this feature when putting your place on the market.
A vegetable garden shows buyers the hard work is already done.
People who love the idea of home-grown veggies, but not the reality of starting one from scratch, want to see ready-made beds in your yard, says Realtor Andrea Duane, a broker at Coldwell Banker Realty in El Dorado Hills, California.
"The fact that it's already done for you makes the dream of having your own garden attainable to a well-intentioned new homebuyer," says Duane, who is an avid gardener. "There's a lot of overall satisfaction and pride of ownership that can be gained from having a great garden that's free of weeds and showcases a mix of crops."
An established garden can showcase your property year-round.
"Even if a buyer moves in during the winter months when annuals like tomatoes or peppers are out of the ground, a clean and maintained garden will be ready to plant first thing in the spring," says Kevin Espiritu, founder of Epic Gardening in San Diego and author of Grow Bag Gardening. "Established perennial beds for vegetables like asparagus can be a selling point, too, if they're thriving every spring. And cold-tolerant winter veggies like kale can ensure the beds will be weed-free and ready to go."
Fruiting plants, such as berry canes or bushes provide immediate gratification to buyers, he adds, because the produce will be waiting for them to harvest when the season arrives.
Small space gardens add value, too.
There are plenty of ways to grow veggies in tight spaces, says Duane, including hanging troughs on a fence, stacking tower planters, or grouping nice containers.
Highlight vertical gardening — growing up, rather than out, Espiritu says.
"Using grow bags or containers creates effective and beautiful small space growing zones," he says. "In one 10-gallon grow bag, there's enough space for multiple culinary herbs. These are portable and can be moved anywhere, so a future buyer will see the potential in that space."
You can also grow dwarf fruit trees or vining plants like cucumbers or pumpkins in large grow bags, he adds.
Take quality photos of your garden in full bloom.
Showcase the bounty your garden provides during harvest season, no matter when you list your house. If all those gorgeous veggies and herbs aren't out yet, be sure to have lots of photos to show potential buyers.
"Providing photos can also tell a gardening aficionado a lot about how the space actually works for gardening: Images showing sun angles or plant placement can provide a lot of insight into their future home," notes Espiritu. "Even if someone's not a gardener, those photos can be useful to highlight the potential of that space, such as showing where to build their future gazebo."
Finishing touches create the perfect outdoor retreat.
There are lots of ways to make edible gardens and their surroundings more alluring, says Duane.
"Freshly compacted decomposed granite makes an inexpensive and attractive pathway, and adding a finished 2-by-6 trim to the top of each garden box creates a tidy look," he says. "Tasteful yard art, bird baths, or fountains add ambiance and beauty to your garden in and around your beds."
Trellises can also draw the eye upward, making the yard look bigger than it is, adds Espiritu.
And make sure any permanent fixtures are in good shape.
Stage your edible garden with the same critical eye you used inside your home, Espiritu says. A rotting wooden planter could turn off potential buyers, for example. "Consider replacing age-damaged boards or patching up cracked mortar between brick beds," he says.