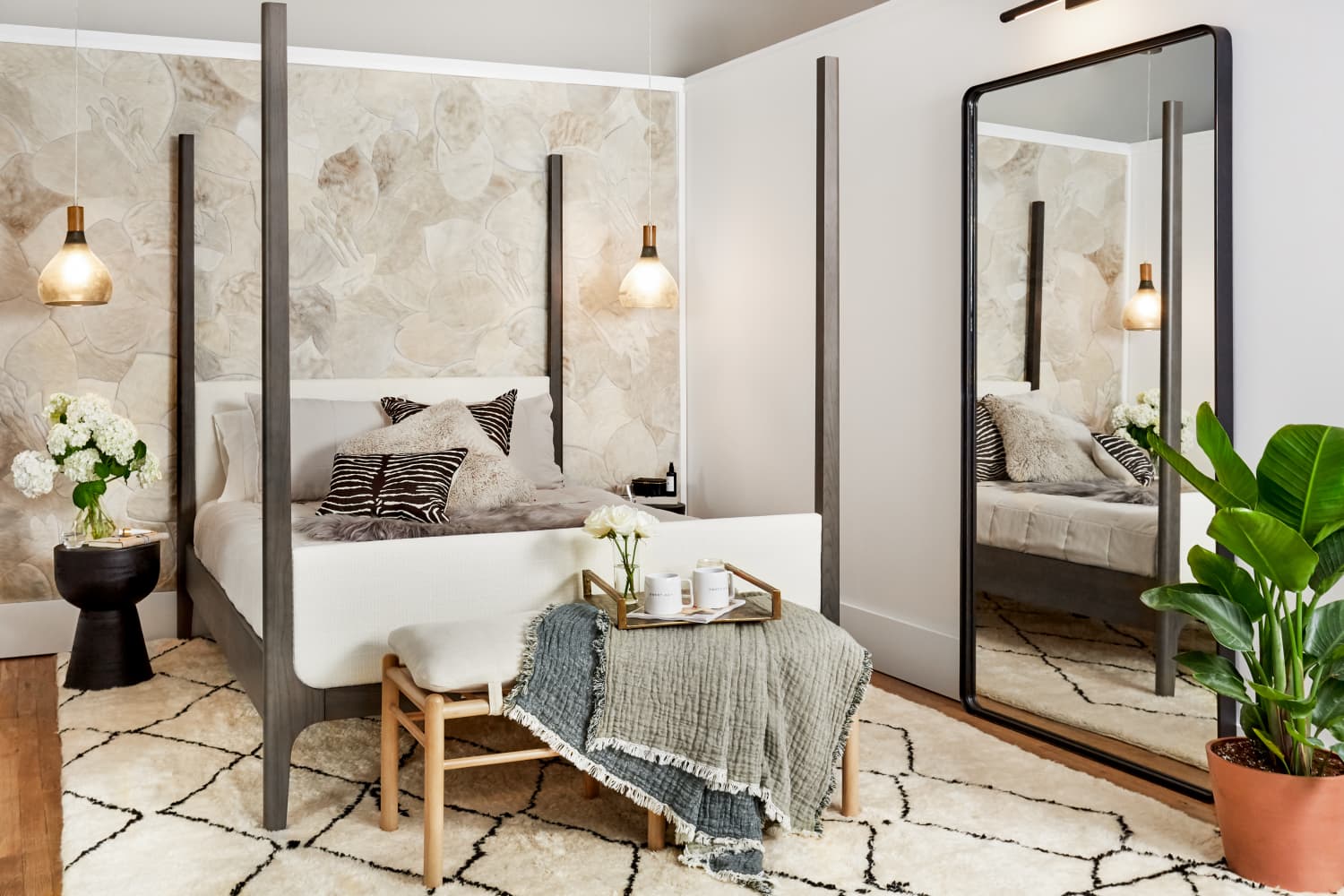 One of the core tenets of the Small/Cool Experience is that you don't need a large space to make a major impact. But if you've spent more time than ever inside your home — whether that's 1,000 square feet or 250 square feet — you might be looking to expand your walls just a bit. How do you do that without obtaining remodeling permits? By taking cues from professional designers themselves, and adding large mirrors to your space.
It's no secret that mirrors can help a space look and feel bigger, especially if you're strategic about where you place them. In "Serenity Now," Sweet July founder Ayesha Curry and Parisa O'Connell placed two identical floor-length mirrors from Ballard Designs across from each other, creating an optical illusion of space.
"The goal for creating this bedroom retreat was to showcase how neutral, calming tones can still translate into interesting design," Curry said of the space. "One technique we used was symmetry to evoke a sense of serenity. We mainly focused on infusing texture rather than bold color, creating contrast through natural elements like wood and metal instead." The neutral black finish and curved edges that define the Wilcox mirrors serve up that contrast without being too distracting.
Bobby Berk also used the Wilcox mirror to great effect in his room, "Warm Minimalism." Instead of adhering it tightly to the wall, his room features a single mirror that leans slightly against its post, complementing the softer tones and round lines of the Kardiel sofa. "Spaces always feel more interesting when you juxtapose softer, more organic shapes, with rectilinear or geometric elements," Berk said of his room — and the wooden accents certainly play against the mirror's softly industrial feel.
Other mirrors also made their appearances in Small/Cool rooms. In "Classic Redux," Noz Nozawa riffed on the idea of round mirrors by choosing two different styles — one gilded, vintage-inspired piece by Arhaus, and a smaller mirror with a tile frame by Serena & Lily — and juxtaposing them against each other as well as the square molding on the walls. The result is a contrast that is as surprising as it is effective, and as Nozawa told Apartment Therapy, "Layering patterns and colors is easier when you broaden what defines 'neutral.'"
"The best designs evoke feelings of peace, warmth, and contentment," Jaclyn Journey and Amanda Jacobs said of their room, "Moody Musings." "Interesting patterns, rich fabrics, and lush textures are ingredients that lead to happiness and better living." The wall mirror from Arhaus that lives above a striking root console table from Frontgate not only widens the space, but it reflects the Journey + Jacobs designers' bold paint pick, Cherry Cola by BEHR.
If you want to use your mirror to help make your space look bigger, it helps to consider a light source before you place your find for good. Maybe you want to take a cue from Journey and Jacobs and place two candles in front of the glass so the light flickers across it, or place sconces or pendants directly above or nearby, as Curry and O'Connell, as well as Berk and Nozawa, did. Either way, you'll make the most of your small space with minimal work but plenty of reward.