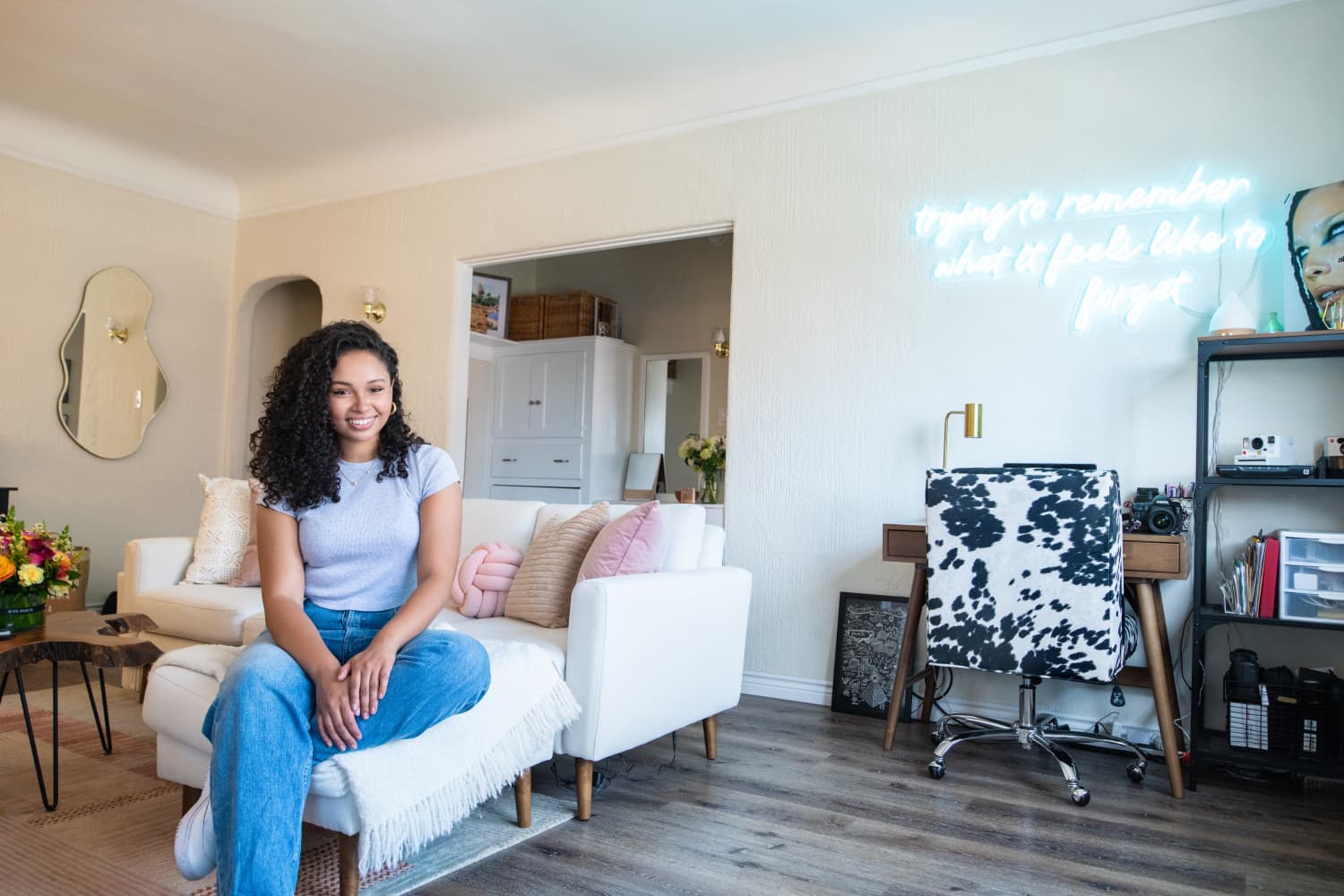 We independently select these products—if you buy from one of our links, we may earn a commission.
Name: Nesrin Danan
Location: Los Angeles, California
Size: 800 square feet
Type of Home: One-bedroom apartment
Years lived in: 1 year, renting
Through her job as a professional photographer in the entertainment industry, Nesrin Danan keeps busy touring with musicians, creating social content for celebrities and brands, shooting event photography for tech companies, and more. So when it came to decorating the 800-square-foot apartment in Los Angeles that she rents, she chose a mix of mid-century modern meets Scandinavian vibes to create a soothing sanctuary.
"I love this apartment — it's spacious and in a great neighborhood. I also love the vintage 1930s architecture of the building; it gives it so much warmth and character," says Nesrin. "I've been able to bring so many fun pieces into my space to make it perfectly my own! My living room is definitely the vibe-iest part of my apartment — to pass the time at home I love having movie marathons, working at my desk, and watching sunsets from the roof or the fire escape."
"I actually found this apartment SO last minute — when I was moving to LA over the summer I was supposed to move into my friend's house, and literally two weeks before my move that fell through. I sent my friend whose eye for design I trust to my favorite neighborhood in LA to look at a few places for me, and I signed for this a week before I moved in — without having seen it in real life!" Special thanks goes to Nesrin not just for allowing Apartment Therapy to tour her home… but she actually recommended the fantastic Antonio DeLoatch house tour that we published earlier this week.
Apartment Therapy Survey:
My Style: Mid-century modern meets Scandinavian meets random eclectic things I found on Pinterest.
Inspiration: My two friends @caileeraemusic and @orionvanessa. Their apartments are completely unique but both styles I love, and I definitely take inspiration from both of them!
Favorite Element: Definitely my Ferm Living pond mirror.
Biggest Challenge: I'm not used to having a narrow galley kitchen with no counter space, so that's something I've had to adjust to. I also have north-facing windows, which can sometimes pose a challenge with natural light.
Proudest DIY: I haven't really DIY'd much in here, however I have built every single piece of my furniture by myself and I count that as a win!
Biggest Indulgence: My window A/C unit… and yes it was worth it.
Is there something unique about your home or the way you use it? In the middle of my apartment there's a little vanity nook with cabinets/drawers and a makeup table (remnants of the 1930s!). I originally thought I'd never use this space but it's amazing for storage (linens, extra clothes, photo gear, influencer product overflow) and I get ready there every day!
What are your favorite products you have bought for your home and why? Definitely my bedroom rug — one of my favorite things and it brings so much warmth to my bedroom. My Keurig is a no-brainer; I'm a coffee fan. I also couldn't live without my Dyson air purifier — a must have in a city like LA. The one item I get the most compliments on however are my Philips Hue bulbs! I have them installed in every sconce in my place, and whenever people come over for drinks or a movie night, it's a really great way to set a vibe.
Please describe any helpful, inspiring, brilliant, or just plain useful small space maximizing and/or organizing tips you have: I try to just maximize all of my hidden storage — shoe racks, shelf stackers, and organization bins in closets, drawer dividers in all my drawers, etc. I got a little rolling kitchen island to use as a coffee station in my kitchen because of the lack of counter space.
What's your absolute best home secret or decorating advice? One thing I did in this apartment was deciding on a color scheme before buying anything. I wanted warm colors (orange, yellow, red, beige, gold) and wood furniture pieces to make the space feel more cozy/welcoming and to balance out the bluish-light from my north-facing windows. It was so much easier to shop when I knew what would match well and the aesthetic I was going for!
This house tour's responses were edited for length and clarity.