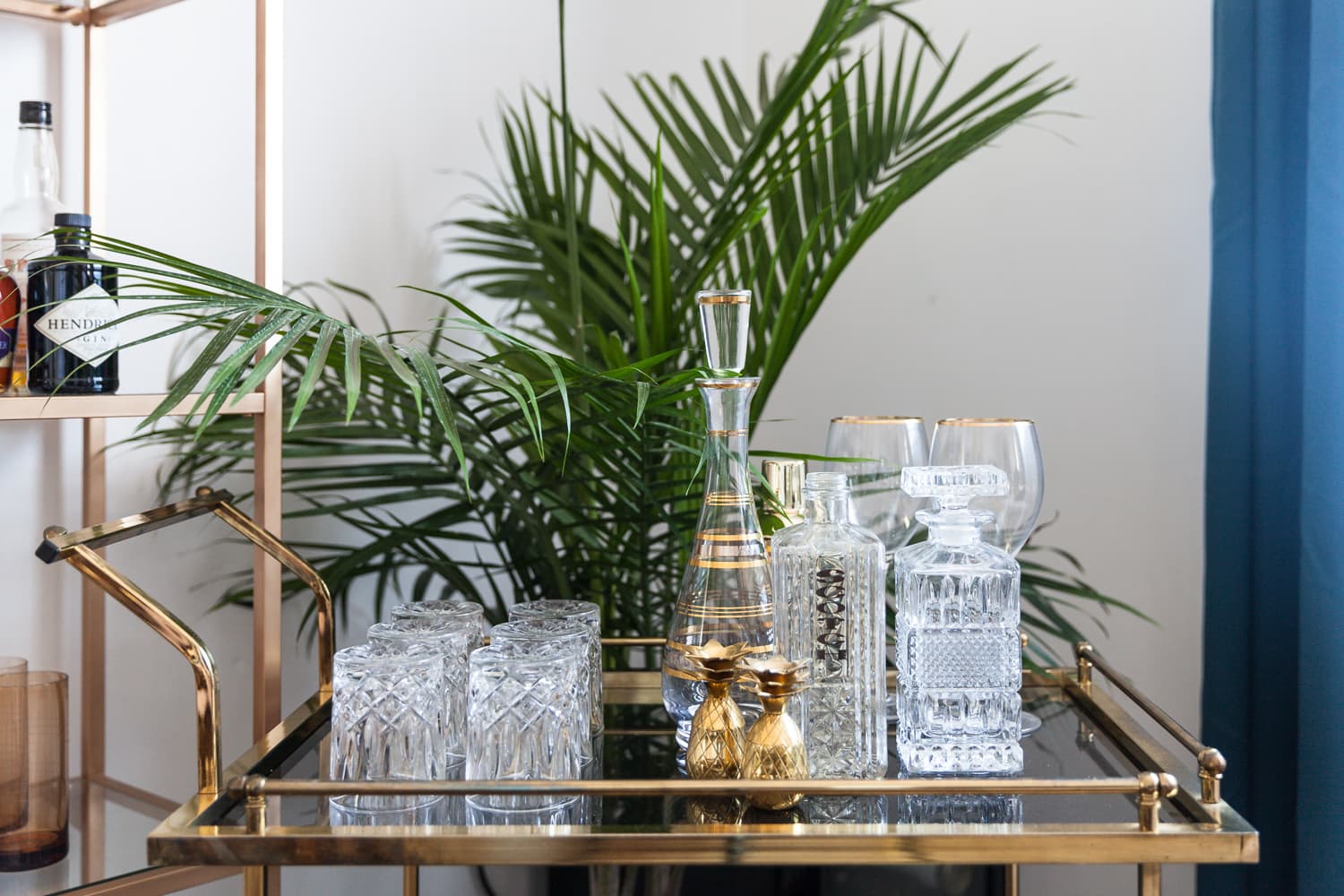 Nothing says summer like some friends gathered around at home, cooking out, and sipping strawberry mojitos from a mason jar. Just months ago, in the midst of a global pandemic, this is what everyone wanted more than anything else. So now, it's time to start remodeling, redecorating, and readying home for more normal days ahead that might include some summer entertaining.
HGTV star and designer Orlando Soria of "Build Me Up" is a big fan of home bars, whatever that might look like, because "they are a reminder of good times, even when we are working or doing other things," calling it a subconscious reminder to relax. If you haven't carved out a designated space as your home bar, these tips from Soria will give you the urge to jump on the popular bar cart train — or at least create a strategic place to make your guests some fancy cocktails.
Check out his tips to make a home bar work for your space.
Consider a bar cart even if you don't drink.
Even if you aren't a major drinker or entertainer, you may want to consider a bar cart for the vibe it adds to a room. Soria compares it to people saying they don't need a bench at the end of their bed. He explains to them that it's not necessarily to sit on, but to add comfort to the room's aesthetics. "Obviously a bar is practical, but there's something fun and frivolous about it," he told Apartment Therapy, adding that home bars remind you to take a minute for yourself, whether you are drinking or not.
Think outside the bottle.
Glasses themselves are great bar accessories, and Soria hunts for them at thrift stores in unique shapes in sizes, in sets of six or eight. But your home bar can be decorated with much more than just glasses and bottles — think decorative boxes, trays, table lamps, sconces, and vintage items. "I'm always looking at stores for weird little sculptures for busts of human heads, or horses, or figurines that will add character," Soria said. He encourages people to buy items that they are excited about, without being "paralyzed by fear" of making wrong decor decisions.
Don't skimp on drink accessories.
Drink accessories like straws, napkins, and ice will bring the feel of any cocktail from basic to an experience. Soria recommends metal straws for that extra shine and reusable cloth cocktail napkins. He personally opts for one to two oversized square ice cubes in his "lazy person's old fashioned," which also has: a splash of Maker's Mark whiskey, a squeeze of orange juice, and a citrus slice.
Stay close to the kitchen.
It can feel challenging to figure out just where a home bar should go, a dilemma Soria is familiar with — he tried housing his bar cart in between the dining room and kitchen, then moved it to the den, then back again. If you have a grand space such as an open concept kitchen/dining/living room, he recommends anywhere in there. He also recommends staying close to the kitchen so you have sink access handy, or you can easily grab some orange slices from the fridge. Don't forget: if you opt for a bar cart, it has wheels for a reason — take it outside for some summer fun!
Choose a color palette that plays nice with the room.
Maybe your bar shouldn't be hot pink in a room full of blues and beiges. Instead, opt for colors that work well with other design choices you've already made in that space. Soria says you want to tell one "cohesive story" by streamlining decor throughout the home, including at the bar. Soria's bar cart features ambers, golds, and black, and he encourages others to try a monochromatic. You can also opt for neutral decor, such as an ivory box, then use pops of color, such as red — but he cautions to do that sparingly.
Use some bottle strategy.
Instead of lining up every liquor bottle you own on a shelf, use Soria's specific strategy to make your bar look designed on purpose. First, group spirit bottles in sets of three to five, especially if you have a smaller bar. Mix small and large bottles to create movement, he advises, and don't feel the need to display every bottle you own.