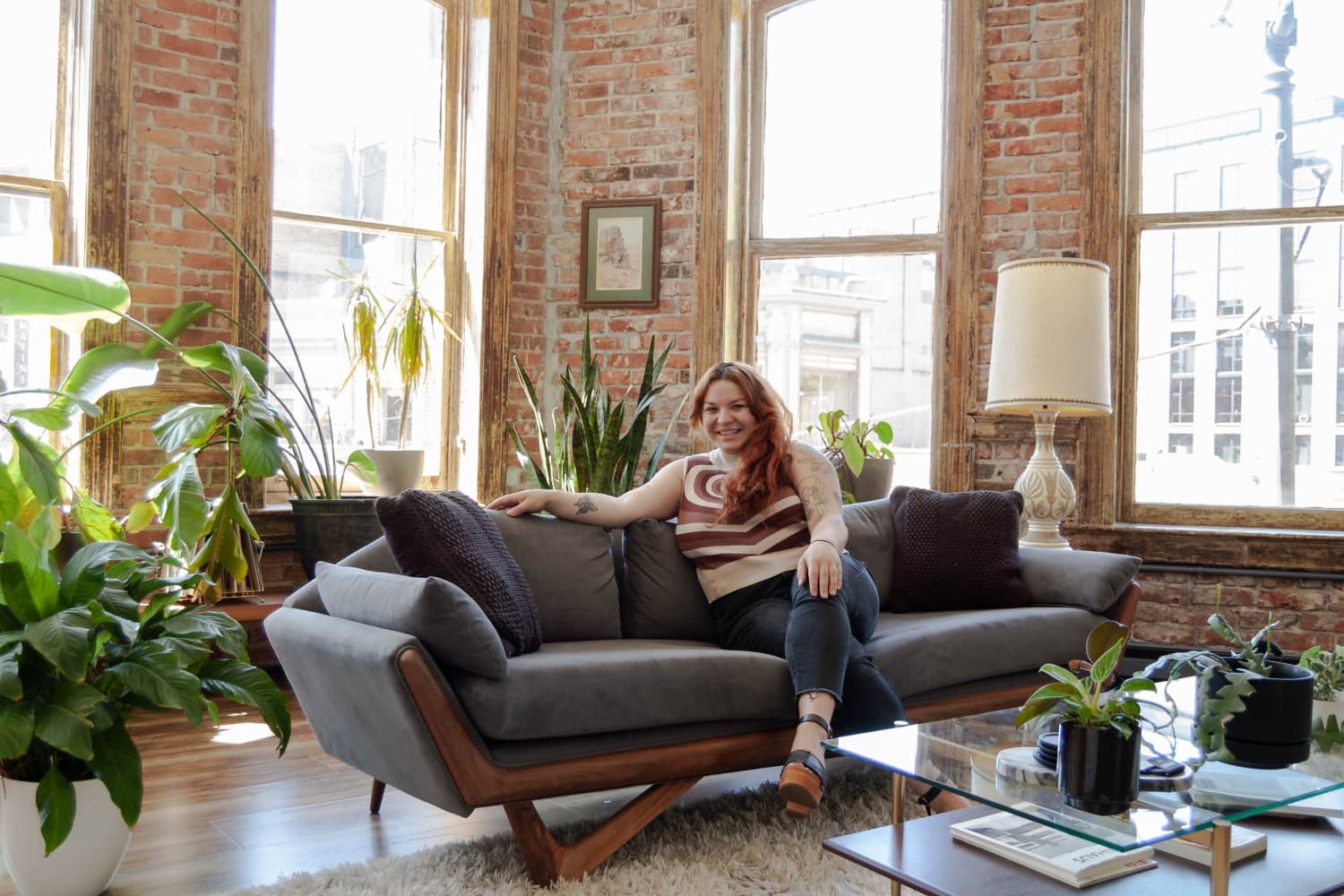 We independently select these products—if you buy from one of our links, we may earn a commission.
Name: Taylor (myself), my three cats, Talulah, Remi, Phoebe, and German Shepherd puppy Gwen
Location: Pioneer Square — Seattle, Washington
Size: 2500 square feet
Type of Home: Loft
Years lived in: Over 3 years, renting
Taylor, an interior designer and the owner of the plant shop, FRINGE, says this 135-year-old loft is everything she's always dreamed of. "I remember watching movies when I was younger about creatives living in cool old New York-style lofts, and I couldn't wait to find mine one day. I knew it was not going to be easy, and I wasn't going to find it on Craigslist, and that was the charm of finding a diamond in the rough," she explains. "I would walk past this old three-story gray building on the way to my job in the neighborhood I lived in 10 years ago when I moved to Seattle and always wondered what was going on inside the building. It always seemed kind of abandoned but years later there was a cool vintage furniture shop on the ground floor and that was my first time in the building. It was very historic, very raw, and I saw how much potential it had."
This isn't the first time that Apartment Therapy has shared a look into her stylish brick space; her first loft tour was three years ago, but today it's a different space than it was then. "I have redone the entire kitchen, both bathrooms, and the overall design of the space including paint, lighting, fixtures, etc.," Taylor explains. She's updated some of the furniture — an orange couch has been swapped out for a more subdued gray one, for instance — and different living areas have been swapped (like the living room and dining areas), and a little bit of paint color has easily transformed the small bathroom. The space, which is sometimes used for photoshoot rentals, is proof that even small updates can make for a big transformation.
Apartment Therapy Survey:
My Style: Mid-Century Modern Minimalist, Historic Industrial
Inspiration: The 1960s + 1970s
Favorite Element: That's a tough question… I love everything about my home. I have spent the last three years restoring it and making it a beautiful place. I have redone the entire kitchen, both bathrooms, and the overall design of the space including paint, lighting, fixtures, etc. The entire place is my favorite!
Biggest Challenge: My biggest challenge with the space was a small budget. I have done everything on my own and with some help here and there. I've spent so many late nights in this old space jamming out to music, drinking wine, and painting or ripping up flooring and giving the space an overall new look. If I had an unlimited budget with this space I could REALLY do some damage!
Proudest DIY: My proudest DIY was the bathroom. I ripped out the previous flooring and installed penny tile and it was my first time grouting or tiling a bathroom. It was not easy, but very fun.
Biggest Indulgence: All of the paint. I've painted, changed, and changed again the paint colors in the space over and over. I run a photo studio out of it as well, so I love to keep it fresh and new looking for clients to want to return over and over and not be bored.
Is there something unique about your home or the way you use it? I use the space as a photo studio and a way to inspire creatives and photographers around the area. It's called That Brick Loft and it's become a moody sanctuary for creatives, artists, and influencers all around the PNW.
What are your favorite products you have bought for your home and why? My furniture! It's all either vintage or something I just couldn't live without. Some pieces are new and were purchased locally, which I love as well.
Finally, what's your absolute best home secret or decorating advice? Purchasing items that you feel you love, or bring a sentimental value to your space. We all only have so much room in our homes, and you want each piece to be unique whether it may be an object, a plant, a piece of furniture, or art. Keep it fresh, not too cluttered, but make it you.
This house tour's responses were edited for length and clarity.