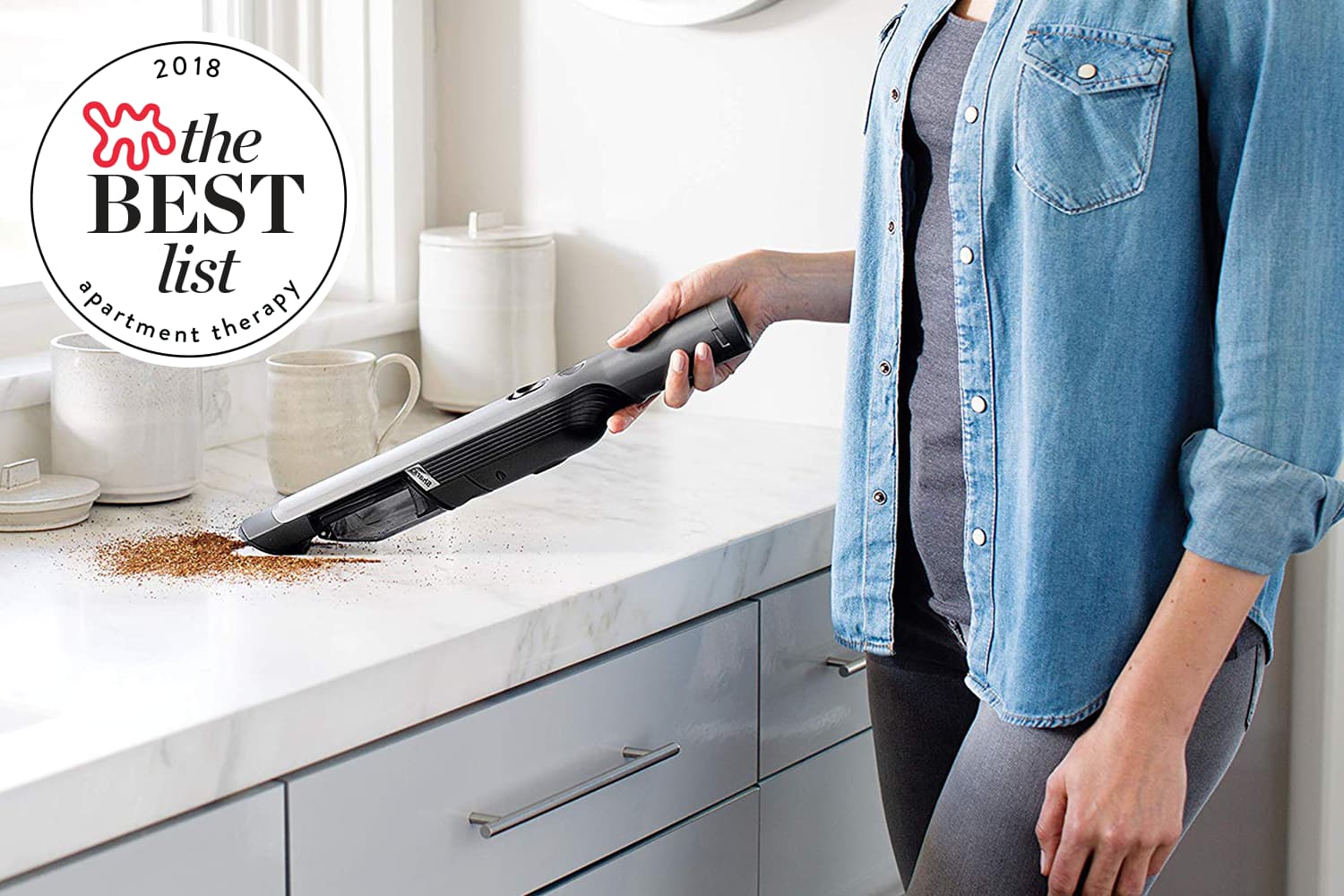 We independently select these products—if you buy from one of our links, we may earn a commission. All prices were accurate at the time of publishing.
Vacuums are a staple in any home, but if you haven't considered a handheld vacuum yet or are in the market for a great one, allow us to introduce you to the best ones we put to the test. These portable vacuums are perfect for smaller messes or just more precise deep cleaning in hard-to-reach areas like tight corners and between sofa cushions. Have a pet? Handheld vacuums are heroes when it comes to targeting hair, dander, and dust bunnies. But even if your home is pet-free, the benefits of adding a handheld vacuum to your cleaning arsenal are many. They're easier to grab for quicker clean-up, come in cordless options, and portable for tidying up cars, closets, and other tricky spaces that even full-sized vacuum attachments can't reach. We've rounded up our top editor-tested handheld vacuums so you can up your cleaning game, stat.
The Best Handheld Vacuums
What to Consider When Buying a Handheld Vacuum
In short, there's a lot. But we've narrowed it all down to two functions: suction power and whether or not the handheld vacuum is cordless. Keep in mind your preferred use experience, where you'll mostly be using it (if you can't narrow this down, go for cordless), and what you tend to need to clean up. Dusty messes benefit from an interior filter, preferably washable, while larger debris will need higher suction power. Read on for more information on how to pick the best handheld vacuum for your needs.
Suction power is one of the most important factors to pay attention to when it comes to the efficacy of mini or handheld vacuums. Size shouldn't matter if the vacuum's suction power is strong enough. There are a couple of units of measure that you may see when it comes to a vacuum's suction power:
Cordless: The most popular type of vacuum today, cordless models are some of the most effortless vacuums to use and tote around thanks to their portability. They have exceptional ease of use and tend to be designed with convenience in mind. But like any other cordless electronic, their power and functionality can dwindle unexpectedly if the vacuum's battery is low.
Corded: The predictable nature of corded vacuums makes them one of the most reliable types on the market. Because the suction isn't dependent on how much power they're able to hold after a charge, they're often some of the highest performers when it comes to vacuums. That said, corded models usually have limited mobility and require unplugging and replugging in order to thoroughly vacuum larger spaces.
What We Look for In a Handheld Vacuum
We tested a variety of handheld and mini vacuums against different types and levels of small messes, judging them on the following criteria:
The Best Handheld Vacuums
"The Bissell AeroSlim is a sleek handheld vacuum that really doesn't look like a vacuum at first glance," says assistant shopping editor Britt, who tested it. "Its storage stand keeps both the hand vac and its brush and crevice tool contained, so there aren't a lot of spare parts to deal with." Small-space friendly and easy on the eyes, the AeroSlim is our choice as the best overall handheld vacuum. "The filter and USB charging cord are even small enough to fit inconspicuously into a drawer," Britt continues. "I love the convenience of handheld vacuums, so I've come into contact with plenty. The AeroSlim is the first one that I haven't felt compelled to keep hidden away with the other vacuums behind the door of my laundry room. Instead, it sits proudly on top of a bookshelf!" At under $50, the sleek AeroSlim and its multi-purpose accessories are suitable for tight storage spaces as well different aesthetics when displayed. It's got all the expected (and helpful!) bells and whistles, like being cordless, having a washable filter, and coming with a USB charging cord, so it can be used anywhere for up to 12 minutes. The Bissell AeroSlim's got it all and does it all.
Who It's Best For: Those who want a compact yet powerful handheld vacuum; those who don't want to spend too much; those who want something with a trustworthy name (like Bissell).
Yes, the Dyson Cyclone V10 Absolute is a full-sized cordless vacuum, but it converts into one of the highest-powered, longest-lasting handheld vacuums on the market. It's both our best investment handheld vacuum pick as well as our choice among highly versatile vacuum cleaners. It includes all the necessary features: a spacious canister base, multiple crevice tools, and 60 minutes of fade-free run time. Contributing shopping editor and tester Ivy says, "I LOVE THIS VACUUM!! I finally splurged and bought it during a sale two years ago and it's one of the best home purchases I've ever made. It's a total investment, but really is as amazing as it claims to be. It is absolutely unreal to see what the vacuum's technology can help suck up, and how easy it is to reach those hard-to-clean areas. I love using the different heads that came with it for narrow crevices. It's also so easy to empty the bin — total game changer to have a bag-free vacuum." The extremely powerful V10's attachments can pick up just about any mess, including those tiny, dusty corners or scattered spills of large debris. Because of its slender frame, we recommend emptying the canister after every couple of uses to avoid clogging. Take care of your V10 and it'll be an investment that will take care of you, paying you back in a super tidy home that's easily achieved for years (and years) to come.
Who It's Best For: Those who are ready to pay more for a handheld that's got it all; those who want longer run times; those with allergies who need maximum filtration.
Good to Know: The dock included with the V10 can be screwed into a wall at the height of your choice, making it easily accessible and rechargeable either as the full-sized vacuum, the handheld, or just the base.
Handheld vacuums come in all shapes these days. Some seem earnestly ergonomically beneficial, but most are just the same ol' machine in a new suit. Same goes for price — many models are $50 or under and some ring in at over $200. Once we cleared the clutter, as it were, we found that the O.G. Dustbuster from Black + Decker is the handheld vacuum we go back to time and time again. It's a recent Best List winner as well as the subject of one of our writers' love letters from 2017, and we haven't stopped raving about it since. Unfussy, straightforward, and reliable, it's a dream for quick clean-ups and daily household maintenance — particularly if you have a pet or are chasing after a messy little one. It has a rotating nozzle and can be taken apart easily for filter cleaning, which we recommend doing regularly to maintain its efficacy. Replacing handheld vacuums is one of our biggest pet peeves — it's expensive, wasteful, and annoying that they typically live such short lives. Somehow, our Dustbusters persevere, outlasting many others we've tested over the years.
Who It's Best For: Those who need something compact in addition to their upright vacuum that has high power and suction; those with pets or households with frequent small messes.
Good to Know: We also tested the newer version that's a bit more expensive but is high-powered with a pivoting feature that makes it even easier to use.
"Chic, cordless, and compact," tester and SEO editor Sarah says, "the HomeVac H11 is the stuff of dreams," especially for those who have ritualized their cleaning routines and view vacuuming as an act of self-care. "For the most part, hand vacuums can be rather large and unsightly," says Sarah, "but this one puts a stylish spin on the popular cleaning tool with a sleek design that's roughly the size of an average wine bottle." Lightweight, sleek, and not hard to look at, the eufy by Anker HomeVac H11 welcomes us all to the modern world of vacuums, the way they should be. "Don't let the size (or price!) fool you," Sarah continues, "this vacuum packs a punch. With a powerful 5,500 Pa suction power, a washable high-efficiency filter, and an included multi-use crevice tool to reach every nook and cranny, this handheld vacuum might just become the star of your cleaning kit. The best part? It packs all of this power into a device that weighs just 1.2 pounds!" When we said lightweight, we meant it.
Who It's Best For: Those who hate the look of traditional vacuums and cleaning tools; those who want something extra small but extra powerful.
Good to Know: The HomeVac H11 also includes an lOzone purification system within its filter, purifying the air as it cleans dirt, dust, and even large debris.
What if what you're looking for isn't as big as even the smallest handheld on our list but is still strong enough to keep your workspace dust free? The FineInno Mini Crumb Vacuum is ideal for keeping on your desk, in your desk drawer, on your kitchen counter, or near your dining table — wherever you find yourself needing to spot-clean a dry spill without the use of paper towels, chemicals, or wipes. Its tiny body carries battery power that allows it to last up to 10 minutes, the average time for some of the largest handheld vacuums we've tested. The best part? It's designed to fit neatly in the palm of your hand so you can comfortably and effortlessly glide it over surfaces — even your laptop — and allow the device to vacuum everything up. "It's powerful for its size and was even strong enough to pick up the tiny instruction manual it came with," says Britt. When it's ready to be cleaned, simply empty the canister from the bottom of the vacuum. It runs on two AA batteries that slide into the compartment just beneath the vacuum's twist top. Easy to use, clean, and recharge, the FineInno Mini Vacuum could be your new cleaning BFF.
Who It's Best For: Those who don't want to break out their full-sized vacuum for tiny messes; those who want to keep a vacuum in their car or at their desk.
Good to Know: Make sure to purchase your batteries separately and prevent burnout by following the maximum recommended time of use: 10 minutes per cleaning session.