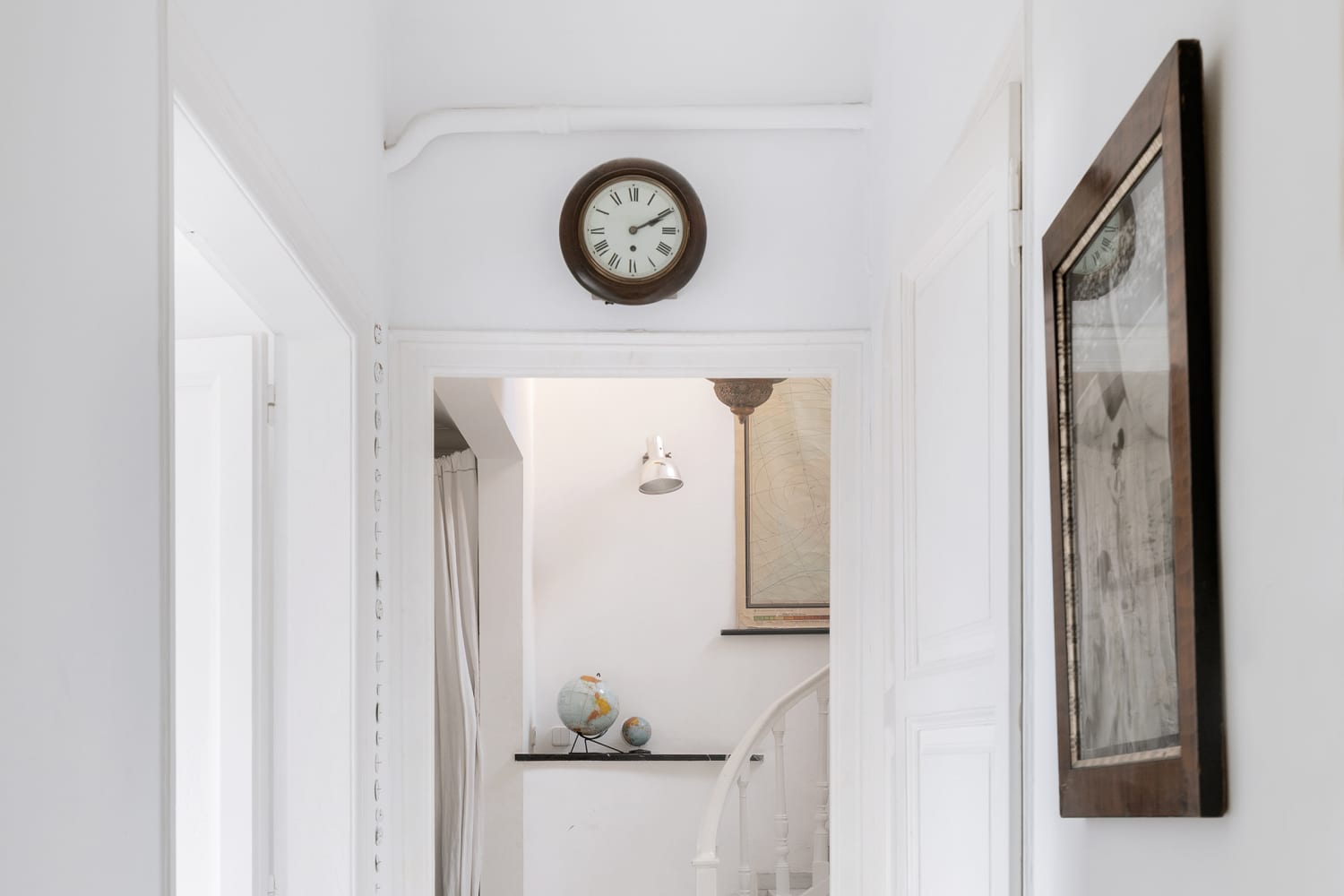 We independently select these products—if you buy from one of our links, we may earn a commission. All prices were accurate at the time of publishing.
Name: Kathleen Boonen, partner Jan Dönhardt, daughter, Lila, and son, Tom
Location: Barcelona, Spain
Size: 1615 square feet
Years lived in: 10 years, owned
Walking by this neighborhood in Barcelona one day, Kathleen Boonen's partner, Jan, saw this apartment for sale. After looking at the apartment — located in a building built in the 1950s and located on a lovely street with lots of pedestrian activity — Jan went home and Kathleen that he'd found the home of their dreams!
The couple loved the silence, the light, and the views of the apartment — despite being in the center of the city the home is surrounded by trees. The whole place feels more like being in a nest than an apartment. But it didn't look like it does now when they first moved in 10 years ago. Kathleen says they've completely changed the home's room layout; for instance, where the living room is now was once an old kitchen.
Kathleen is the co-founder of Lila & Tom, a fashion advertising agency, and also works as a creative director there. She is also the co-founder of Las Insólitas, a creative event agency that produces sustainable events.
Apartment Therapy Survey:
My Style: I would say "flea market" style.
Inspiration: Our intuition
Favorite Element: The light and the view are the favorite things about our home.
Biggest Challenge: The biggest challenge was to live in the place for a few years before being able to afford the transformation.
Right from the beginning we saw the potential of the place but we didn't really had the money at that time to do the renovation. At the end, it was a good thing to get to know the place and to transform it knowing exactly when and where the light enters and according to our family habits.
Proudest DIY: A lamp for my son's bedroom made from an old camera that I found at a French garage sale. The socket is from a hardware store in San Francisco (when I travel abroad I love to go to that kind of stores!).
Is there something unique about your home or the way you use it? When we came to live here the apartment was completely different! On the second floor the kitchen was were the living room is now. We have changed the room distribution. Now we have a big space with no walls and it really seems that we are in a different place than in the middle of a busy city like Barcelona!
Please describe any helpful, inspiring, brilliant, or just plain useful small space maximizing and/or organizing tips you have: As our kitchen is in an open space, we didn't want it to look too much like a conventional kitchen, so we installed a horizontal fridge that is hidden in the drawers beneath the kitchen's countertop. Also we didn't want to have high cupboards so we managed to find an old candy display in order to store rice, pasta, cereals that we put on top of an old baby changing furniture piece that we transformed into a cabinet.
Does your home reflect your home country/city in any way? Our home reflects Mediterranean vibes. With its terrace, it feels like a summer holiday house.
What are your favorite places to shop for home décor that can only be found in your country? My favorite places to shop are flea markets and Wallapop, a Spanish site to buy and sell secondhand stuff.
Finally, what's your absolute best home secret or decorating advice? My decorating advice would be to follow your instinct, your taste, and to listen to the place. At the end your home is a reflection of yourself.
This submission's responses and photos were edited for length/size and clarity.