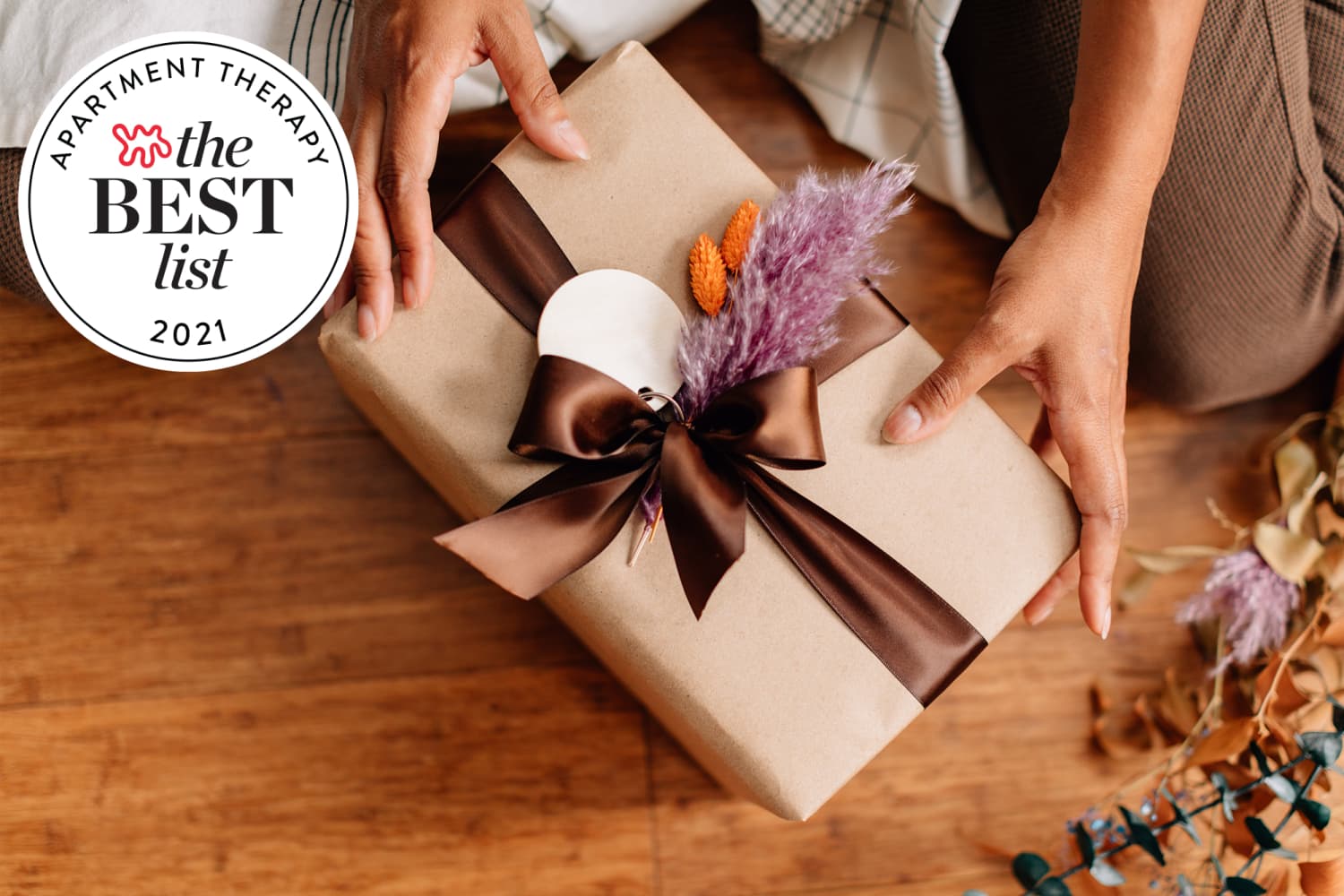 We independently select these products—if you buy from one of our links, we may earn a commission.
We know we're not the only ones who feel blindsided by the end of 2021. The holiday season is here, and since shipping delays are very real these days, there's no time to waste when it comes to gift shopping. If you haven't started or don't know where to begin, don't panic — our team of editors has been testing for the best of the best for everything from comforters to bath towels. So, we've already got the recommendations on deck and also happen to know where to get them the fastest. While we can't make guarantees on behalf of the postal service, consider this list your ultimate time-saver when it comes to finding the perfect gifts for everyone you know and getting them delivered ASAP.
The Best Editor-Tested Gifts
The Best Editor-Tested Gifts
For those who could use a little extra R&R, a silk eye mask is an intentional gift that's functional and luxe. In our hunt for the best eye mask, we sought out those that treat our skin (and hair, for that matter) well, totally block out light, and add slight, comforting pressure. This delicate mask has a silk outer shell and is filled with flaxseed and lavender herbs that work in tandem to help you float away on a cloud of relaxation. It feels smooth and lush against the skin, and does an excellent job of blocking light so you get the most restful sleep possible. It's so effective that it turned our sleep mask-avoidant commerce writer Sarah into a believer. "After moving into an apartment with lots of natural light that was waking me up hours before my alarm clock, I knew I needed to bite the bullet and find the right sleep mask," she said. "The pressure this one provides is perfect and the aroma is just the thing I need to lull me to sleep." Sarah loved the mask's fit — the fully adjustable strap ensures it won't slip off in the middle of the night, and the mask has a zippered opening that lets you add or remove as much of the filling as you'd like. "I never thought I'd be a mask girl," said Sarah, "but here I am, doing my best Holly Golightly impression and loving every minute of it."
Who It's Best For: Those who deserve an easily accessible spa-like experience; those who want to treat someone without spending too big.
Good to Know: This mask comes with an additional gel eye mask that you can freeze and apply to your face to reduce the appearance of puffy or tired eyes. Also, for an extra $10, you can get the sleep tight kit, which includes a lavender and chamomile spray.
As airports and city centers gain traction and many book travel into 2022, more and more people are on the hunt for quality travel gear to replace their old go-tos. If you're looking for the best gift for a loved one who's been eager to get back on the road or in the air, the best carry-on suitcase is one that'll serve them immediately and for years (and years) to come. For us, the best overall carry-on has to be reliable, durable, sturdy without being bulky, spacious without being heavy, and something you'd be proud to pluck from the baggage carousel. Meet: The Platinum Elite Hardside Spinner from Travelpro, the founding brand behind roll-aboard luggage. It includes portable USB charging, lets you pack more while somehow staying in regulation (it fits more than any other hardside carry-on we tried), and glides smoothly and quietly. The handle and zippers never get stuck (no matter what we put it through), and its appearance is classic — not too youthful, not too antiquated. Stickers peel off without residue, and scuffs buff away with just a cloth and some water. We've even used this carry-on as a step stool during pandemic lockdowns when we rearranged our apartments (OK, that was me), and now it's zipping and rolling as smoothly as ever. Travelpro has our trust and we couldn't recommend it more.
Who It's Best For: Those who travel frequently and want a single carry-on to last years; those who want utility and style.
Good to Know: Usually around $650 to $750, this Travelpro suitcase is worth catching when it goes on sale, so keep your eyes on Black Friday and Cyber Monday deals.
*Honorable Mention: If you're looking to gift a traveler who already has their favorite suitcase, opt for Lo & Sons' O.G. 2, a do-it-all carryall that's an AT editor favorite and will last them through years of exploration.
For those who take special care and pride in their home decor and cozy, curated atmosphere, an aroma diffuser that can run with or without them present is a great gift. With its ability to keep fragrance afloat across 500 square feet and look elegant while doing it, the Vitruvi Stone Diffuser is our winner of the best diffuser for large spaces. It uses ultrasonic vibration to combine oil and water within its BPS-free plastic reservoir and diffuse a scented mist evenly throughout a larger area. The diffuser's porcelain exterior allows it to double as decor, making it a discreet — yet visually pleasing when noticed — addition to your home's design.
Who It's Best For: Those who want a versatile diffuser; those who want to use their own aroma or essential oils; those who want something with a long diffusion time.
Good to Know: When gifting, pair the diffuser with the luxurious fragrances Vitruvi also has to offer, like editor-favorite Retreat, an uplifting blend of grapefruit and eucalyptus.
Coffee lovers typically own everything they need to brew the perfect cup, so whatever you give them has to top anything already in their arsenal. And while it feels a bit impossible to declare any coffee maker the "best overall," the Technivorm Moccamaster comes the closest. It's an automatic drip machine that's certified by the ECBC and the SCA for superior coffee brewing, plus comes with a longer warranty than most machines. It also features a manual drip-stop that lets you adjust brewing, so you can make a half pot, full pot, or just one cup. A copper lining on the spray arm ensures consistent water temperature throughout the brewing process, while an energy-efficient hot plate keeps brewed coffee at an ideal temperature. AT director of development Andrew has the Moccamaster, and says: "I love how easy and consistent it is. I get a great cup of coffee every time, and it works just as well when I make a small or big batch. It's quick too." With a 5-year warranty and a reliable brewing process, this is a machine you'll have (and enjoy) for a long time. It's definitely on the expensive end but worth it for the durability and long-term consistency.
Who It's Good For: Those who could benefit from the convenience of an automatic drip machine without the risk of burning the coffee; those who make coffee for multiple people often.
Good to Know: The Moccamaster also comes in a cool, retro style for those with more specific kitchen decor.
For those always on the go, gifting a tool that takes things off of their plate is optimal. A robot vacuum, especially one controlled by smartphone app, helps to make sure the house is tidy whether or not its owner is around. In our search for the best, we looked for one robot vacuum that did it all, from working on multiple surfaces to being app-controlled and smart home compatible, without costing a month's rent. The Roomba 675, best overall robot vacuum winner for the second year in a row, has all the bells and whistles at a surprisingly low price. It's got the patented iRobot dual-roller cleaning system all Roombas have, which makes the brand unparalleled when it comes to cleaning carpets and rolling over multiple surfaces. This model can be controlled via the iRobot app or your Alexa or Google Assistant smart home devices and automatically re-docks and recharges when its battery is low. It even has a full suite of sensors, making it reactive to furniture and barriers before it comes in contact with them. This robot vacuum is also lightweight and easy to clean out and get reset for the cleaning jobs ahead. For all these reasons, the Roomba 675 is exceptional for its price point, but even if you are willing to shell out extra dough, you need not look further unless smart mapping or extra debris storage is necessary for the recipient's home size and lifestyle.
Who It's Best For: Those who need something to help them keep up with at-home chores; those who want something hands free.
Good to Know: Your giftee won't be the only one who loves it — more than 40,000 Amazon reviewers also give it all the stars.
Give the gift of warmth this winter with a set of gorgeous, organic flannel sheets. Warm and weighty, Coyuchi's simply amazing Cloud Brushed flannel sheets are our best overall pick. They're cozy without being stuffy, come in a range of beautiful colors and prints, and rival the most expensive flannel sheets we tried when it comes to softness, weight, and quality. They're also organic and consciously made. The velvety finish is smooth and pill-resistant, and you have seven different colors to choose from, ranging from a fresh spring white to an autumnal ginger, so they'll work all year round. AT shopping editor Blair says, "I've only owned one pair of flannel sheets in my life, which I did like a lot, but I admittedly had nothing else to compare them to — that is, until I got Coyuchi's version, and I'll never look at my prior set the same. I love Coyuchi's because, yes, they add an extra layer of warmth to my bed, as all flannel sheets do, but their unparalleled softness really makes them superbly next-level. What's fascinating, too, is that they're fairly thick but still feel especially breathable — which, as a habitual hot sleeper, I SO appreciate."
Who It's Best For: Those who want to give the softest sheets around; those who want to stay warm; those who are picky about color; those who prefer something organic.
Good to Know: Even the packaging is eco-friendly — all sheets come in a reusable organic cloth bag.