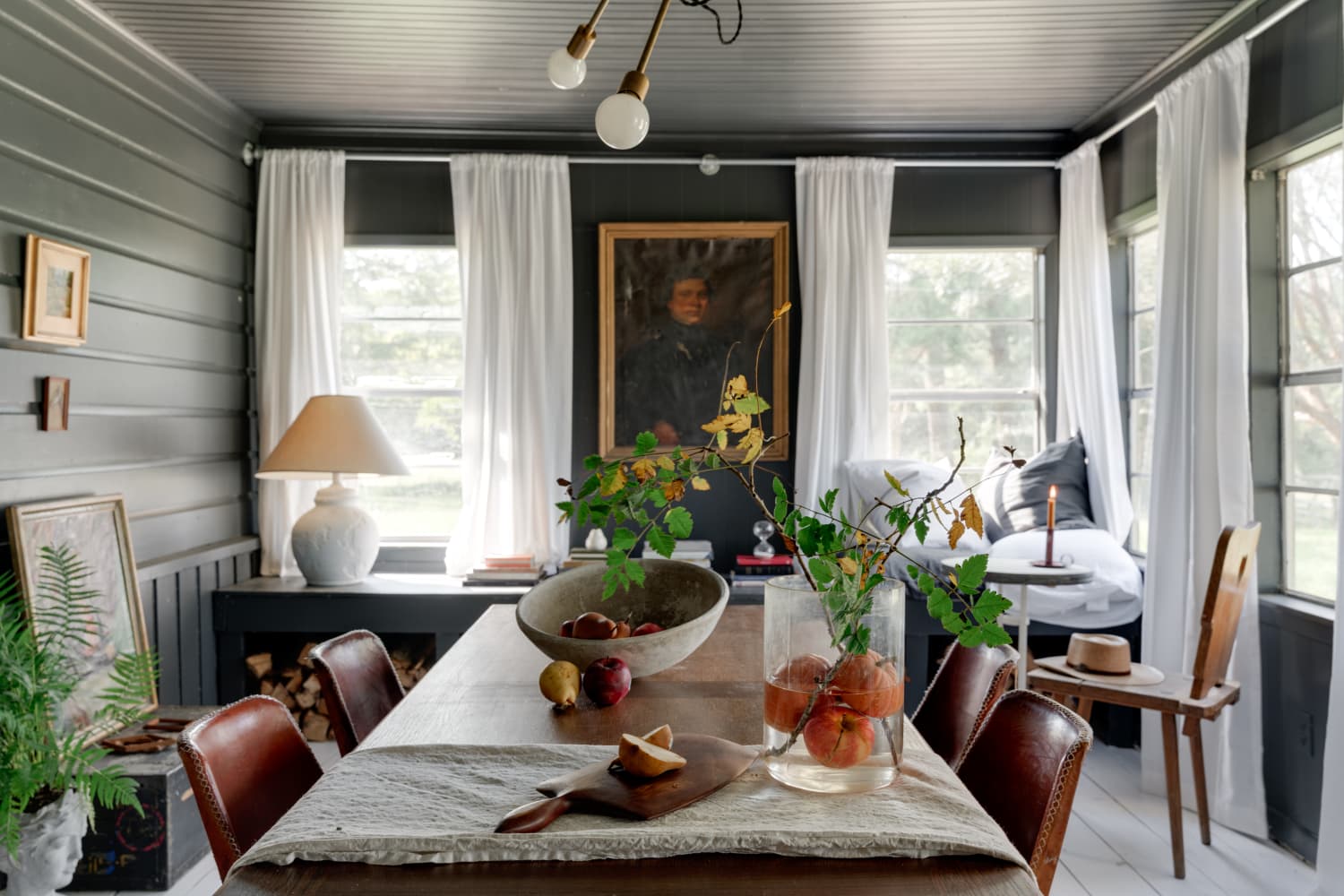 We independently select these products—if you buy from one of our links, we may earn a commission.
Name: Samuel Melton (but friends call me Sam)
Location: Milam, Texas
Size: 1000 square feet
Years lived in: 4 years, owned
Sam's small cottage, which is nestled among the East Texas national forest, is a multi-generational house full of family history that starts at the front door: When you walk in you're greeted with a picture of Belva and Arvid, his great-grandparents and the original owners of the house. The home was built for his great-grandparents in the 1960s, and Sam inherited it before it was torn down, hoping to save what was left. His renovation of the modest space brought it back to basics — like board walls and concrete floors — before working to build it up with his own decor personality. The result is a space that feels traveled and collected.
Also important to Sam is for the home to have the ability to evolve as his design does. As a seller of vintage furniture (his brick and mortar store is located at 205 Worth Street in Hemphill, Texas), he has filled his home with pieces that he finds special or that remind him of his story. This obviously includes vintage wares, as well as nods to his family's history, but also to contemporary designs, too: You'll see handmade tiles from local maker Erica Williams (of Thro Ceramics) covering the entry and leading visitors into his home. Though his cottage is a bit on the cozier side at 1000 square feet, Sam says you can cheat a small floor plan with thoughtful design planning, as well as create a comfortable home by designing with your own story in mind.
Apartment Therapy Survey:
My Style: Deconstructed Southern modern
Inspiration: My inspiration is taken from folk art and well-worn finds from my journeys, from an empty prairie house to books on makers and designers.
Favorite Element: My favorite element in my home is the taken-back materials from wood slatted walls to the painted concrete floors. The home is taken to the builder grade and gussied up with paint.
Biggest Challenge: The biggest challenge for my home is the small size and finding a way to make it feel wider. I also need it to be multi-use friendly. My budget was very small. I was careful to make smart choices such as choosing furniture that won't age quickly and pieces that can evolve with me.
Proudest DIY: My favorite DIY was the plumbing pipe curtains in the sunroom/dining space. They're made from pipes and connectors.
Biggest Indulgence: I believe a space can always be upgraded with good furnishings. I believe in vintage and new items. I bought an antique German leather chair for $300 and upholstered the seat in a Navajo blanket; all together is cost $700.
Is there something unique about your home or the way you use it? The space is small enough that the fireplace is part of the kitchen and living space. And light fills the space with all the original windows.
What are your favorite products you have bought for your home? Favorite pieces I bought would have to be the lights in the kitchen and sunroom. The lights are all handmade in Houston. They are from Long Made Co. The design is the lacquered brass in minimalist style. They make the space feel collected and upgraded.
Please describe any helpful, inspiring, brilliant, or just plain useful small space maximizing and/or organizing tips you have: When in a small space remember to try to float your furniture if you can. It helps to make the space feel larger. Also, don't be afraid of larger pieces of furniture. If all your pieces are lower in profile, it'll make sense in your space. Small furniture can make the space a bit disjointed sometimes.
Finally, what's your absolute best home secret or decorating advice? When figuring out what you like simply go to your closet. Your clothes can tell you about the color and textures you like. You know your style because you simply wear it. Don't be afraid to do your own thing. That's what makes a home personal and collected.
This house tour's responses were edited for length and clarity.