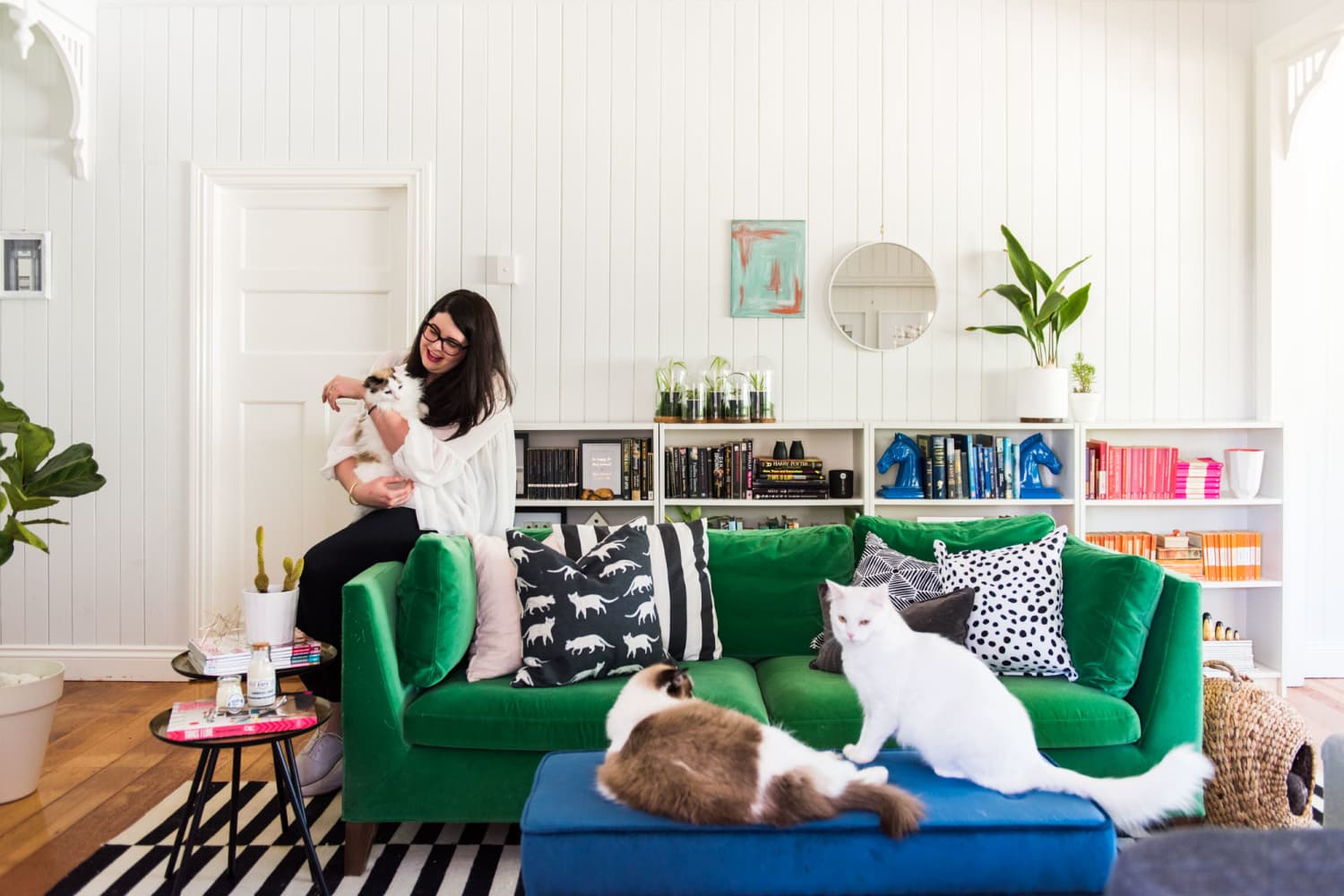 Home just wouldn't be the same without the cats, dogs, and other creatures that share our spaces, but living with pets does come with its challenges (Lots of extra stuff to store! Accidents on the rug! Scratched sofa arms!). Luckily, this is where a wealth of tips and tricks from Apartment Therapy home tours come in handy. Below, check out some favorite decor hacks and pointers for living with your cutest roommates.
1. Move plants up high to save them from cat claws.
In Zoë Withered's Seattle ranch house, decorating with both cats and houseplants in mind proves a challenge. "When I design, I try to make sure my plants are 1) getting adequate sun, 2) out of reach of claws and teeth, and 3) aesthetically pleasing. It doesn't sound that challenging, but it's surprisingly complicated to find spots that fit the parameters," she says. She achieves this through hanging pots, high tables, "strategically-placed" grow lights, and tall homemade plant stands.
2. Mask scratched upholstery with something that's probably already in your living room.
A clawed-up couch can feel inevitable with cats in the house, but with a couple throw blankets tossed over the arms – as they are in Lisa Vanin's 390-square-foot Toronto studio — you'd never know about any pet-made marks or scratches underneath.
3. Opt for leather furniture and hardwood floors for easier clean-up.
Having rescued, fostered, and rehabilitated dogs for years, BJ and Mae know a thing or two about keeping their Akron, Ohio, home pet-friendly. A few of the things they've found? Brown furniture, leather materials, and hardwood floors make it easier to clean up messes.
4. Know you don't have to sacrifice style when you become a pet parent.
"I have a 3-year-old long-haired Chihuahua named Starla who I love more than anything. The biggest challenge I faced when designing my home was incorporating pet furniture for Starla to blend in with the style of my home," says Chad Rogers of his Beverly Hills condo. "Through the process, I learned that more and more furniture designers are realizing the importance of chic and sophisticated pet furniture. From beds that come in any style to a wide variety of water bowls, these days you can find just about anything to suit your specific taste."
5. Keep your pets in mind when planning renovations.
If and when you remodel your home, consider how certain items and materials will fare with pets around. When Caroline redid her Upper West Side pad, she went with white IKEA cabinets over custom wood — they're lower in cost, and she knew her parrots would eat the latter!
6. …And when buying furniture.
Learn from Erica and Dave's misstep: The couple says they chose the purple velvet sofa in their Somerville, Massachusetts, home because someone told them cats don't like velvet. And now? "The cats shred our sofas with their claws like it's their job," they say.
7. Hide litter boxes out of plain sight.
In the Chicago apartment that Shannon Buckley and Nick Huertas share with their three cats, Shannon says "Nick is the DIY king, hands down." His projects include an IKEA shelf unit that he made into a home for two litter boxes, and a third litter box made out of two old wine crates. "It's the first thing you see walking in the front door of the apartment, so you would think it'd be super obvious and an eye sore, but he disguised them so well," Shannon says.
8. When decorating, factor in your pets' needs.
They are members of the family, after all. Jaimee Dormer says it's important for her, her husband Adam Lodynsky, and their cats to feel "happy, inspired, and comfortable" in their Pasadena, California home. Their space includes dedicated spots to create this feeling, such as a perch attached under a windowsill for the felines.
9. And let them find their spots naturally.
Liz originally DIYed the bench in her and Brendan's D.C. apartment as a surface for their houseplants. However, their cat, Vincent, loves lounging on the piece to soak up some vitamin D.
10. Incorporate decor items inspired by your pets, too.
Take a page out Terra Loire's book and zhuzh up simpler furniture with pieces that celebrate your furry friends. In Loire's Toronto apartment, she placed ceramic Siamese cats that remind her of her own, Pyewacket, on a white side table in the living room.
11. Bring in extra storage if you need it.
Living in an older home without much built-in storage, Apartment Therapy House Tour Director Adrienne Breaux and Keith Fields struggled with ways to store items, including pet food supplies, in the kitchen of their New Orleans duplex. They maximized storage by bringing in a vintage cabinet and vintage wooden trunk.
12. Or go for storage that does double-duty.
Why fill floor space with a storage unit and a climbing tower when you can have both in one piece? In the Queensland, Australia, home Katie Day and her partner share with their three cats, a wooden shelving unit doubles as a ladder for the cats to climb.