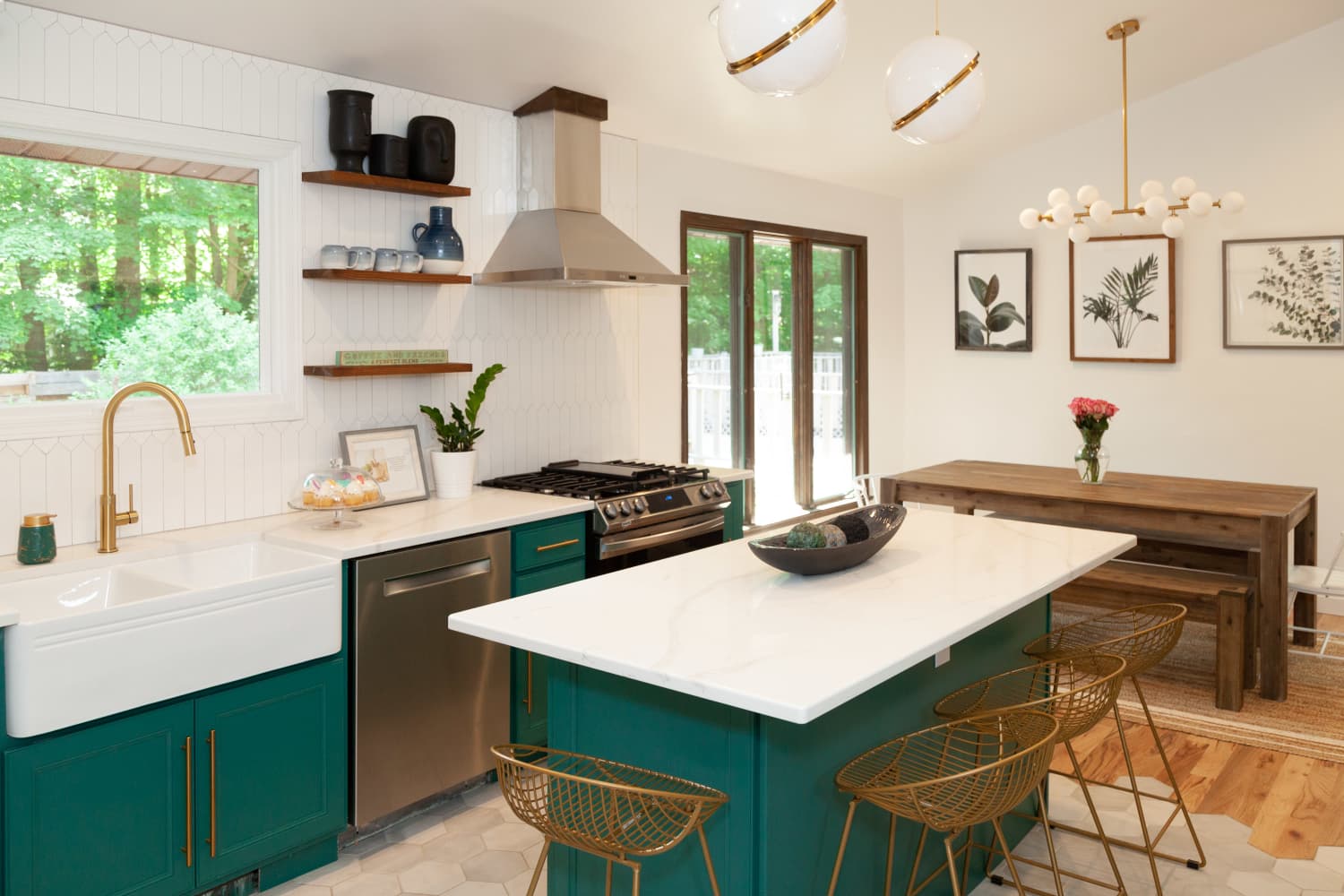 We independently select these products—if you buy from one of our links, we may earn a commission.
Name: Ayanna Barton, partner, and 6-year-old daughter
Location: Woodstock, New York
Type of home: House
Size: 2700 square feet
Years lived in: 6 years, owned
Tell us a little (or a lot) about your home and the people who live there: Our Woodstock house is a second home. It's our little escape from New York City living. My family consists of my 6-year-old daughter, my husband, and myself. I have a large immediate family of five sisters with tons of nieces and nephews, so they come up to enjoy when time permits. When we are not at the house, we allow travelers to rent the house.
I love color. I wanted the house to be classic and timeless while also being a little adventurous with colors and themes in rooms like the beach bedroom or Audrey's room. The pink library and the green den.
Describe your home's style in 5 words or less: Classic Color Archways Timeless Fun
What is your favorite room and why? I love the entire house. However, since renovating the kitchen and dining room (which was always a wish list item since purchasing the house), it has become the center of the home. The ceilings were particularly low in these rooms and had a textured ceiling, which only made it feel more enclosed. Once the ceilings were raised and the wall separating the dining room from the kitchen was removed, the space felt so much bigger and airy. I wanted to have green cabinets but not a subtle, moody green but something bright but not overwhelming. I'm really happy with the color I found at Sherwin Williams, "Cloverfields."
What's the last thing you bought (or found!) for your home? The end chairs and bar stools for the dining room table and countertop. I bought both at Wayfair.
Any advice for creating a home you love? Stay true to your vision but remember functionality. While designing the kitchen, I was very conscious about the functionality of such an important space, especially since I did not use any professional design help. I spent months planning out the layout and made a lot of changes along the way even once the construction started. I had to change contractors at the last minute (two weeks before the original start date). It was very stressful but one of the best decisions I made during the renovation.
If you know you are not vibing with your contractor, do not ignore that feeling. My original contractors didn't listen to me and the prices continued to increase while my design was being compromised. In the end, I was very lucky to find an amazing contractor who was able to squeeze my project into his schedule. I not only saved money but alternated my design to include other rooms, like replacing the tile floors in the hallway and entryway and parquet floors in the living room.
This submission's responses and photos were edited for length/size and clarity.