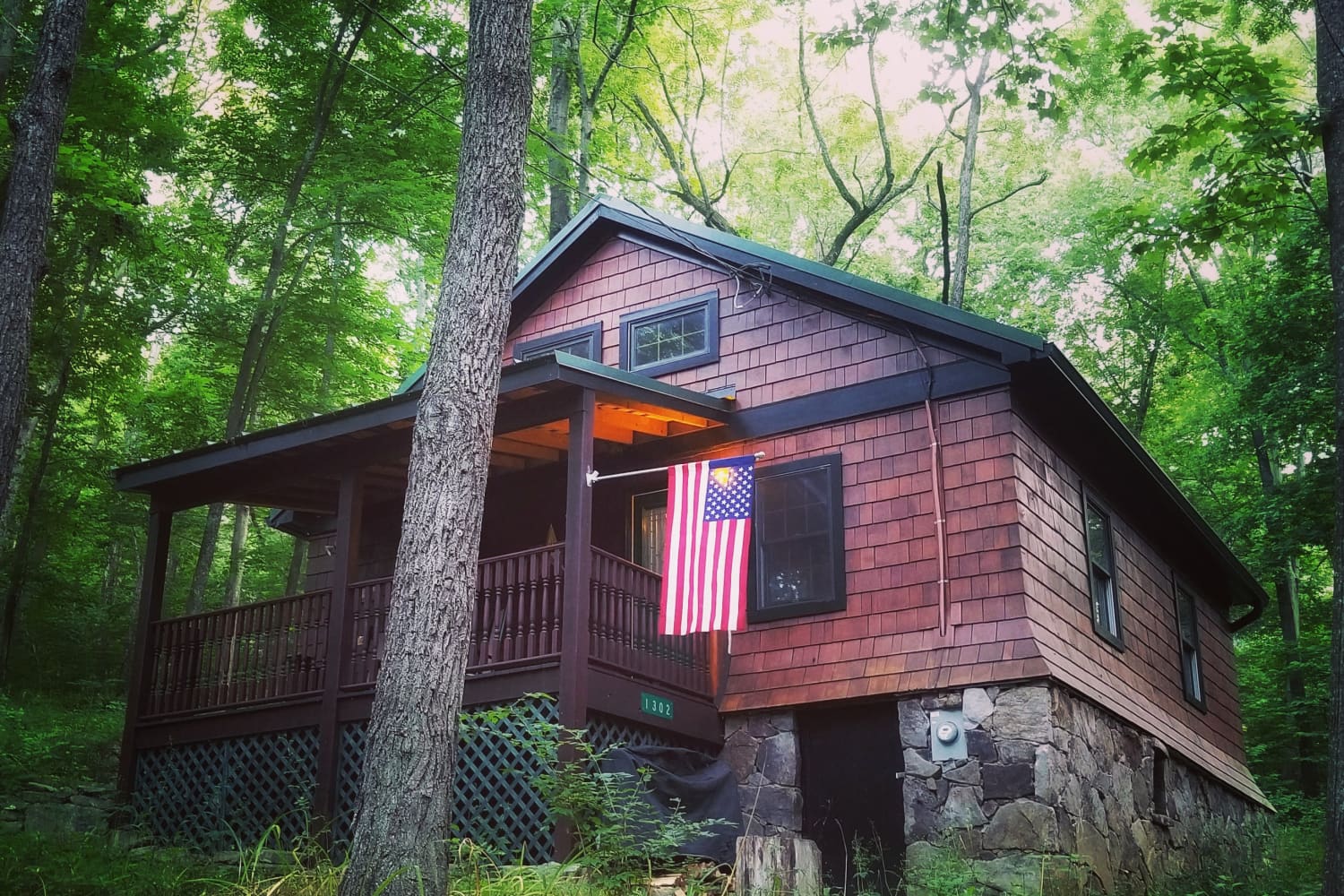 Name: Lynn Pechuekonis and husband, Christian
Location: Shepherdstown, West Virginia
Type of home: Cabin
Size: 730 square feet
Years lived in: 3 years, owned
Tell us a little (or a lot) about your home and the people who live there: Our 1941 vacation cabin ("Knott Cabin") is located on nearly three wooded acres. The front porch is faces east, so you get the morning sun coming up, and through the trees you can just see a glimmer of the Potomac River, which is less than 200 yards away. Inside is an open concept floor plan that includes the living room/bedroom/kitchenette/dining room. The hardwood floors are pine. An open staircase leads up to a loft with twin beds. A barn door conceals the bathroom, which has a very modern open shower with rainfall showerhead and heated tile floor.
The decor is a fun mix of mid-century modern furniture, and vintage camp style accessories (including an antique wood cabinet and vintage fishing poles, lures, a minnow bucket, and creel). On the console table behind the couch is a mustard yellow princess phone just for fun and an old-school CD player (we have a whole library of music CDs from the past 30 years). On the side of the cabin opposite the road is a sweet stone patio with a fire pit, eating area, and a gas grill. We live about 20 minutes away in historic Harpers Ferry and share the cabin with our Airbnb guests.
Christian and I love vintage everything, and we appreciate a whole variety of styles. The previous owner of the cabin started the mid-century modern vibe, and we've enhanced it with a new couch and accessories. Mostly, we think about comfort and what our guests will need to most enjoy their time in our place. Our home is a 1920s American Foursquare, and we respect its history while not trying to decorate "period." We have a third-floor guest suite that is very cottage/shabby chic, a basement guest suite that is industrial-vintage and a little bohemian, and a tiny cabin with a 1940s National Park Service vibe. We don't favor one era or style but like to try out lots of different looks.
Describe your home's style in 5 words or less: Mid-century modern — vintage camp fusion
What is your favorite room and why? I love the living room area of the main floor. When I sit on the couch, I take in the high ceiling, the sleek lines of the furniture, the colors of the patterns on the throw pillows, Pendleton camp blanket. The look is clean but made homey with fun vintage accessories.
What's the last thing you bought (or found!) for your home? Rainfall showerhead and Moroccan throw pillows (Needful Things in Charles Town, WV)
Any advice for creating a home you love? Color is very important, whether it's a painted table or a pillow or wall art. We could never do monochrome.
My husband and I are both collectors. We surround ourselves with vintage stuff — some family hand-me-downs and others we buy. We find ways to reuse and repurpose things whenever we can. We try not to buy any vintage "treasures" unless we have a use for them.
This submission's responses and photos were edited for length/size and clarity.