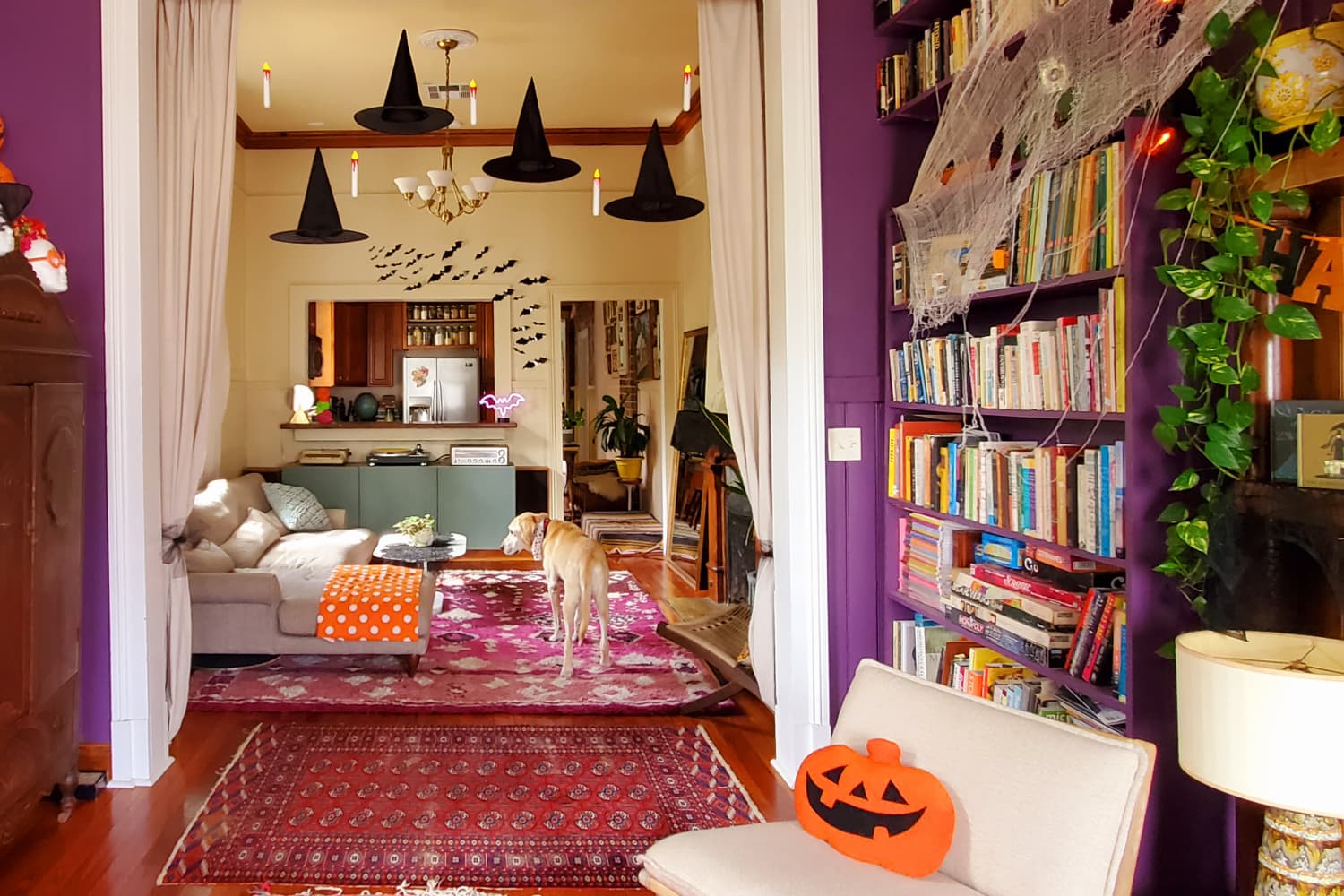 Whether you've been fully immersed in the fall season (flannels and pumpkin-spiced everything, anyone?) or have been so busy that the days are flying by faster than you realized, the fact is that Halloween is almost here. Perhaps you're simply welcoming trick-or-treaters on your doorstep, or maybe you've been invited to attend a celebration (either virtual or IRL) where your ensemble needs to be on point.
Before you head to the costume shop or local rental service, consider what's already lurking in your closet. After all, reusing items you already have can bail you out in a hurry. From outfits based on vocations to funny plays on words, here are ten costumes to make from things you probably already own.
If you have a plethora of pastel balloons on hand from a recent party, you're in luck! Wear a light-colored outfit underneath, and use safety pins to attach blown-up balloons at their base. To top it off, affix full balloons to a hat or headband. Then, carry a loofah, rubber duckie, or body brush to have a complete bubble bath look.
Love a play on words? This one's for you. Use a headband and black paper or felt to make cat ears. Wear comfy pajamas and slippers and see if anyone gets the pun. Not only may folks be stumped by your costume, but you'll also be wearing one of the most comfortable Halloween outfits possible.
Display your culinary skills — or at least pretend you have them — by becoming a chef. Don a black or white shirt and white apron, and carefully dab a bit of flour on your cheeks using your fingertips. If you only have a colorful apron, feel free to be an at-home chef. Place kitchen utensils in your pockets, and carry a cookbook to convince others you know your way around the kitchen.
You know that dreaded "404" that comes up when a webpage is seemingly nonexistent? If your outfit is also missing, go as a 404 error. It's as simple as wearing black pants or jeans and topping it off with a white t-shirt with "404" on it. Make the numbers out of electrical tape, felt, or permanent marker if you're not precious about the tee, and tell everyone your Halloween costume was nowhere to be found.
If you love an excuse to dress up, but you also want a simple costume, go as a formal apology. Dress your best — a suit or cocktail attire will do — and use cardboard, poster board, or a sticker to make a sign that says "I'm sorry." You may have to explain the play on words, but you'll get a few laughs throughout the night for your brilliantly easy costume.
You can transform a red pair of pants and a white shirt in a hurry with a bit of creativity. Raid your craft stash for pom poms, or cut felt pieces or construction paper into small circles. Affix the spheres to your tee using safety pins or a hot glue gun, depending on whether or not you want to reuse the shirt. Make a small sign that says "5 cents" to affix on the shirt — using it as a name tag is a clever touch. You can even chew gum and blow bubbles for added effect.
Own a black and white striped shirt? Perfect! Navy and white would also suffice to pull off this simple yet crowd-pleasing look. Pair the shirt with dark bottoms, and use makeup or face paint to add exaggerated features to your face. Other accessories you can add include red suspenders, a colorful scarf, and a red or black beret.
Don't worry. You don't have to dress up as your favorite musician, as dressing up like a pop star is more manageable than that. Instead, scour your wardrobe for something with stars, or make a star out of construction paper, cardboard, or aluminum foil to carry. Hold a can of your favorite soda — often called pop in some areas of the U.S. — and you can be a pop star without perfecting your voice or dance skills.
A blue shirt with rolled-up sleeves and a red bandana are Rosie's trademark accessories, so if you have those, you're good to go! Cover your hair with a red bandana, or wear it as a headband. The bottoms are up to you, although jeans work well. Once you are out and about, be sure to show everyone your bicep so they can get the full effect.
You (or someone in your home) likely have your jeans, boots, and cozy fall flannels at the ready, so use them to make an adorable costume. Wear the ensemble, and top it off with a fedora or brown floppy hat. Use brown makeup to add a nose, and place hay or leaves in some of the pockets. Another plus to this outfit is that it works with denim shorts, overalls, and short-sleeved shirts so you can still scare the birds away if you live in a warmer climate.