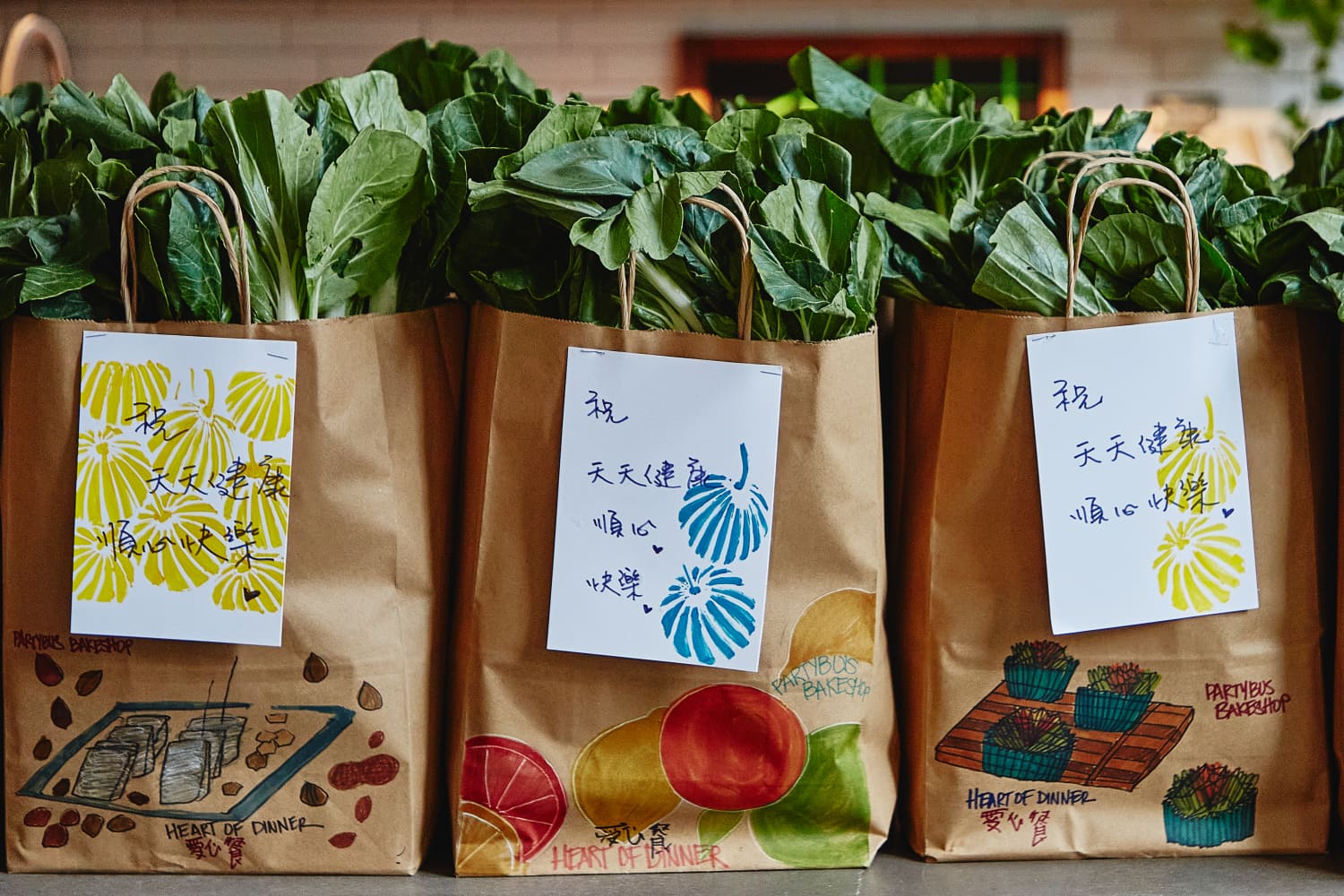 Food has always been my family's love language. My mother raised me on the mouthwatering, succulent food she and her family ate for generations in Hawai'i: a unique fusion of Hawaiian, Chinese, Portuguese, and her own Japanese family's cuisine. We show affection through food, like when my grandpa hands me a plate of lychee that he's already carefully peeled or my mother gives me a freshly made musubi.
That tradition of sharing love through food is why I resonate so much with Heart of Dinner, a nonprofit founded by Moonlynn Tsai and Yin Chang. The couple originally created it as a supper club in 2015 — but when the pandemic hit in 2020, Tsai and Chang quickly pivoted to cook hot lunches for vulnerable members of Manhattan's Chinatown community, focusing especially on housebound elders.
The nonprofit is a natural combination of the power couple's skills and passions: Tsai is a restaurateur and entrepreneur who focuses on building community-based food projects. Chang is founder and creative director of the writing platform and podcast "88 Cups of Tea," as well as an actor ("Gossip Girl" watchers will know her as fan favorite Nelly Yuki) and an advocate for Asian-American representation in Hollywood. Their warmth and energy permeate Heart of Dinner, which, as of January 2022, has delivered over 100,000 care packages to East Asian elders in New York City.
Its mission feels all the more necessary in light of the nationwide rise in hate crimes against the AAPI community, and particularly the many horrifying attacks on senior citizens. Though the community has been the target of violence long before the pandemic, Chang says "the news is a daily reminder of the urgency of Heart of Dinner's work to counter the hate and violence with love and empathy." For many Asian-Americans, working to support Heart of Dinner feels like a tangible, direct way to protect and uplift the elderly members of our community in the face of senseless hatred.
Care packages are filled with Asian produce and hot lunches intended to remind their elderly recipients of home. Produce includes ingredients like bok choy, bittermelon, and eggplant, while hot meals are dishes like tomato egg omelet with shrimp over rice and Asian heritage vegetables. Meals are prepared with minimal salt, oil, and sugar to be senior-friendly. And, each package is topped off with a handwritten note.
While meals are the crux of Heart of Dinner's work, illustrated bags and handwritten notes provide another kind of nourishment. "Some of our elderly even cut out the decorated side of the brown bags to collect and look at throughout the week when they feel lonely," says Chang. "They're often surprised to learn that individuals from around the world would take the time to make them feel seen." To date, they've received close to 110,000 uniquely illustrated bags and notes from all over the United States, and even from volunteers in Canada, Asia, and Europe.
Such beautiful bags and notes take time, and Chang says they could always use more. If you've ever enjoyed drawing or painting, this is the perfect opportunity to channel your creativity: Make it a social event by hosting a "drawing party" for friends with snacks and art supplies, get the family together for a relaxing group activity, or draw solo and listen to music as a way to unwind. However you do it, the artwork you create will support Heart of Dinner's mission and brighten a senior's day.
Here's how you can get involved:
For Heart of Dinner, the outside of the delivery bags is just as important as what's inside them. Volunteers have decorated over 110,000 bags with vivid illustrations, from mouthwatering sketches of food to classically beautiful nature scenes. (For more inspiration, click check out their Instagram.) NYC-based volunteers can head to Partybus Bakeshop to pick up free bags and drop off decorated ones. Volunteers from anywhere else can use sturdy, plain brown paper bags (dimensions 10x5x13 inches) and mail the decorated results to Heart of Dinner. View the complete guidelines for bags before getting started.
Write and illustrate notes
Share your love and support for elders by creating unique handwritten notes for each care package. Note cards should be no larger than 7-by-5 inches and submitted in batches of 50. (Each note must be handwritten and illustrated — not photocopied.) Write a legible, warm, uplifting message for elders in Chinese, Korean, Japanese, Tagalog, or Vietnamese with an English translation. (Here are some examples in each language from Heart of Dinner.) Then decorate the rest of the note with cheerful, bright illustrations.
Deliver meals (NYC residents only)
Chang says Heart of Dinner is urgently seeking volunteers to help deliver care packages on Wednesdays. If you have a valid license to drive your own car in New York and are interested in helping deliver care packages to elderly recipients, you can submit your volunteer application here. (For other in-person volunteering opportunities, like assembling care packages, Chang says Heart of Dinner is at capacity but you can sign up to join the waitlist here.)