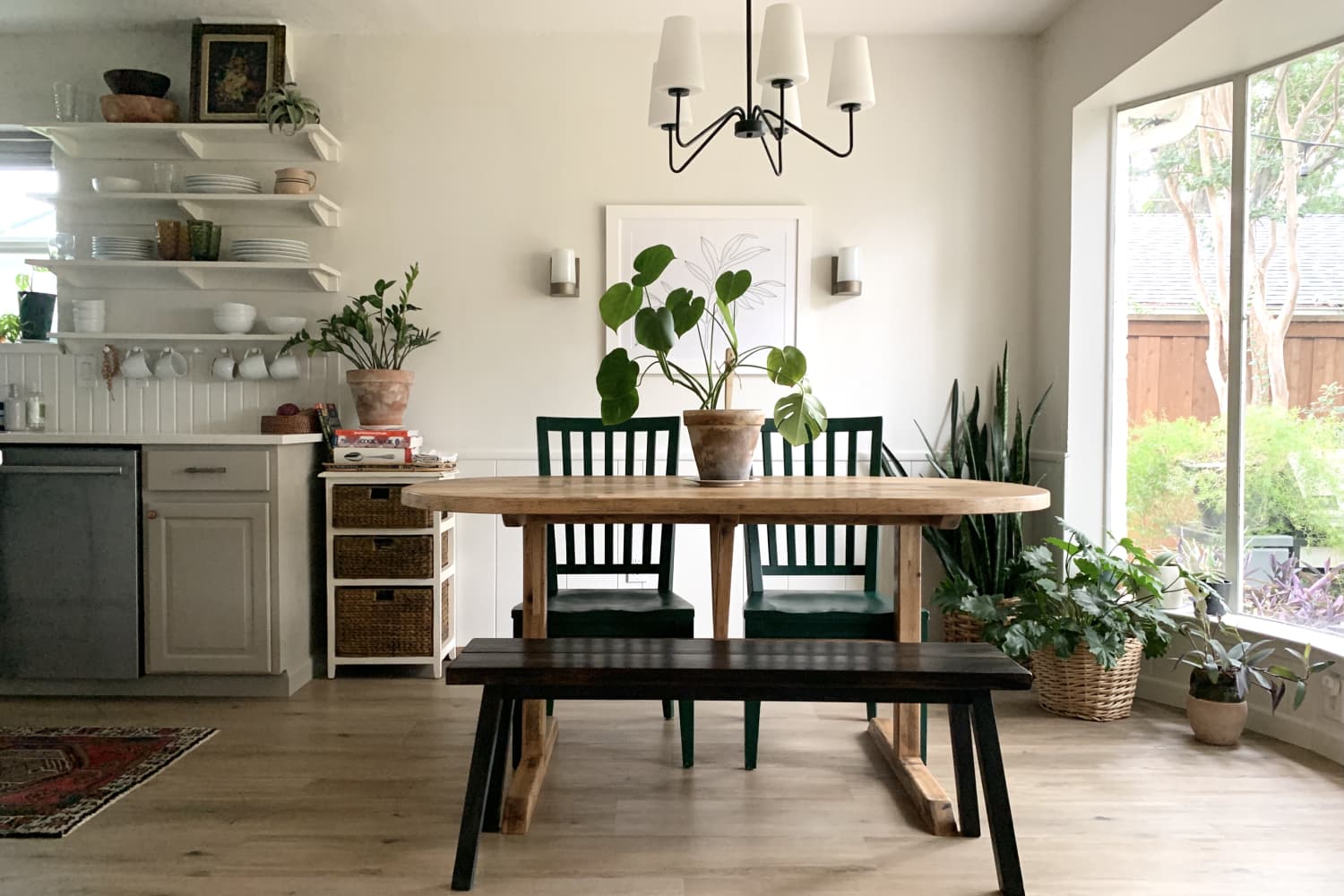 We independently select these products—if you buy from one of our links, we may earn a commission.
Name: Joel and Jessica Nickerson, their two girls, and Pip Squeak the cat
Location: Outside of Dallas Texas
Size: 2,200 square feet
Type of Home: House
Years lived in: 3 years, owned
From the second I saw this house online I could picture us in it. The neighborhood it's located in is sweet, too, and it's walking distance from our girls' school. When we came to see it, we walked from the front door to the backyard and we were already talking about making an offer. I loved the layout and the charm it had. You could tell it had been loved… but it needed updating (you can see the pictures I took on moving day, here). Thankfully that's my favorite thing! We're only the third owners (it was built in the early '70s) and the last owners raised their girls here and the family that built it had girls too! I love that!
Apartment Therapy Survey:
My Style: I used to say "eclectic" because that meant I could justify whatever I liked. I'd still say that but I'd add vintage, traditional, and a little modern.
Biggest Challenge: I think we can easily forget that turning a house to home is a process. It takes time and money and patience. That's okay! Enjoy the process.
Proudest DIY: When we moved into our home, our kitchen was on the list for a someday- demo. A year and a half into living here, we made a few adjustments like removing the soffit, adding open shelving, and replacing the counters. We painted EVERYTHING and besides the countertops, everything was bought secondhand. We love our kitchen now. It's no longer a top priority.
Biggest Indulgence: I usually purchase most things secondhand on Facebook Marketplace but I wanted a table in a specific size for our dining area and had looked for months with no luck. I worked with a local wood worker, @kaleocarpentry, to design a table that is heirloom quality. It was more than we've ever paid for furniture (roadside finds are my jam) but so worth it. It's beautiful and will be perfect for our family for years to come.
Is there something unique about your home or the way you use it? We ditched a dining room for the reading room. The under the stairs closet is a "craft room" for our girls and I turned a hall closet into a mudroom. Your house should serve you and your family. Nothing has to stay the way it was intended.
What are your favorite products you have bought for your home and why? I love our vintage rugs. Two of them (my favorite ones) were my great grandmother's but I've also gotten a couple at estate sales and online. They are beautiful and have so much character.
Please describe any helpful, inspiring, brilliant, or just plain useful small space maximizing and/or organizing tips you have: I'm just really inspired to have less. Being more intentional with what we bring into our home gives us less to keep up with, clean, and store.
Finally, what's your absolute best home secret or decorating advice? DO IT. I'm a really big advocate of jumping in there and getting the job done. I want you to love your home so if there are things that you can do right now to give you that feeling, you should do them. Don't be afraid to try a new paint color or hang art. Make nail holes!! Move your furniture around. These things are low-cost, low-stakes changes but they could lead to you feeling better about your space, more confident in your abilities, and more content in your home. Can't beat that!
This house tour's responses were edited for length and clarity.