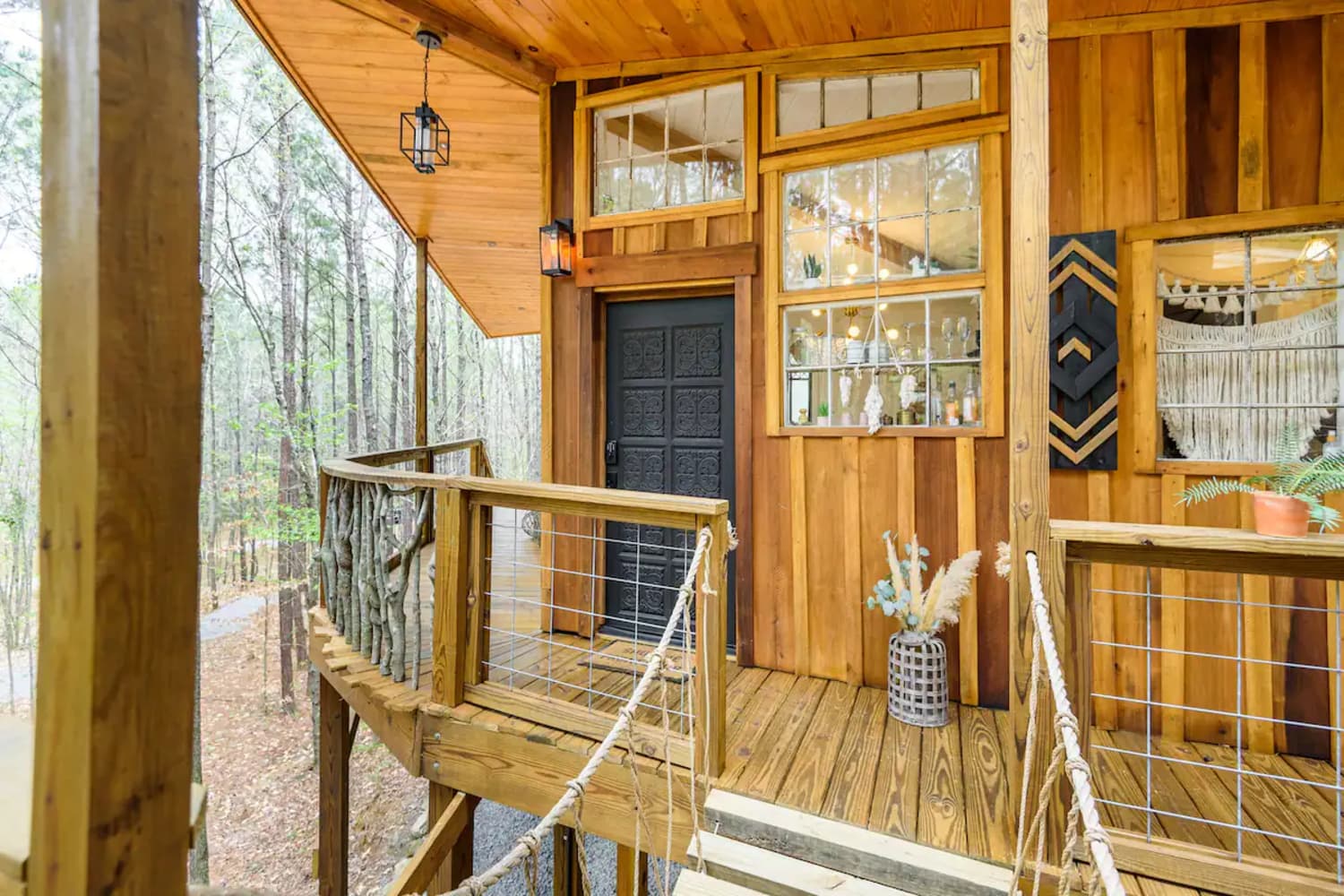 We independently select these products—if you buy from one of our links, we may earn a commission. All prices were accurate at the time of publishing.
Warm weather brings about childhood memories. Whether you operated a driveway lemonade stand, ran through sprinklers, or caught fireflies, rekindling those feelings is good for the soul, especially if that includes staying in your very own treehouse. No matter where you roam in the United States this season, there are soaring accommodations to take you back to those carefree days.
So, whether your goals are to stay somewhere close to amenities or find solace in the middle of the woods, consider booking a once-in-a-lifetime stay at a treehouse. These unique properties make use of natural elements while providing spectacular views, fresh air, and a good night's sleep. Here are eight treehouses to rent for your next weekend getaway.
Wanderlust Treehouse – Alabama
Part of staying in a treehouse is finding solitude and communing with nature, and the Wanderlust Treehouse set on 40 acres in Crane Hill, Alabama, is the perfect place to do. Soak in views of the 2-acre lake, traverse the nature trails, or observe wildlife from your private deck overlooking the secluded property. Although this adults-only retreat has a mini-kitchen, lacks Wi-Fi, and doesn't have a single TV, the true purpose is to disconnect from responsibilities for a while.
The Treehouse at The Escape – Utah
What happens when a stately 100-year-old tree dies? You turn its remains into a treehouse! Or at least that's what the owners of The Treehouse in Orderville, Utah, decided to do. If you're adventurous, you can traverse the rock climbing steps inside the tree remains to enter your accommodations. Of course, there is also a staircase if you prefer a more conventional approach. Either way, you'll enjoy a rustic interior with spectacular views of a nearby plateau.
The Excalifir Suite – Oregon
As a play on words, The Excalifir Suite is situated against the backdrop of — you guessed it — fir trees and offers two stories of seclusion. With a capacity of six guests, this treehouse in Junction, Oregon, also features stained glass elements and a catwalk leading to a private balcony. The Excalifur is also part of a collection of treehouses at Vertical Horizons Treehouse Paradise, so you can rent several homes if you want to get away from it all with a large group.
Airy Treehouse – South Carolina
If staying seaside sounds like your ideal vacation, then make it so — and then add a treehouse. The unique shape of the Airy Treehouse on Hilton Head Island in South Carolina allows light to filter through this beautiful short-term rental that sleeps six. The ocean is just a quick walk away, and there are also restaurants and a lighthouse close by. Staying at this property offers seclusion amid many things to do, which means that each guest can decide whether to spend their days exploring the town or just sitting on the spacious deck.
Romantic Treehouse – Virginia
As noted by the name, the Romantic Treehouse in Lynchburg, Virginia, is meant as the ultimate retreat for two. This accommodation has the distinction of being built by Animal Planet's Treehouse Masters and is located in a tree on a beautiful, historic property. The octagonal design means that each side has spectacular views. This one-bedroom rental has a fireplace and a clawfoot tub, so there are plenty of places to get cozy. Bonus: You can get married on-site and have your wedding, reception, and honeymoon all in the same spot.
Moonlight Tree House – Missouri
Although the Cottages at Hermann already have a few treehouses — Sunrise and Sunset — one of their growing concerns was accessibility. So when they saw a perfect slope coupled with trees, the owners seized the opportunity to make a one-level treehouse, reachable from the road by a bridge. Other thoughtful touches in the Moonlight Tree House in Hermann, Missouri, include a kitchenette, multiple sleeping areas, two bathrooms, and a deck complete with Adirondack chairs. It's the perfect place for multi-generational travel, so invite everyone from infants to grandparents.
Treehouse Mansion – Minnesota
Thirty minutes outside of Minneapolis, Minnesota, is the Treehouse Mansion, which focuses on a luxurious experience. Although this house offers four decks, a full kitchen, two fireplaces, and a jacuzzi, the highlight is the 150-year-old burr oak tree where this accommodation sits. In addition, one of the decks is 40 feet up and includes a telescope for viewing the landscape, birds, and stars. Another plus is that this treehouse is along a 500-acre lake so that you can plan activities like hiking, canoeing, or kayaking during your stay.
The Pinecone Treehouse – California
The Pinecone Treehouse isn't named such because pines surround it, but this one-of-a-kind stay is shaped like a pinecone and is situated up high, appearing much like the actual cones on an evergreen tree. This short-term rental is less focused on luxury as it's more like glamping, but the experience is well worth it. You may have to get used to the composting toilet and traverse a step ladder, but sleeping high up in the California Redwoods is an experience you're unlikely to forget.