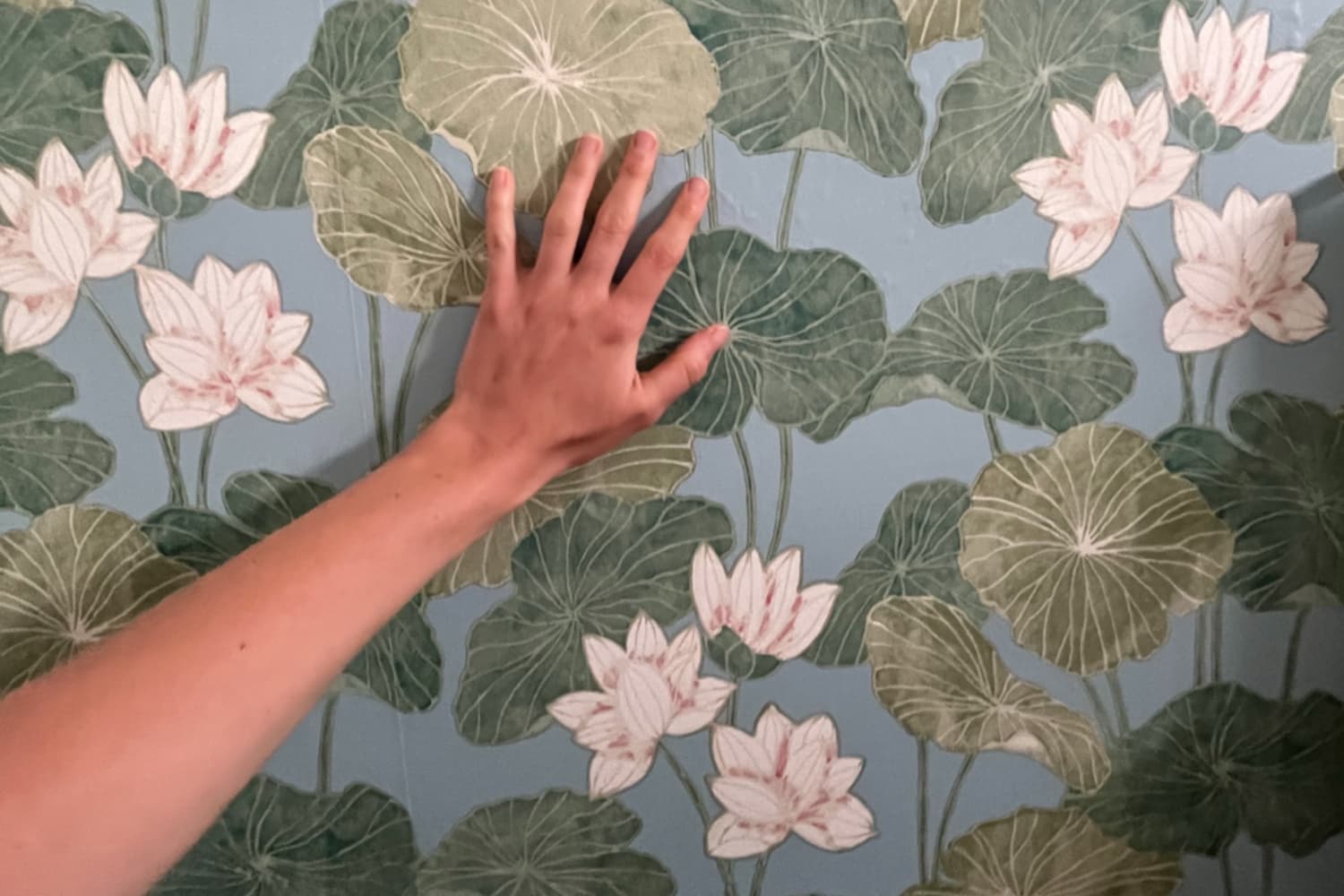 We independently select these products—if you buy from one of our links, we may earn a commission. All prices were accurate at the time of publishing.
It's rare to find an apartment with an awesome bathroom. And while I'm lucky to have scored a beautiful spot with lots of light and hardwood floors, to say I like my bathroom would be an overstatement. It's got meh, grey shower tiles, an old vanity (which, if changed would cost me my security deposit), and questionable vinyl flooring. I'd been thinking of sneaky, reversible ways to make the small (dark) space a little less sad. I mean, who wants to brush their teeth in a drab room?! So, after seeing what wonders a little peel and stick wallpaper has done for AT readers and editors alike, I decided to take some for a spin.
I turned to RoomMates, because they've got wide array of patterns and colors, and all of it's reusable! With a choice for every decor preference (kiddo-approved styles included), I was torn between multiple designs before finally landing on a calm, winsome lily pad print with a water-themed blue and green color scheme. These Mediterranean tiles or even some fun gold polka dots would've done the trick just as well IMO.
Now, just like any peel and stick (or regular old wallpaper for that matter), putting up the paper takes a lot of patience and dedication. For an intricate pattern like my Lily Pads, lining up the edges of each segment was essential, especially because RoomMates paper is meant to be put up seam-to-seam with no overlap. I'll be honest — the first few panels took multiple tries; they were either crooked or gathered air bubbles as I pressed them to the wall. What made the process easier, though, was the fact that this wallpaper is reusable.
In other words, no matter how many times I had to peel it off, correct my angle, and reapply, it never lost its stickiness. In fact, I sort of expected the paper to curl a bit at the corners or on the edges, but it has remained steadfast and stuck — even after weeks of steamy showers!
On the multiple occasions (don't judge, this was my first time putting up wallpaper!) the sticky side of the paper fell onto itself. I imagined it would remain glued together and need to be thrown out; however, as if by some miracle, it was surprisingly easy to pull the sandwiched stuff apart and take another crack at getting it on the wall. But it's not only relegated to use on the wall! Think of how fun it would be to cover your old dresser, the light switches, your front door, you name it! RoomMates is such an easy way to add a pop of color into your space.
By the time I got through the second panel, I was confident and quick. Using a helpful installation video from RoomMates, I mastered the use of a smoothing tool (which I ordered for just $3 on Amazon) and was able to put up each subsequent panel in under four minutes. I love that the paper was durable enough to last through my mistakes, it never ripped or stretched. The coolest feature? If I move and want to bring the paper with me, all I need to do is remove it, lay it onto its original backing, roll it up, and re-install in my new spot. Pretty cool, right?
The paper has completely altered the feel of my apartment. I'm obsessed. It makes my space feel more like me and more like home. And after learning the ropes, I might just have to take advantage Amazon's discounted price on so many RoomMates designs and do my bedroom next!