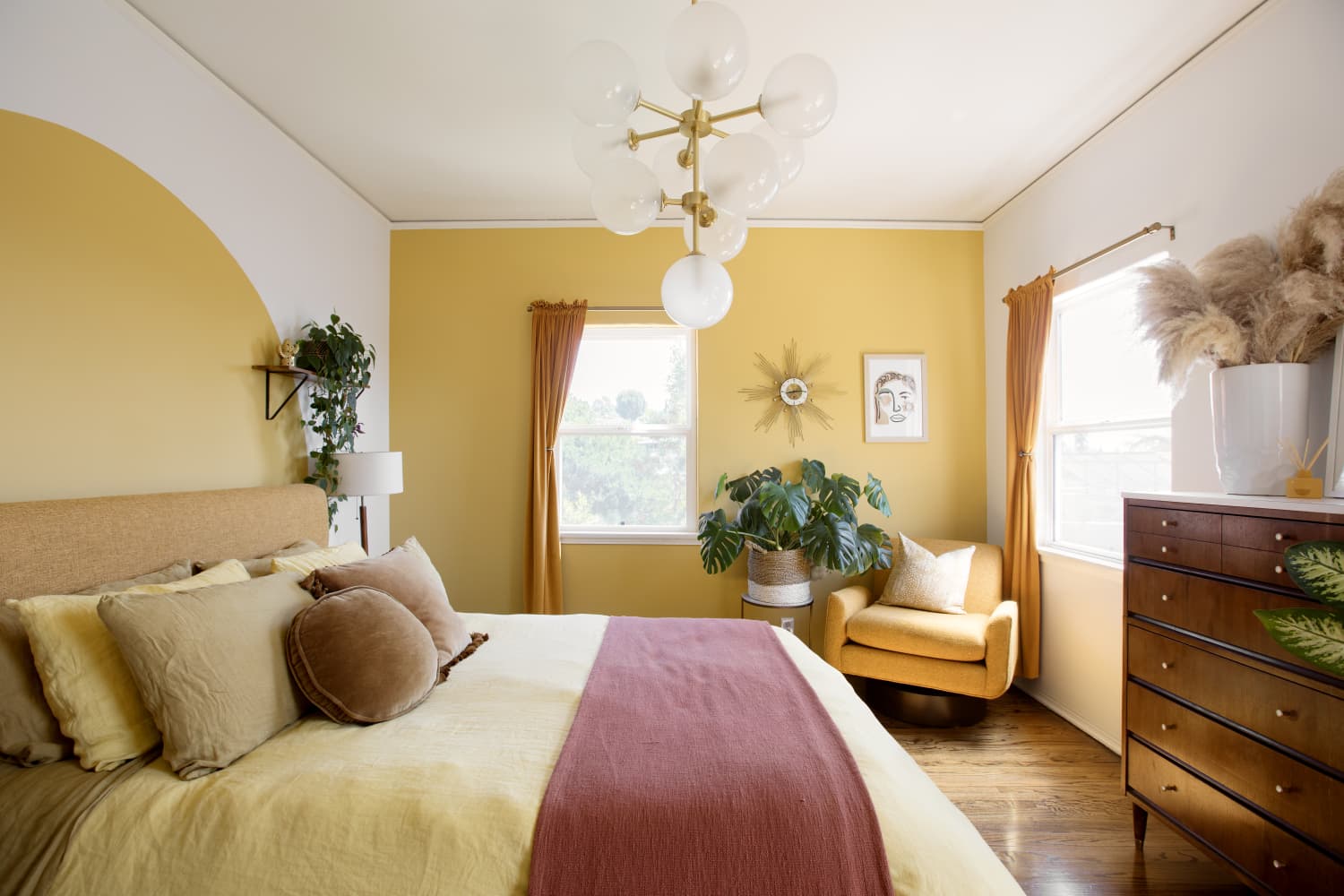 We independently select these products—if you buy from one of our links, we may earn a commission.
When it comes to painting, it's a safe bet that you fall into one of two camps of people: Those who feel like a kid in a candy shop when presented with rows of colorful samples, or those who feel debilitated by so many paint colors. There are literally hundreds — if not thousands — of options available, and trying to find the perfect shade while redesigning your home or DIYing a statement wall can be tricky. You can't exactly bring all of your decor to a paint store or home center, so there's a good chance the color you choose is going to look different when you bring it home and actually swatch it on your walls and then paint your room.
Luckily, times are a-changin', and you can test out paint colors without so much as a trip to the store — or even whipping out your trusty old paint brush, for that matter. Multiple websites and apps have technologies that let you upload actual images of your rooms — or even use your camera in real time — to virtually try on colors before you buy and paint your space. While these functions aren't a full substitute for swatching, you can get a pretty good sense about whether a color is totally off or in the right neighborhood, which can translate to time, money, and energy saved in the long run. Ahead check out these apps that'll let you try before you buy and are a great starting place in your pursuit of the perfect color.
Who it's for: Painters who want the most accurate at-home look
Tool format: Mobile
The details: Home Harmony allows you to upload a photo, browse a selection of Behr paints by color, and virtually test it out on your wall with just a quick tap of the screen. It's the lighting features, though, that make this app feel next-level — you can apply filters to see what your chosen tone would look like under fluorescent, LED, or incandescent bulbs, plus several natural lighting options.
Who it's for: Convenience-obsessed Amazon shoppers
Tool format: Mobile
The details: Virtually try and instantly buy with ColorPic, which lets you experiment with swatches from Prestige Paint and links directly to Amazon when you've found The One. Alternatively, if there's a paint you've been eyeing from another brand, the app actually breaks down comparable options from Behr, Valspar, and more, so you can narrow your search (or get more inspo) while perusing Prestige's lookalikes.
Who it's for: Tech-savvy redecorators
Tool format: Mobile
The details: Real-time swatches, minus the paint brush — rather than depending on stagnant images of your space, Primer uses augmented reality technology to digitally impose colors right onto your wall. It goes beyond paint, too: give wallpaper and tile options a go, all available from the must-see curated product collection. You can even favorite your top choices and buy directly from the app, as well as share video previews to have friends weigh in.
Who it's for: For the "just browsing" types
Tool format: Desktop
The details: While you can upload your own photo, Glidden's simulation tool also has stock photos of different types of rooms that all look rather stylish, so you can simply peruse your options and get inspired before ever getting your space involved. Once you have decided on a color, you can order paint directly from the page.
Who it's for: People exploring specific color palette options
Tool format: Desktop
The details: You can look through a wide range of Behr's colors through its paint visualizer and add them to a project, which then suggests similar or complementary colors so you can form a palette you love. This app also allows you to review details about the paint colors, find similar shades, and buy samples or full gallons.
Who it's for: People working on outdoor projects with wooden materials
Tool format: Mobile or desktop
The details: This paint visualizer helps you picture how different wood stains will look for projects like decks and patios. After selecting a project from the list and choosing the type of wood you have and the condition it's in, you'll have the chance to "try on" different wood stain finishes to see what suits your style and situation best.
Who it's for: People looking to redesign and nail down a color palette
Tool format: Mobile
The details: The Home Depot's app allows you to view how colors would look in certain rooms, but this platform also takes this visualization a step further. You can match colors from items like decor, accessories, and bedding, so you can ensure the paint shade you go with will complement your current setup perfectly.
Who it's for: Fans of moodboards and those on the indecisive side
Tool format: Mobile
The details: Once logged into Benjamin Moore's tool, you can upload a photo and test out different colors. You're given the chance to choose up to five surfaces in your photo that you'd like to test the paint on, whether that be walls, a ceiling, a fireplace—you name it. If you come across a few shades you like or need to sleep on your decision, you can actually save your "Projects" and log back on later to view them.
Who it's for: Fans of mobile-first tools and non-brand loyalists
Tool format: Mobile
The details: Snap a picture with your phone and upload directly to this app to access a variety of paint options from more than one brand. Paint Tester also allows you to manually go in and set up boundaries with "painter's tape" and erase paint that spills over from the app's autofill, so your rendering is as clean and accurate as possible.
Who it's for: Paint and design enthusiasts
Tool format: Desktop
The details: Fans of paint chip walls will appreciate that you can scan through a virtual version of one in this app. You can also browse through curated color collections and color match from shots on your camera roll. If you're just starting your color search, ColorSnap also has preloaded images of unique things, like plants and food from around the world, that you can pull inspiration from to begin building your dream palette.
Who it's for: People who prefer a second opinion
Tool format: Mobile
The details: Thanks to its "edge-detect" system, this visualizer from PPG aims to prevent any weird colorfill and works to make your room look as realistic and true-to-life as possible. After you've compiled the colors that caught your eye, you can share them on Facebook, Pinterest, and through email to get your family's and friend's opinions before taking the plunge.