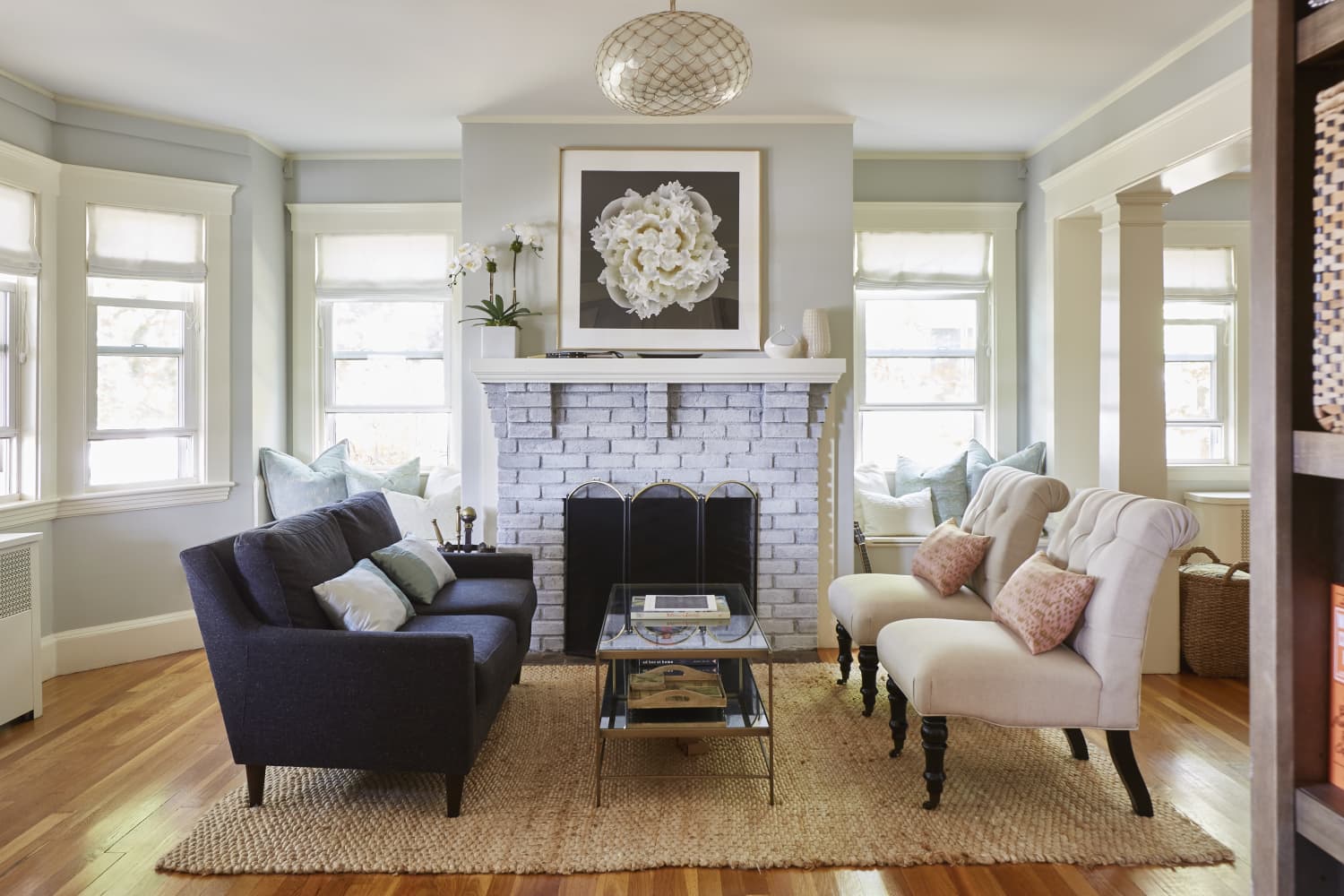 Deciding to DIY any space can be a huge undertaking with the possibility to go well, or very wrong. Your disastrous bathroom renovations could go viral (not in a good way), or your DIY kitchen refresh could turn out to be an absolute stunner. Either way, no guts, no glory right?
Well these DIYers took their projects to a whole new level when they decided to revamp their entire homes. Here are some of the best, most jaw-dropping total home transformations we've seen (so far) this year!
This 1963 mobile home got the most inviting makeover.
After a major life event and completing a huge home remodel, Kat wanted to start over and decided to downsize. That journey led her to renovate a 1963 Pan America Budger. This trailer home is decked out with bright blue trim on the exterior, a modern dining room for six, and a tranquil, fully furnished patio.
An old school bus is now a modern music lover's dream full of space-saving storage hacks.
Caleb Brackney and his dog Ivy live happily in their 220-square-foot school bus that Caleb transformed into their home. "The biggest challenge of converting a school bus into my home was my $10k budget," Caleb says. Even with a small budget though, he created room for a dreamy skylight, modern kitchen, piano, desk, and cozy bedroom nook.
This boring beige studio now has plenty of color, charm, and personal touches
"The first thing I did when I moved in was put up my photos, articles, tchotchkes, and magnets on my fridge — I really think having a personality fridge is key to making a house a home," Angie Eng says. During the pandemic, Angie saw her breakup as an opportunity to reimagine her life, and her home. She completely transformed her new studio with colorful touches like a painted arch, a gallery wall, and her favorite — the personality fridge.
Lots of paint and some personality make this dated condo look like the cover of a magazine.
They say a little paint goes a long way — well Lisa Malley took her paintbrush and ran with it. Lisa considers her style to be "French country meets farmhouse meets mid-century" and it's portrayed all over her home. The fresh paint on the fireplace, sophisticated light fixtures, and elegant furnishes make the old condo look almost unrecognizable.
One homeowner's trash is another woman's transformed treasure.
Interior and landscape designer Isabelle Dahlin gave this abandoned home the luxe and lavish renovation that Fixer Upper fans dream of. This 720-square-foot house in Los Angeles hadn't been updated for over 10 years, "and everyone thought we were crazy to buy it but I could see it had great bones," Isabelle says. Their dream home now has a jaw-dropping kitchen, brand new floors, and the most luxurious bathroom starring a black clawfoot tub.
This dusty old rental is now a perfect little Parisian-inspired dream, complete with pink tile and a dark, moody kitchen.
Heather B. in Savannah, Georgia was inspired by the Chateau de Gudanes in France to reimagine this 500-square-foot studio apartment. "After becoming an 'empty nester' I decided to fulfill my dream of having a little getaway of my own," Heather says. With the walls painted pastel pink, the kitchen tiles transporting you into a Parisian bakery, and the antique thrifted decor, Heather's dreams became reality.
This small 400-square-studio has perfectly designated areas for every single thing you may need.
Trent Saiget had dreams of a cozy, functional studio so he hired Adriele Graham and Elizabeth Berry of House Meraki Interior Design to make it happen. "Even though this was a studio apartment we wanted Trent to feel like he had distinct rooms; bedroom, dining, office, and living," the designers said. The bedroom nook has sneaky storage underneath and the media console meshes perfectly with a nearly-floor-to-ceiling cabinet that doubles as a full bar.
The bathroom in this studio has tons of luxe touches and the closet is a cute little kitchenette!
Lily Fuentez did what she had to do in this teeny tiny 140-square-foot studio in Venice Beach. She took the sliding mirrored door off her closet and transformed it into a kitchenette complete with a mini-fridge, microwave, and a makeshift countertop using a storage cabinet from Home Depot. Innovation and a little thrift shopping helped Lily make herself right at home.
Get ready for a night and day transformation with this unbelievable doozy of a DIY
Erica Leader saw this dusty and dingy fixer upper as a blank canvas and created a masterpiece. The 3500-square-foot Portland, Oregon home that Erica lives in with her husband and two sons got a total overhaul that is completely worth all the work it took. A house that used to be dark and unloved is airy and brighter than ever. The renovation was complete with custom closet doors, brand new kitchen cabinets with a built-in wine glass case, and the cutest arched front door you've ever seen.
Calling all renters! Your sophisticated, renter-friendly design ideas are all right here.
Andrew Scott and his roommate found their apartment online on apartments.com and actually hated it when they first toured it. Luckily, after the landlord agreed to make a few cosmetic changes and lowered the rent, they signed a lease! Since then, they've switched out all the old hardware, installed built-in shelves in the dining room, and painted every place that needed it to completely transform this rental home.