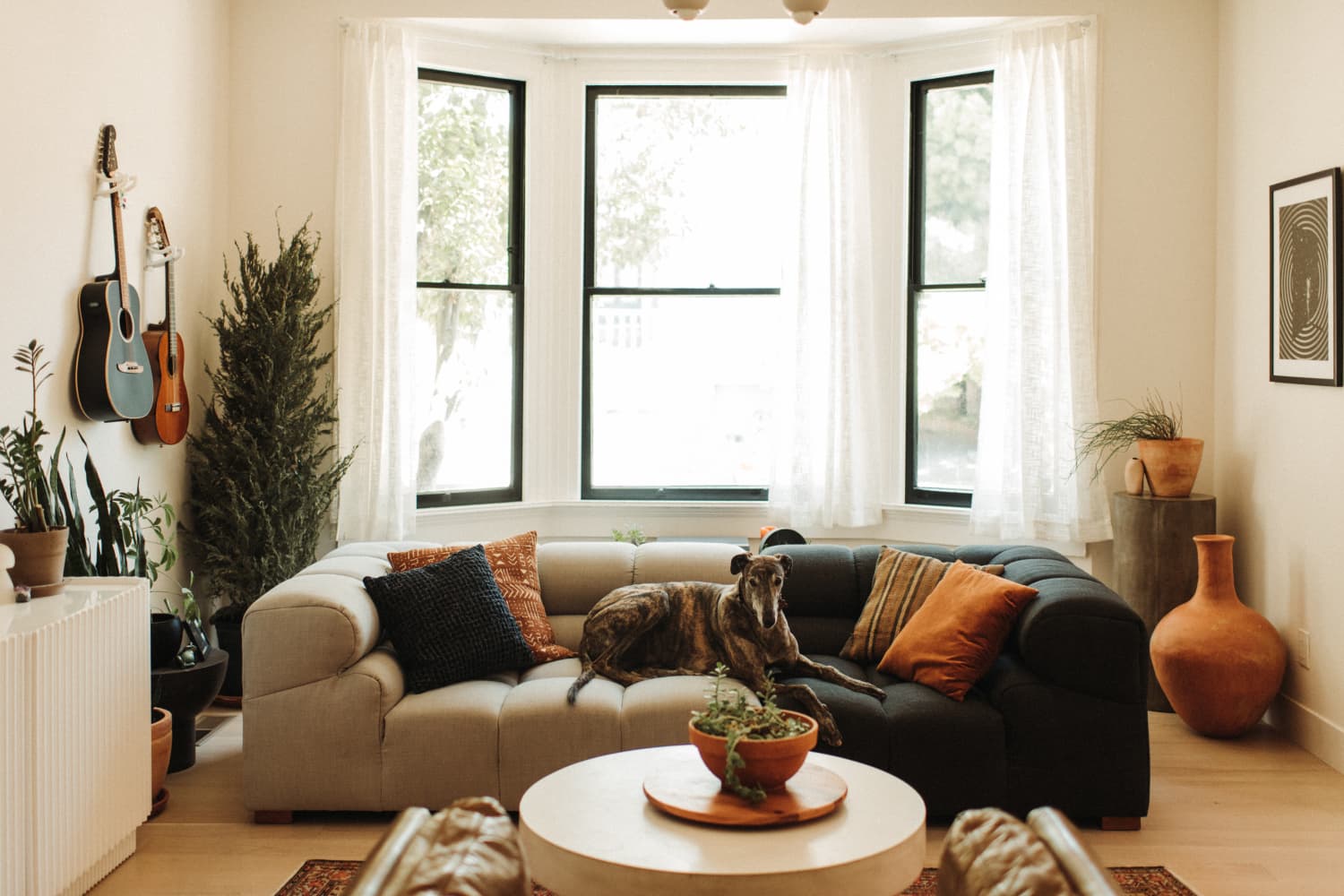 We independently select these products—if you buy from one of our links, we may earn a commission.
Name: Alyssa Fetini, Abe Pursell, Baby Remy (4 months) and Twigs (our dog)
Location: Lake Merritt neighborhood — Oakland, California
Size: 2500 square feet
Type of Home: 1903 Victorian home
Years lived in: 1.5 years, owned
When Alyssa Fetini and her husband bought this home, it was exactly what she was looking for: a complete gut job. "When we were touring homes, we were looking for location, good bones, and high ceilings… and this house had all three!" writes Alyssa. "Doing the interior design myself was one of the proudest moments of my life. I work in HR at a tech company so having this as a creative outlet brought me to life in many ways."
Trips all around the world (pre-pandemic and pre-baby) have inspired many elements in Alyssa's home, as well as work by local artists and artisans around California. But perhaps most of all, Alyssa stresses that her and Abe's home is a match for themselves, the ones who are actually living in it, rather than just trying to follow trends. "There is a difference between being inspired by things you see on Pinterest and just copying it outright," she begins. "Your home should be a reflection of you and all the things that make you unique. Some of the trendier things (like an all terrazzo kitchen) might look good on Pinterest but the functionality and timelessness might not be there. It might sound cliché, but just be yourself!"
Apartment Therapy Survey:
My Style: I describe my style as a "Scandinavian professor" in that I like my living spaces and even clothing to reflect a cozy yet structural type of minimalism. My goal was for my home to feel soft, calming, and classic while still being visually interesting.
Inspiration: My husband and were big travelers before kids and used to take at least two international trips a year. When I look around the house, I can see how each trip is reflected in a different aspect of the home. My kitchen was inspired by a simple, yet beautiful Airbnb in Stockholm that was minimal but cozy at the same time, the colorful concrete sinks in the bathrooms were inspired by a funky little wine bar in Melbourne, the terracotta accents all over the house are reminders of all the time we've spent all over Mexico. In the same way that these trips have shaped and inspired me as a person, they have also had a major impact on how I thought about designing the house.
Favorite Element: The main bathroom is hands down my favorite room in the house. It was originally used as an office and while having an extra one of those would have been useful during the COVID lockdowns, I decided that creating a spa-like bath was more important. Given that I had a large space to work with, I immediately knew I wanted a double shower, which lent itself to my idea of using tile to create a "send nudes" mosaic and the wonderful people at Fireclay Tile in San Francisco brought my vision to life. Nood Concrete in Australia created the pale peach concrete sinks that I have all over the house and the blue bathtub brought it all together. Every time I walk in, I immediately feel like I'm at a fantastic hotel, which is the best feeling in the world when you're trapped at home!
Biggest Challenge: We essentially had to gut and totally restructure the first floor of the house. As is typical for Victorian homes, the ceilings were gloriously high, which was a huge plus for us, but the actual layout felt small and confined since in the Victorian era, optimizing for as many rooms as possible was the goal. We used an architect to help us rethink the structure of the first floor to open the space up and moved the locations of every room other than the living room. The old kitchen is now a staircase, the old guest bath and bedroom are now the kitchen, and dining area and the old dining room is now a guest bedroom.
Biggest Indulgence: The lighting from Entler studios was by far my biggest indulgence. I used them in the living room, kitchen, and dining room and in my opinion, the house just wouldn't be the same without them. Entler is known for making tentacle like lighting fixtures and I first saw them in a coffee shop years ago and took note of the designer. Octopuses are my favorite animal and these alien-like octopus lights are totally unique but still classic. I'll never get tired of looking at them, which is exactly how one should feel when considering whether or not to splurge on a home-related purchase.
What's your absolute best home secret or decorating advice? The best compliments people have given me about our house is saying "wow, this is SO YOU" when they walk in. A well-designed home should feel like a true expression of your identity, not a reflection of what is currently trending on Pinterest. I'm also a big believer of having specific elements echoed throughout the house to add consistency without being too matchy-matchy. As an example, we used the same colorful sinks (in different colors and shapes) in all the bathrooms, we kept all of our countertops white, we used similar lights in different shapes and sizes in all the rooms, and I have artist Katie Gong's wood wall structures in almost every room. The different rooms should feel like "sisters, not twins." There should be a resemblance without being too identical.
This house tour's responses were edited for length and clarity.