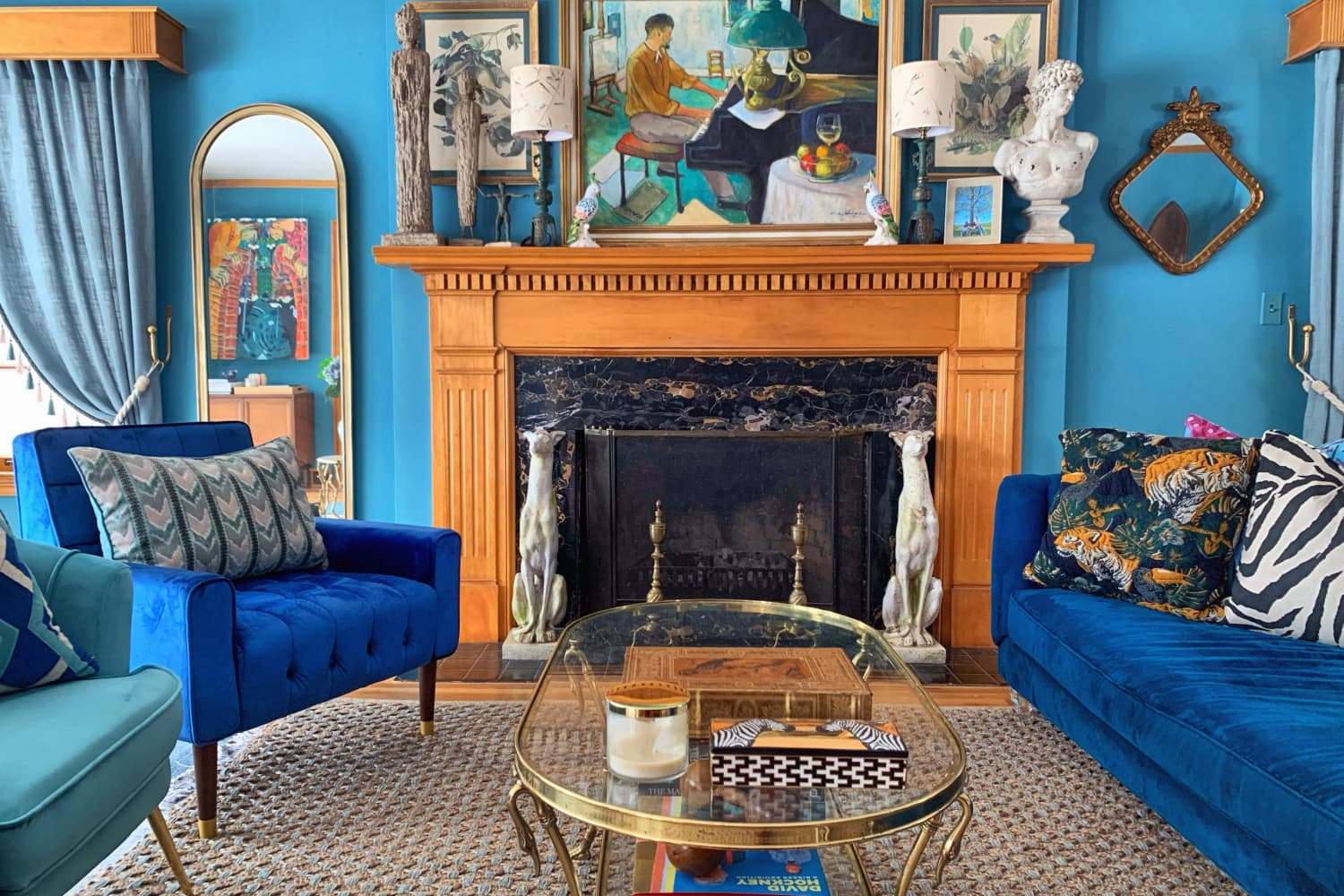 We independently select these products—if you buy from one of our links, we may earn a commission.
Name: Brad Walsh
Location: Cleveland, Ohio
Type of home: House
Size: 3300 square feet
Years lived in: 1 year, owned
Tell us a little (or a lot) about your home and the people who live there: The house was built in 1948. The original two-car garage has since been converted into extra living space, and a newer three-car garage was built as an extension. I am a musician and art collector; I bought this house last fall with the intention of making it my forever home. I am an art collector, a hobby painter as well, and I love color in interior design. My house is populated by a mixture of vintage and antique pieces as well as new. And I like to draw on the walls.
My sensibility and affinity for color as an artist definitely shows through my interior decor. Since I live in a particularly snowy part of Ohio, I like to propagate a perpetual spring indoors.
Describe your home's style in 5 words or less: Mid-century maximalist artist's playground
What is your favorite room and why? The green room, which was inspired by Tony Duquette's Dawnridge. You'll see images of it a bit down the page on my interior design website. I refer to the style of the room as "Beetlejuice goes to Florida." It's my favorite because it's the only lounge space in the home that doesn't have a television. Just a record player, and many places to get comfortable with friends and a drink.
What's the last thing you bought (or found!) for your home? The last thing I bought was a pink fluffy rug for the upstairs guest bathroom. When I moved in, the splendor of the original 1940s bathrooms had been muted by "updates" from the '70s-'90s. There were yellowed linoleum floors, walls painted gloss white that hadn't been cleaned in some time, but startlingly well-preserved tile and fixtures. So I restored the bathrooms to their mid-century glory and embraced the pink in the guest bathroom with the wall colors and the fuzzy rug.
Any advice for creating a home you love? Explode yourself all over it. If you make a mistake, you can fix it. If you regret something later, you can change it. But you won't regret it.
This submission's responses and photos were edited for length/size and clarity.