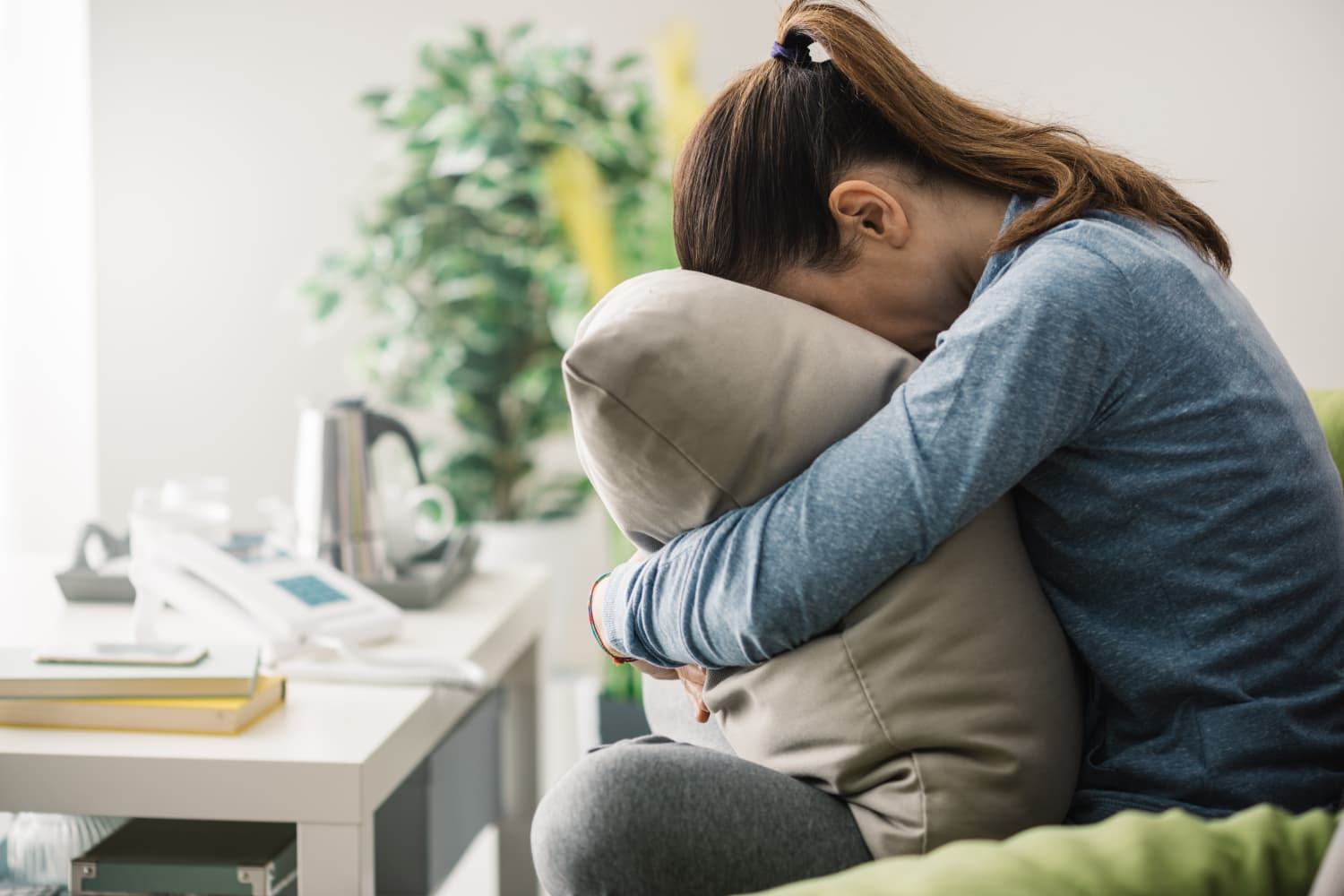 It seems like almost every other day there's another triggering event or headline in the news — mass shootings, systemic racism, political divide, and climate worries among them — making it hard for many Americans to focus on daily tasks. While clinical psychologist and CEO of Open Parachute School Wellbeing Program Dr. Hayley Watson says it's normal to struggle with things like depression, anxiety, and anger issues that have been brought on by the things going on in the world, nobody needs to feel like they have to manage all of these big feelings on their own. Here are a few things she says can help and resources to guide your healing journey no matter what you're feeling right now.
First: stop, breathe, and try to self-soothe.
If you are feeling extreme emotions right now, Watson says you should stop and sit down. "Take five slow, deep breaths and look at something that calms you down (out the window, at a solid object, etcetera). Notice the sensations in your body — describe them to yourself (for example: I feel a weight pressing down on my chest). Keep breathing, and remember that this is a feeling and it will pass," she says, adding that engaging in a soothing activity that you know helps calm you for a few minutes (like doing something creative, giving yourself a massage, cooking something, or even taking a barefoot stroll in the grass). "If the feeling doesn't subside, call someone who you trust to help you (like a family member, therapist, or helpline)."
If you're feeling depression or hopelessness:
If you're feeling unmotivated, you don't enjoy things that you used to, you feel that life is pointless, you can't find the will to do things that you know are good for you, and/or you feel numb or distant from your life and the people around you, you might be suffering from depression or a feeling of hopelessness, according to Watson. She suggests seeking a professional to help you understand where your feelings are coming from so that you can work through them.
Perinatal or Postpartum Mood and Anxiety Disorders Resources
If you're having suicidal thoughts:
If you have begun to think about ending your life, you want a way out, or you don't want to live anymore, you may be struggling with suicidal thoughts, according to Watson. These thoughts don't have to be constant — she says that they can come and go — in order to warrant action.
If you're feeling angry or having issues with anger management:
If you lose your temper easily, you get overcome with rage, or you lash out with words or physically push, hit, or hurt others when you're mad, Watson says you may be struggling with anger and anger management issues.
Find an in person support group:
If you're battling substance abuse:
If you feel a strong urge to numb your feelings, you are taking a substance most days (like drugs or alcohol), you feel shaky or overwhelmed when you don't take substances, or your personality changes significantly when you take imbibe, Watson says you might be struggling with substance abuse.
Getting help is critical.
While acknowledging that you may not be feeling emotionally well is the first step, actually reaching out and seeking support can help to set you on a path toward healing. There's so much going on in the world right now, know that you're not alone in your feelings and that there's someone out there who can help you if you reach out.