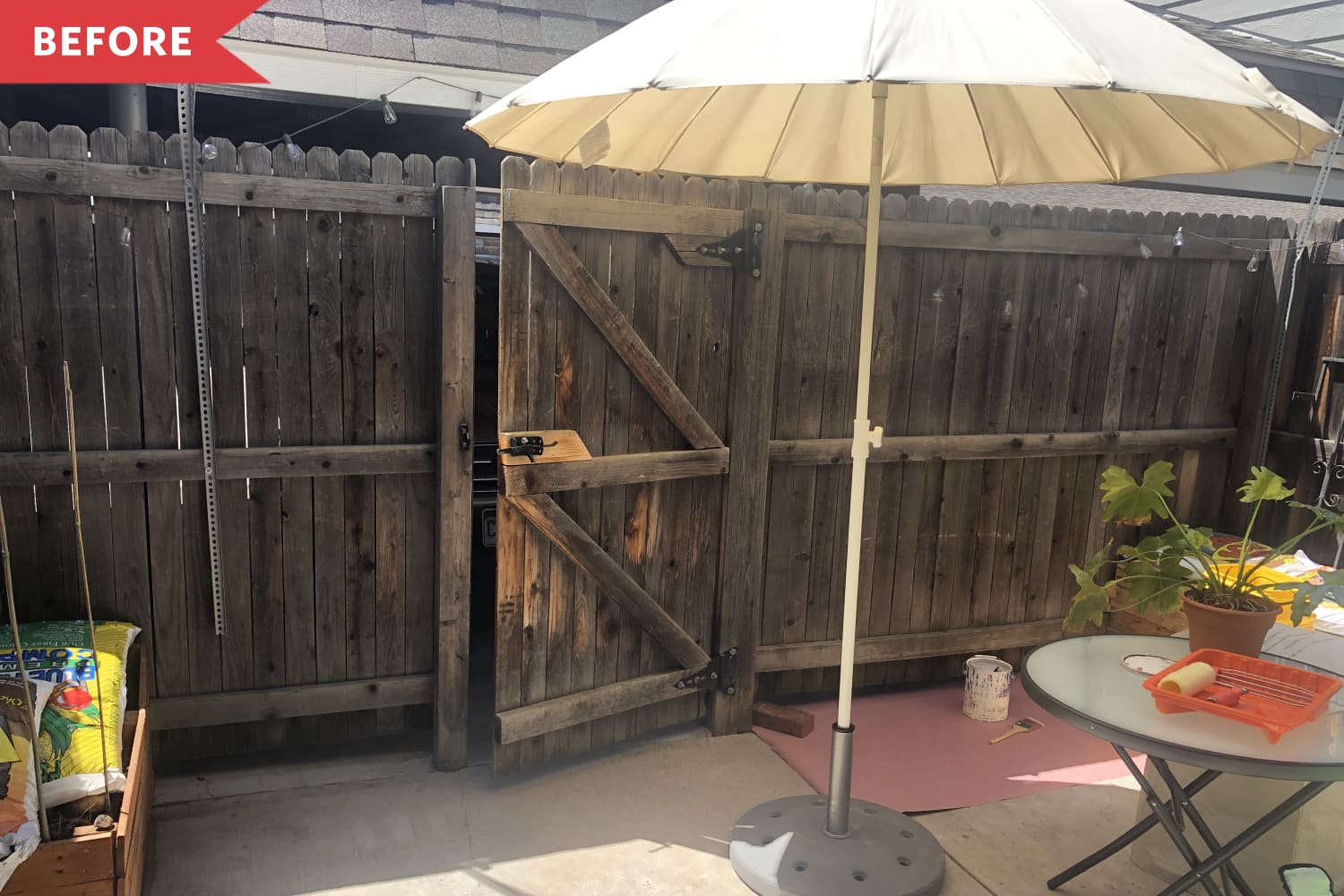 Sure, a top-to-bottom, all-out renovation is satisfying to see, but you don't have to devote months to a project to create something truly impactful. Some open shelving here, a little furniture restoration there — the results of small projects really can add up.
That's even true of outdoor spaces, which can have a reputation for being intimidating when it comes to DIYs. After all, those outdoor projects involve all the same skills as indoor ones, plus some extras like weatherproofing and planting. But you'll only need a weekend to make a serious upgrade — and if you start planning now, you'll have lots of time left this summer to enjoy the fruits of your labor.
Skeptical it can be done? Let these weekend warriors prove you wrong. Each of their stylish outdoor projects took 48 hours (or less!), but the results are seriously impressive. Even better? All these projects all beginner-friendly. Read on for some outdoor DIY inspo to get your creative wheels turning.
This 1970s Front Door Got a Springy Redo in Just a Weekend
Curb appeal is important, but changing up the street-side view of your home can be time consuming and expensive. But interior designer Katherine Thewlis and her husband proved that painting an old front door can be a manageable way to make a big impact on awaiting visitors and passersby. The couple used pliers to rip dated, ruffled pieces off the storm door's metal frame, which instantly modernized it. Then, they primed it and the front door before giving it a few coats of matte black paint. Finally, to really nail the curb appeal, the couple finished things off with a new light fixture and house numbers alongside a cheerful planter and trellis.
A $150 Paint Project Punches up This Dreary Gray Patio
To turn a drab concrete patio into a space she'd actually like to spend time, Wendy Gilmour of Thankfifi came up with a clever low-cost solution: a stenciled paint job. She picked out a black-and-white star palette and outdoor-friendly paint to create a pattern that resembles much more expensive tiles. Paired with matching chairs and a dining table, it definitely creates a space worthy of an alfresco meal.
A Cheery One-Day Mini Patio Makeover for Less Than $100
If your patio just needs a little something to help it feel more welcoming, take a cue from this redo from Zoe Hunt of Crafted by the Hunts. To give this patio a bit of sunshine, she re-painted the dull and dingy lounge chairs. White one the legs and light blue on the seats made them much more cheerful-looking. A springy end table made of used lumber and a square concrete paver completes the set, making it a comfortable hangout for any time of day.
A $2 Patio Table Makeover
This round glass-topped table may have been free, but it came with a lot of issues — like chipped laminate coating and scratches galore. Even so, Apartment Therapy reader Sydney saw a lot of potential. Using a utility knife, painter's tape, leftover paint, and $2 worth of new paint, Sydney created a cool triangle pattern on the surface. Now, the table is a true design centerpiece.
This Rental-Friendly Patio Redo is a Plant-Lover's Dream
Bev Wilson of Room Sauce and her fiancé scored a Brooklyn rental with an outdoor space, but they never used it because of its lack of privacy. So they decided to add seclusion on their own terms by securing bamboo fencing to the existing metal railings with zip ties and then layering faux greenery on top. Add in some string lights, furniture, and potted plants, and this patio is now an oasis in the midst of the city.
A Simple and Stunning Patio Redo Makes Color the Star
While this patio was initially nothing special, an impressive redo turned it into the bright spot of a Brussels apartment. Inspired by a vacation to Mexico, Marilyn Jonckheere wanted a more cheerful space for her family to get some fresh air. To achieve that, she first used a borrowed pressure washer to clean the area, treated the wood railings to help revitalize their natural color, and then painted all the walls a warm tomato red. A few cascading plants bring tropical texture into the bold space.
$130 and 6 Paint Colors Make a Dreary Fence Museum-Worthy
Tina Frank's patio was enclosed in dark wood fencing that had seen better days. She and her boyfriend were inspired by the murals they'd seen at trendy restaurants and decided to take the look home to upgrade their fence's sense of style. They started with two coats of white paint for the base, then freehanded shapes and stripes using six bright colors. Now they have a restaurant-worthy mural for their at-home happy hours.