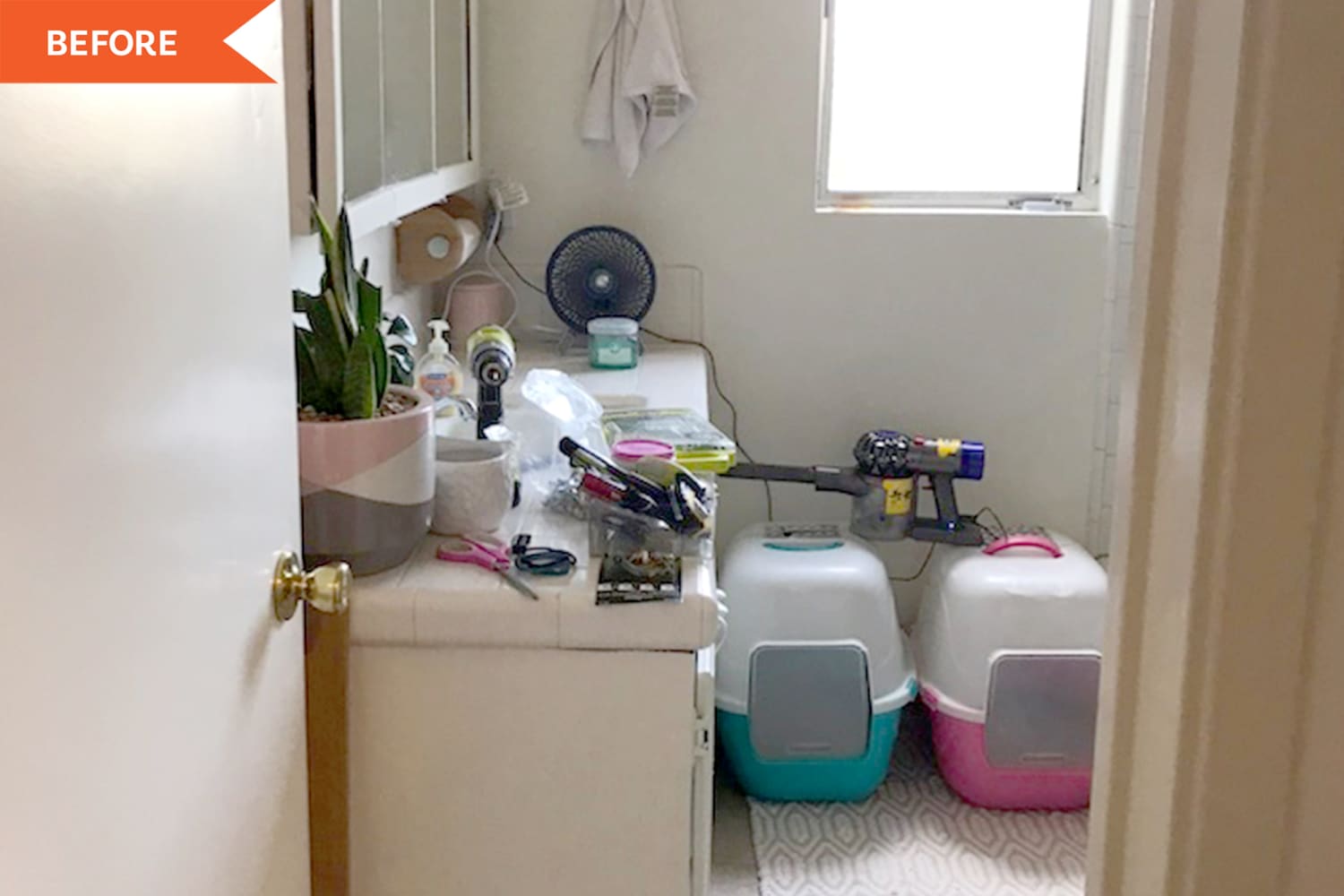 Do you love everything about your cat — except their litter box? The cumbersome, smelly eyesore can throw off the aesthetic of any home.
Home DIYer Adriana Salinas found a solution to this problem. "Previously I owned two very bulky and ugly litter boxes for my cats that made me uneasy to look at," says Adriana. "I decided that it was time for a change; my cat deserved a pretty litter box. So I went about searching for something that would be functional for my cats and myself and stumbled upon this little cabinet at my local thrift [store]."
Over a two-day period, Adriana transformed the $50 furniture piece into a multi-use litter box/storage unit. First, she sanded down the entire cabinet. She made sure it was clean by removing the dust with both damp and dry cloths. She then installed a kitty door she found at The Home Depot on one of the cabinet's doors so that her cats could access the litter box inside. "I had never used a jigsaw prior to this project," says Adriana. "I think once I got over the fear of messing up, I was actually able to enjoy the process of making my idea come to life."
To give the cabinet a sleek, modern look, Adriana painted it with two coats of Benjamin Moore's Black Beauty. Then, to further elevate the look of the cabinet, she took an unconventional approach: She used wooden skewers that are typically used for food to create a geometric design, stuck them on the cabinet with Gorilla Glue, and painted over them with the same black paint.
The now-equally-stylish-and-functional cabinet has room for a litter box, a scooper, and a trash can. And unlike conventional litter boxes, Adriana can also use the top for plants.
All in, Adriana spent $105 on the furniture makeover, and she's very happy with the finished product. "Now with my project, I don't have to worry about seeing the physical litter box out and about! Plus, I found that the smell from their litter box isn't as prominent and strong as before," Adriana says. She's also pleased that she was able to transform something old and give it a different purpose. "I am most proud that I was able to upcycle this cabinet and give it a new life," Adriana says.