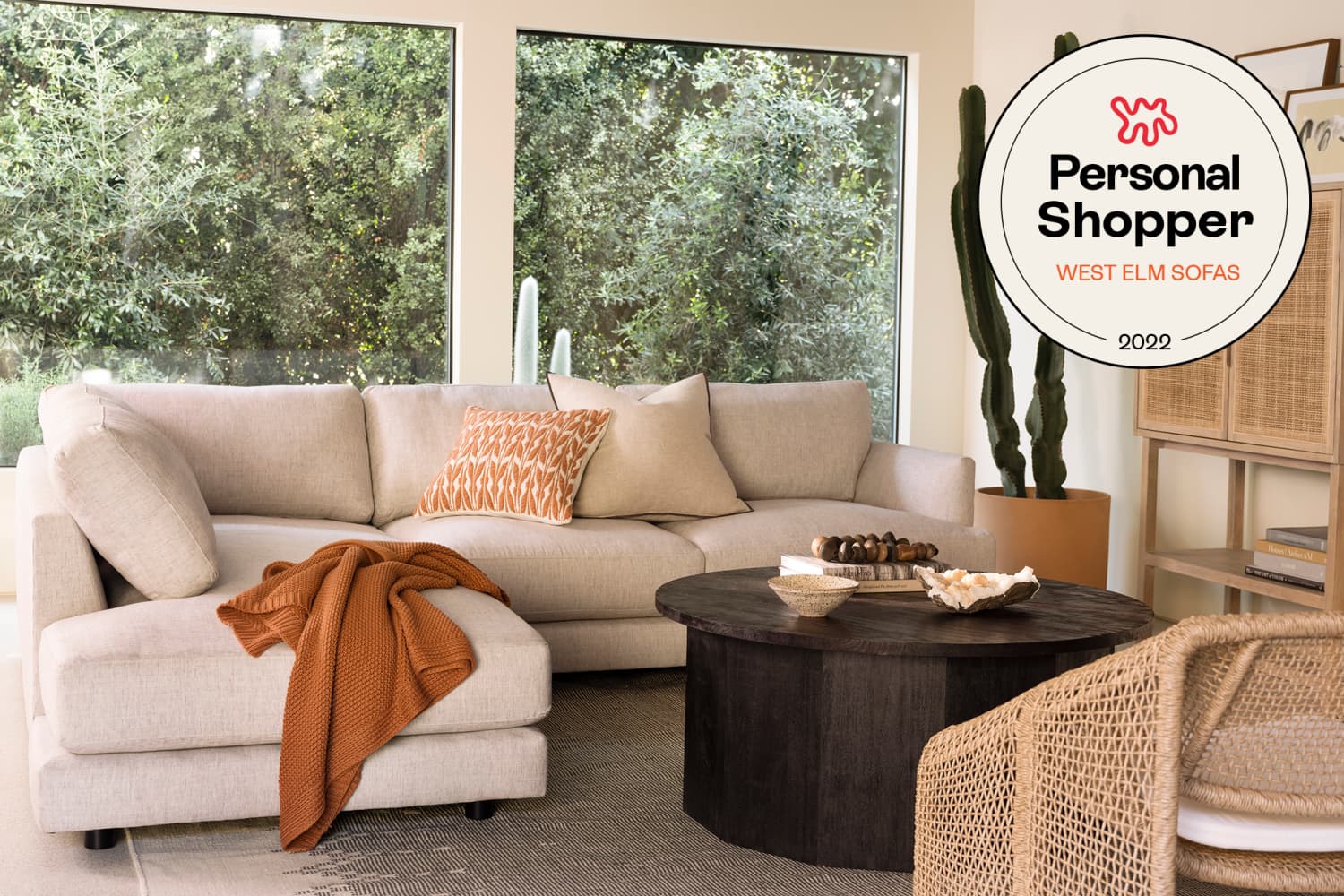 We independently select these products—if you buy from one of our links, we may earn a commission. All prices were accurate at the time of publishing.
As your Personal Shopper, we'll be visiting the showrooms and stores of your favorite home brands to put all the hard-to-online-shop-for items to the test, starting with sofas. If it's on the store's floor, it's on our list. We went, saw, and sat on every sofa (multiple times!) at one of West Elm's Brooklyn locations and determined the kind of customer each sofa is a match for. Without further ado, read on to find the best, most comfortable West Elm sectional or sofa for you.
West Elm is an editor and reader favorite for all things home and kitchen, including, of course, sofas. Their vast selection not only looks good but also can be delivered directly to your living room with white-glove delivery. West Elm also offers free furniture customization and design guidance, if needed, as well as complimentary swatches from a plethora of upholstery options to help you find your ideal materials and colors. Below are the exact sofa models we tested, but you can also find most of them in a variety of styles, including sectionals, loveseats, and accompanied by an ottoman.
The range of sofas and sectionals carried by West Elm is not limited to this list. Visit the website for more options.
We judged every West Elm sofa and sectional in-store based on the following six criteria, giving each category an average rating between 1 and 5. These scores helped us determine who the sofa suits best, from nap lovers to movie-night hosts.
Overall sit: What posture does the sofa best support? How deep or shallow are the seats? Are the cushions soft or firm on the back and arms?
Seat firmness: How soft or firm are the seat cushions? How do they contribute to overall posture and comfort?
Customizability: Are sizing, configuration, upholstery, color, or any other details customizable? How granular can a shopper get when customizing?
Nappability: Can you nap on it? Would you want to? Would guests be comfortable sleeping on it?
Multi-functionality: Does it have storage capacity? Is it a sleeper sofa? What else can the sofa do or help with?
Appearance: What style does it best suit? Does it lean more traditional (i.e., deep hues, busy details, flanged edges) or more contemporary (i.e., clean lines, low profiles, mid-century modern)?
Every Editor-Tested Sofa and Sectional at West Elm
What Impressed Us: The overall sit and seat firmness.
With its supportive, upright posture and firm cushions, the Axel is our choice for those who work from their living room sofas, be it out of preference or for a lack of space for a desk and chair. Shoppers can customize the Axel's leg height, and choosing taller legs can add some significant under-sofa storage space — another bonus for those who work from the living rooms of their smaller apartment. Its smooth leather is soft and comfortable while also giving the sofa a polished look. The firm seats and upright back offer support but enough comfort to lounge on after your laptop is closed.
What Impressed Us: The nappability and appearance.
The Harmony's platform-supported, extra-plush cushions make it reminiscent of the step-down sunken living rooms of the '60s while also being one of the most contemporary sofa styles West Elm has at the moment (ah, trends). It's truly cloud-like to lay on and the many pillows that adorn the sectional have varied amounts of fill, producing back support where it's needed and head, arm, and neck support on the sides. It's practically made to nap on, but its retro, stylish appearance is enough all on its own.
What Impressed Us: The multi-functionality and nappability.
The Urban Sleeper sectional, with its spacious storage chaise lounger, gives apartment dwellers the opportunity to have it all. Its traditional aesthetic, high-pile plush seating, and customizable upholstery make the Urban versatile enough to suit a range of decor schemes, but its Queen-sized pull-out and nearly person-sized storage compartment make it an overachiever among small-space sectionals. Everything moves easily and the lid of the chaise closes softly with or without the easy-pull tab — no finger-crushing here.
What Impressed Us: The multi-functionality and seat firmness.
The Shelter Queen Sleeper's simplicity makes it easy to add to any room. Wherever it goes, be it your home office or living room, it can transform the space into a convenient and comfortable guest quarters. Its long back pillows, arm pillows, and bench-style seat cushion give the Shelter a polished daybed look, but the (Queen-sized!) pull-out bed these cushions conceal is this sofa's star feature.
What Impressed Us: The nappability and customizability.
The Haven is one of West Elm's plushest sectionals. Its movable back and arm pillows, long bumper chaise, and wide, deep bench-style seat cushions make it ideal for those who love to stretch out, lay down, sit up, or get creative with their lounge positions. True to its name, the Haven makes you comfortable no matter where you end up on it, especially when you customize the modules and sizes to allow it to fit your space perfectly, so everyone can enjoy movie night (without the fidgeting).
What Impressed Us: The overall sit and customizability.
While it mimics the Haven in its shape and appearance, the Harris sectional's higher platform and shorter cushions give it more support and buoyancy, meaning more resiliency over time if you have pets who sleep on the sofa or kids who love to bounce. All edges of the sofa are upholstered, and there's no exposed hardware, making the Harris a safer option for families with kids. The Harris's 35″ seat depth also makes it easy to get on and off of, whatever your height. Add your choice of performance upholstery, of which there are hundreds to choose from, and no amount of spilling or cat scratching will get in the way of you having a beautiful, comfortable, long-lasting sofa.
What Impressed Us: The appearance and nappability.
It's all in the details with the Parker, from the curves of its walnut platform and legs to its wide, inviting seats. Aesthetic-minded shoppers (like me, admittedly) will love this sofa's authentically mid-century modern style, which can be customized to fit spaces large and small. It's a piece worth talking about when you see it, making it perfect for those who host guests or keep highly curated interior design. It's got medium-firm seats and posture that leans more upright, but its wide seats and chaise make it highly nappable. The Parker can work as its own statement piece in a room with minimal decor but also pairs beautifully with eclectic, maximalist style, all while looking just as striking.
What Impressed Us: The overall sit and appearance.
Nodding both to traditional and contemporary sofa styles with sloped arms, leather upholstery, and tapered wooden legs, the Hamilton sofa can be left as is or adorned with pillows and throws to suit the design of your space. Covered with soft leather, it's one of West Elm's few sofas that is both handmade and contract-grade, meaning it's durable enough for commercial use in offices and hotels. For a classic look and simple, reliable utility, the Hamilton is our pick.
What Impressed Us: The appearance and customizability.
The Dalton sectional does the most to make us feel like we're sitting on something very expensive. Its low-profile, minimalist design and tall, bench-style seat cushions make an immediate visual impression. The Dalton's movable, reclining, and super-plush back pillows are paired with buoyant seats, making it a perfect marriage between the contemporary, angular aesthetic and serious comfort. For a sectional that looks and feels thousands of dollars more luxurious than it really is, the Dalton is our pick.
What Impressed Us: The customizability.
The Andes sectional has a mid-century modern design, room for storage underneath, a chaise headrest with a slight recline for cozy napping, and bench-style seating for easy cleaning and seamless comfort. But you can take it steps further and fully customize your Andes with over 200 upholstery options and a wide array of unique modules to choose from (including double-width and extension pieces). This sectional is our choice for those who know exactly what they want and refuse to sacrifice comfort for a sharp appearance.