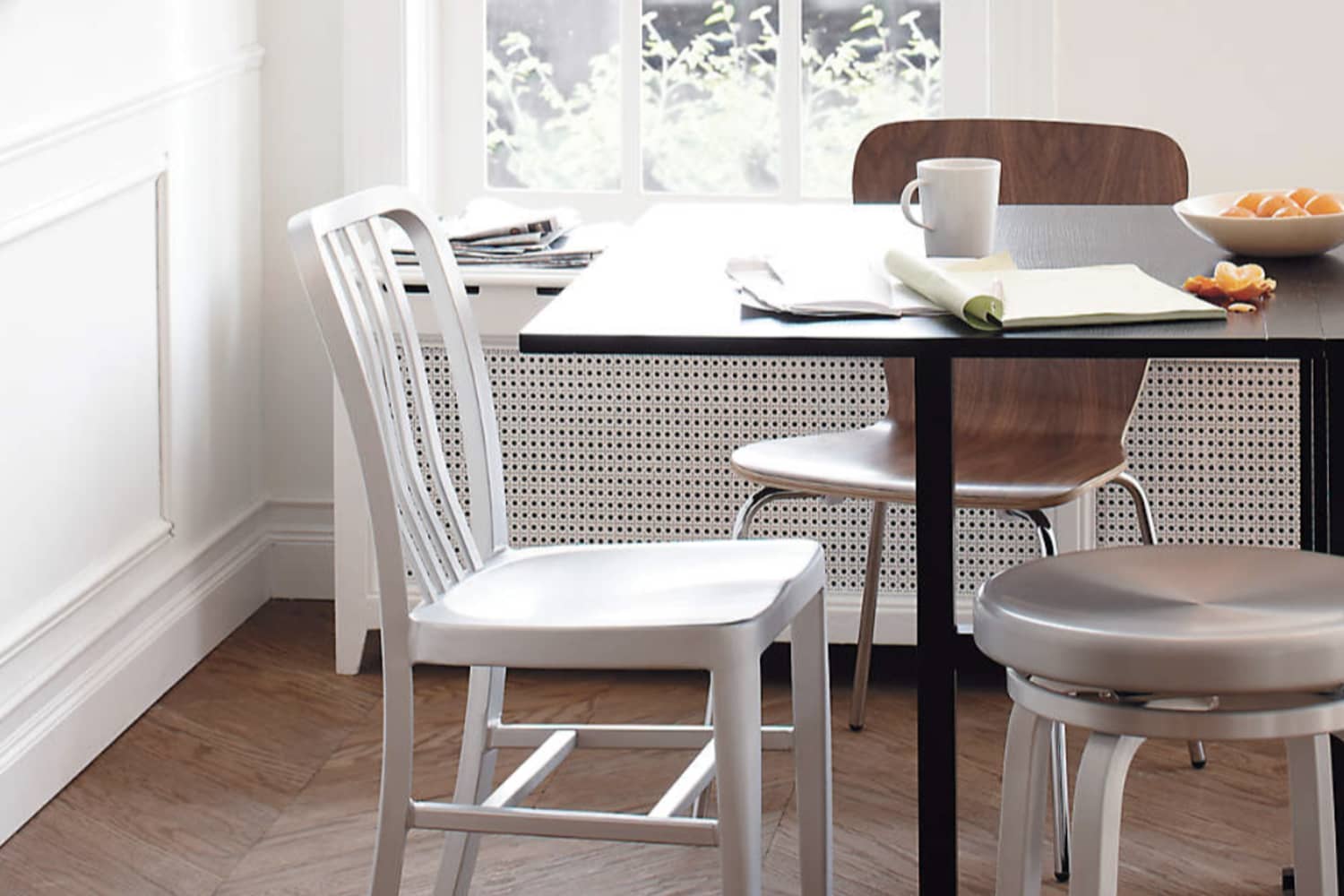 We independently select these products—if you buy from one of our links, we may earn a commission. All prices were accurate at the time of publishing.
Metal finishes cycle in and out of fashion in interior design. For the longest time, shiny chrome and subtle satin nickel reigned supreme. Then, for just a minute, everything was copper — stand mixers, flatware, light fixtures — and rose gold tones were inescapable. Now brass is back, more specifically, un-lacquered brass, which is often praised for the patina it develops over time, making it a "lived-in" material.
In this era of all-brass everything, sometimes it's easy to forget that other metals can add just as much character and depth to a space, particularly when you mix metals. To that end, I got a healthy reminder from CB2's recent collection that one metal in particular is a mainstay (and for good reason): aluminum. It's extremely versatile (and lightweight!), ranging from glossy, polished pieces to more matte silver and even textured black finishes. This range means aluminum works with many design styles, from modern farmhouse to mid-century, so it fits in nearly every home.
I gathered some of my favorite aluminum (and aluminum-inspired) pieces below. Shop your favorites to add a bit of this cool-toned metal to any room in your home.
Aries Cast Aluminum Silver Vase
Part of the beauty of this vase is that it only requires a few stems to look full, so you can easily clip some branches or florals from your yard (or hit up your local nursery) to make it really shine. Plus, the sculptural shape can make a statement on a shelf or table all on its own, if you really want to keep it simple.
Brushed Black Aluminum Side Table
This side table has clean lines, but the subtle texture of the brushed black finish adds interest and depth. It would be perfect for a cocktail table between two armchairs or could make a bold nightstand choice.
Sagebrook Home Aluminum Knot Sculpture
If you're styling out a large bookcase or set of built-ins (lucky you!), you've likely realized that it's actually difficult to fill every nook and cranny. That's where small sculptures and accents come in handy; adding this one to the top of a stack of books or among other vases and knickknacks makes a bookshelf feel designed, collected, and full.
Nickel 24-inch Harper Aluminum Table Lamp
Of course, tons of brass table lamps exist. Just as you'd mix up the color palette in your home to create visual interest and balance though, you can do the same by mixing metal finishes. This aluminum table lamp would be great for an area that could use a shot of silver, while the hammered texture ensures the piece doesn't feel too sterile or cold.
Delta Aluminum Dining Chair
I'm willing to bet you've seen metal chairs like this before. Since they're constructed from brushed aluminum, these pieces are super-lightweight, fairly affordable, and tend to work best in an industrial or modern farmhouse style setting. That said, these seats can also hang in a mid-century inspired home and break up all the wood tones you'd typically find in such a space.
Cenote Bullseye Cast Aluminum Tray
For a double-duty accent piece, this cast aluminum tray works as a hefty coffee table accent, a catch-all tray for entryway items, or potentially as a very chic spot for all of your matchbooks. Part of CB2's new Lawson-Fenning designed collection, this piece features a bronzy finish, proving that aluminum isn't just a one-trick pony.
Delacora Natasha Aluminum Accent Table
The shape of this side table makes it look almost futuristic or Space Age, so it would be perfectly at home in an industrial or modern space. The textured finish makes it feel lived-in though, so it could happily accent a warmer, more traditional home as well.