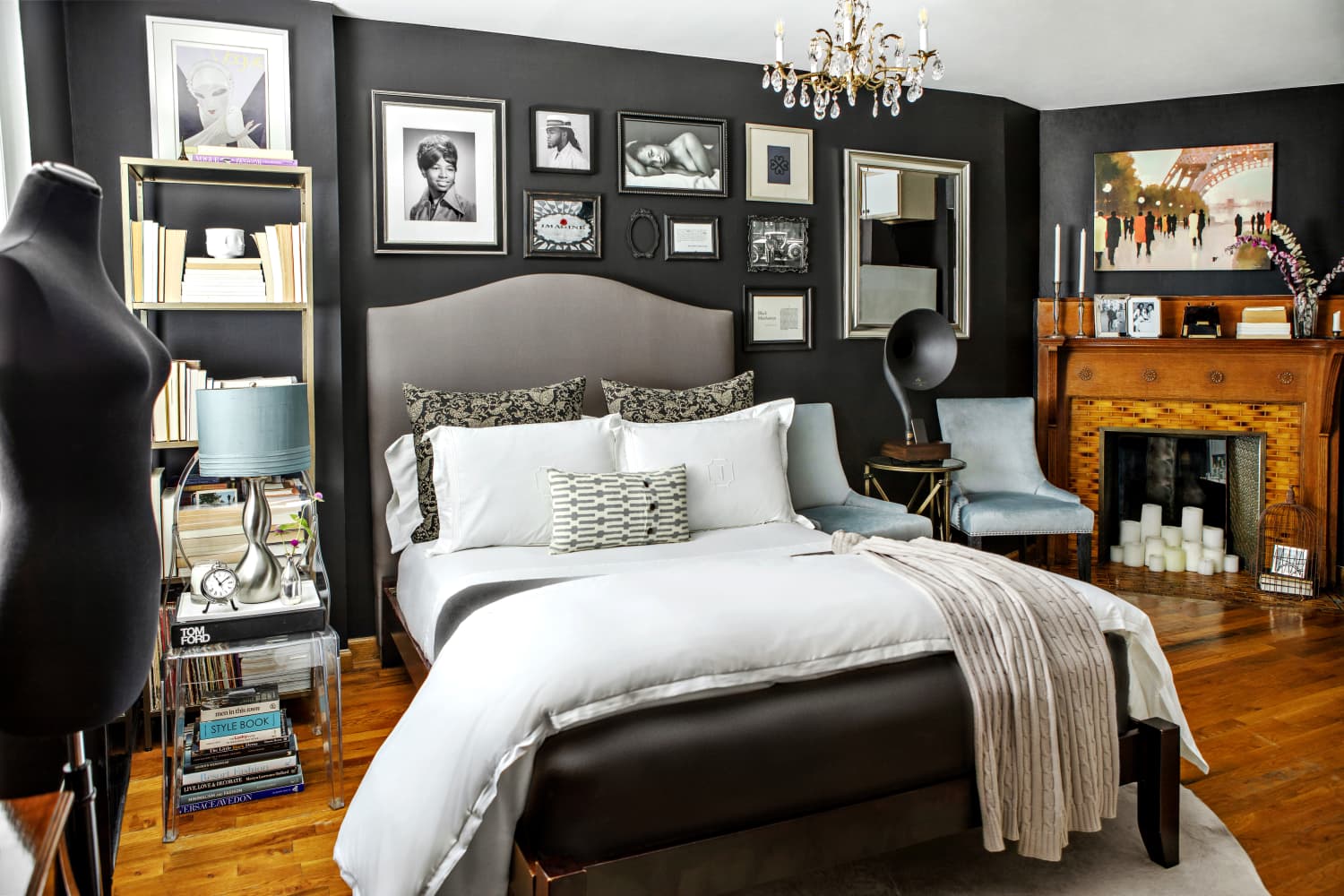 Name: James Bianca
Location: Harlem/Striver's Row — New York, New York
Type of home: Apartment
Size: 420 square feet
Years lived in: 8 years, renting
For more content like this follow
Tell us a little (or a lot) about your home and the people who live there: Striver's Row in Harlem is an area with a very unique history, but is best known for the ambitious African American professional, or "strivers," who occupied the row houses around 1920 and beyond.
When I moved into my Colonial Revival-style building, I was a freelance editorial assistant and was simply striving to pay rent on my own! Despite having very little money, I had a hardy wish list, which included a full kitchen, a working fireplace, south-facing exposures, and outdoor space.
Thankfully, my landlady gave me a deal (and a hug) on her garden level studio with everything I wanted. With that came community and the ability to stand on my own, build a career, and find love (in a nearby club).
There are two major themes that are sprinkled throughout my home that are a direct reflection of my identity — I am Black and I am a woman with a guy's first name. You can specifically see my Blackness through the artwork I've chosen.
Everything from the framed West African "Nyame Dua" Adinkra symbol to the excerpt from "Black Manhattan" by James Weldon Johnson, were curated to reflect my love of the culture and the area I came to call home. I also have a reprint of James Van Der Zee's 1932 iconic "Couple, Harlem" image that captures the beauty of African American life in my neighborhood during its Renaissance.
Additionally, I've used menswear as a way to celebrate my unique name. I've framed pocket squares and hung them as art, sewn Ralph Lauren wool chalk stripe suiting on the backside of my custom euro shams, and hung black hound's-tooth fabric from the ceiling to conceal a closet I created.
Describe your home's style in 5 words or less: Harlem Renaissance Modern.
What is your favorite room and why? My favorite room is more of an area — my entry accessories closet. When I finally settled into my studio, I quickly realized there was no Carrie Bradshaw-sized closet to house my shoes. Luckily, I had an Elfa closet system from my old place. I reconfigured the parts and installed it on a wall designated for a TV. The solution worked out well, but it wasn't complete until I made a floor-to-ceiling curtain wall from black menswear fabric. The entire project is still one of my favorite DIYs to date.
What's the last thing you bought (or found!) for your home? The last thing I found for my home was my vintage chandelier. I just so happened to be perusing eBay when I stumbled upon a smaller version of the exact chandelier that sat in my grandmother's dining room. Although I was in a complete state of nostalgia, I had enough sense to make a low-ball offer of $225. The seller accepted, and the chandelier immediately replaced the ceiling fan/light combo that previously resided there.
Any advice for creating a home you love? Don't be afraid to paint a small space black! If I had a dollar for every time someone said I would regret painting my tiny apartment black, I might have enough money to consider a quick jaunt to space like Bezos. All jokes aside, painting my place Sherwin Williams's "Caviar" made it feel so cozy and was a great backdrop for my artwork. The key is to leave the ceiling and window trim bright white so it doesn't feel like a cave. I also played up the warmth from the wood fireplace by adding an antique mirror and white candles, which reflected light back into the room. This combination of tricks created the perfect mood.
This submission's responses were edited for length/size and clarity. Since these photos were taken, James has moved from this apartment (and I look forward to seeing what her next place looks like). A special thank you to the photographer's family for giving us permission to publish these images of James' home.