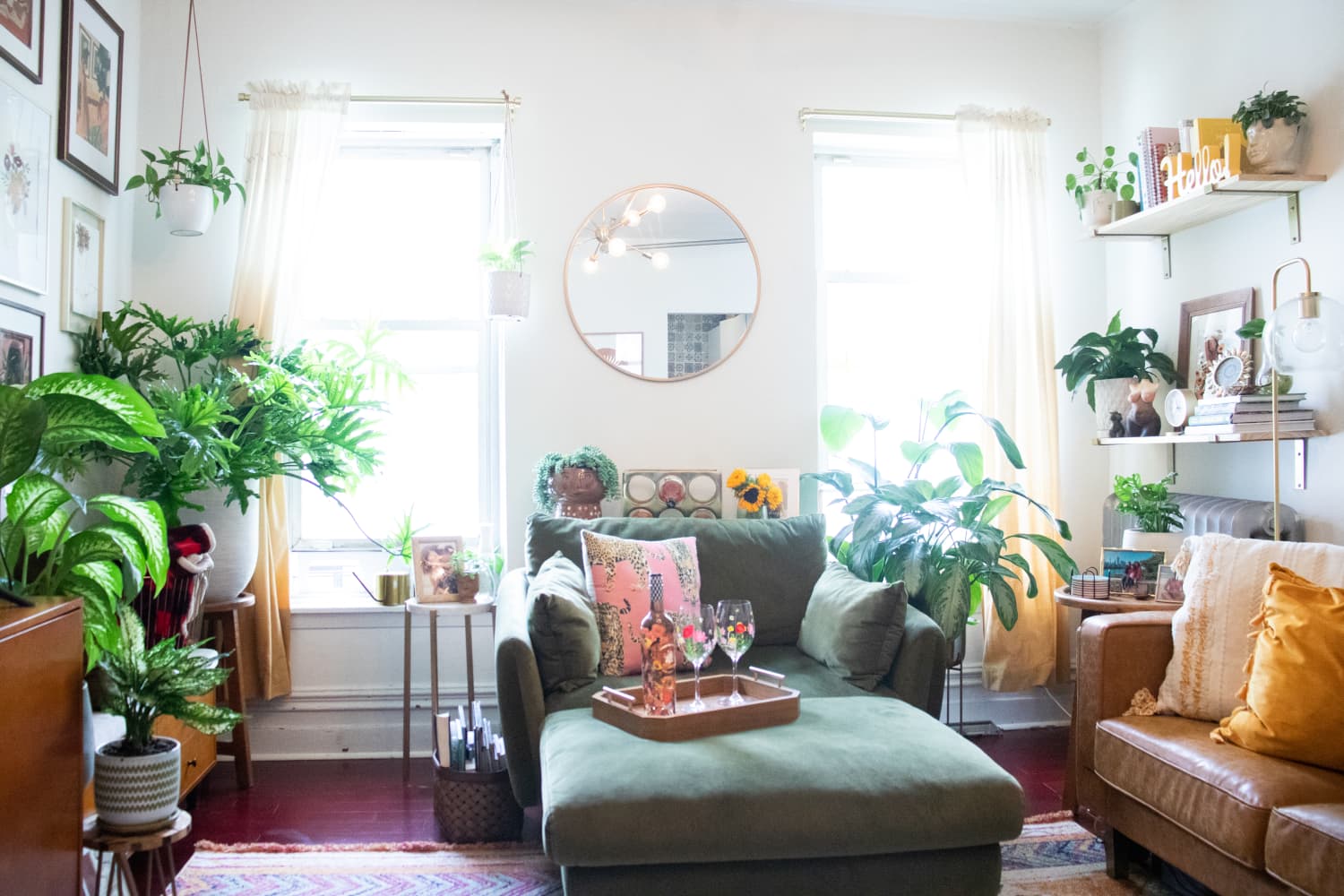 We independently select these products—if you buy from one of our links, we may earn a commission. All prices were accurate at the time of publishing.
Name: Victoria Ellis, and daughters, 8 and a newborn!
Location: Central Harlem, New York, New York
Size: 550 square feet
Type of Home: Brownstone apartment
Years lived in: 1 year, renting
"I like to think that my block chose me and that my apartment is the bonus that comes with it," says Victoria Ellis, of her central Harlem brownstone apartment. "I found my apartment in passing, after a months-long search. I was in an Uber, headed back to my summer sublet, when I saw a 'For Rent' sign in a brownstone window. I immediately asked to be let out of the car and was dropped off in front of what is now my favorite place in Harlem — a plant store (slash coffee shop, slash hardware store). I knew then, without having seen the apartment, that this was the block for me."
For more content like this follow
At first glance, she says, her apartment wasn't anything to get excited about. It was "small (perhaps too small?), quiet, tucked into the back of the third floor of a Harlem brownstone. The space wasn't ideal but I knew I could make it work. I was excited to have a blank canvas to work with and to pour my love into. I started with a rug and a chair and built around that, turning my apartment into an urban oasis surrounded by a concrete jungle. What I love most about my space is that everything in it makes me happy. From the candles to the curtains, the wallpaper to the light fixtures and most importantly the plants; they give me life."
"And when I leave my apartment, I feel like home follows me because my block is so familiar to me, despite only having lived here for less than a year. The bodega on the corner is my go-to to grab my daughter a special treat (ice cream!), the plant store/coffee shop/hardware store gives me my social interaction after a day of working from home, the people on this block watched as I grew a baby inside of me for 10 months and shared in my excitement for my home birth (that took place in my apartment!). Harlem is my home. My block is full of family. And my apartment is my the small space that I always find peace in."
Apartment Therapy Survey:
Inspiration: Plants and color
Favorite Element: My plants and the quiet. I also love this chair!
Biggest Challenge: Not compromising on style and design without sacrificing space.
Proudest DIY: I am most proud of the shelves and wallpaper I put up.
Biggest Indulgence: This chair — absolutely worth it
What are your favorite products you have bought for your home and why? I absolutely love my plants. They give me so much life and peace.
Please describe any helpful, inspiring, brilliant, or just plain useful small space maximizing and/or organizing tips you have: To create space, build up! Put shelves in, hang things from ceilings (like plants or a fruit basket to clear up counter space).
Finally, what's your absolute best home secret or decorating advice? Start with a piece that you love and build around that. For this space, I started with a rug and a chair and built around them.