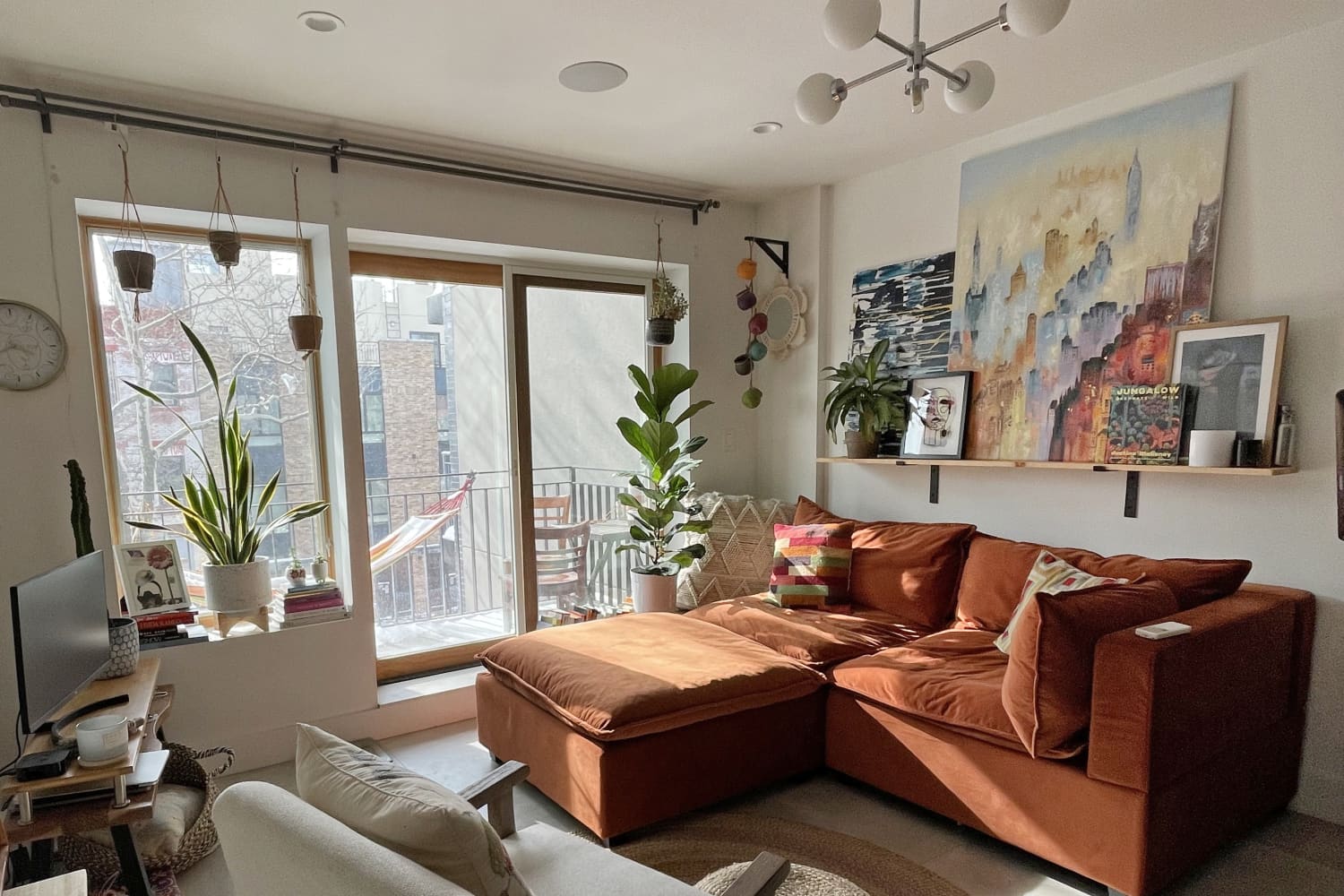 Name: Jen Sans
Location: Bed-Stuy — Brooklyn, New York
Type of home: Apartment
Size: 450 square feet
Years lived in: 2 years, renting
For more content like this follow
Tell us a little (or a lot) about your home and the people who live there: My space is my little oasis. The living room has a sofa that I call the "Sleeping Beauty Sofa" because it's so comfortable I always fall asleep on it instead of my bed.
Above my sofa is a shelf with some of my art. There's this huge canvas sitting on that shelf that's one of my favorite art pieces in the apartment. It's filled with different colors and has the city painted in a way I hadn't seen it painted before. It's mix of darker, fire-y, orange/red/black colors, and lighter white/blue/purple colors.
On the wall across my sofa, I have a gallery wall that has some of my favorite prints. There's a Duke Ellington Jazz print of an ad for an old concert with him playing piano (I'm a keyboardist). There's an old Cuba ad (I'm half Cuban). There are disco balls that make me so happy. And there's a large, beautiful art piece I got in Mexico City that an artist had done entirely with a pen of what life in Teotihuacan was like and I'm in love with.
On that wall, I also have a projector screen that conveniently pulls down in front of the gallery wall whenever I want to feel like I'm in a movie theater!
I have some lights in my apartment that are Hue lights and are controlled with Siri voice activation using my HomePod. They change colors and set different vibes.
The balcony has a really cozy hammock and cute street view. There is a little nook in the corner of the balcony that I enjoy for morning coffee and breakfast and dinners with my fiancée!
I'm Latina and super proud of it! Most of the art in my apartment is by a Latin artist. I have Frida Kahlo books, Mexican art, Spanish art, Cuban posters, Latin cookbooks. You feel it in the apartment. I also feel the color palette in the apartment was inspired by Mexico City, looking at all the beautifully designed homes there.
I'm also musical and am a keyboardist! And you can feel that by the disco balls around, the keyboard, and the ability to tell Siri to play my music to feel like you're at a disco. Seventies disco is my top favorite genre!
My bedroom is cozy and cute. I put shelves in the room from wood I had found in the neighborhood from people moving out. There are also shelves in my closet for some extra space. And I made a corner shelf above my desk to display some books and art.
Describe your home's style in 5 words or less: Colorful, Cozy, Musical, Vibey, Bohemian
What is your favorite room and why? The living room. Sometimes I just sit in there to stare at the art on my walls, to feel cozy on the sleeping beauty sofa, or to stare out of my balcony window.
What's the last thing you bought (or found!) for your home? The last thing I bought for my home were these adorable little elephants from Feng Sway in Brooklyn. They're a mommy and a baby elephant and they were sold separately, but I didn't have the heart to separate them, so I bought them together.
Any advice for creating a home you love?