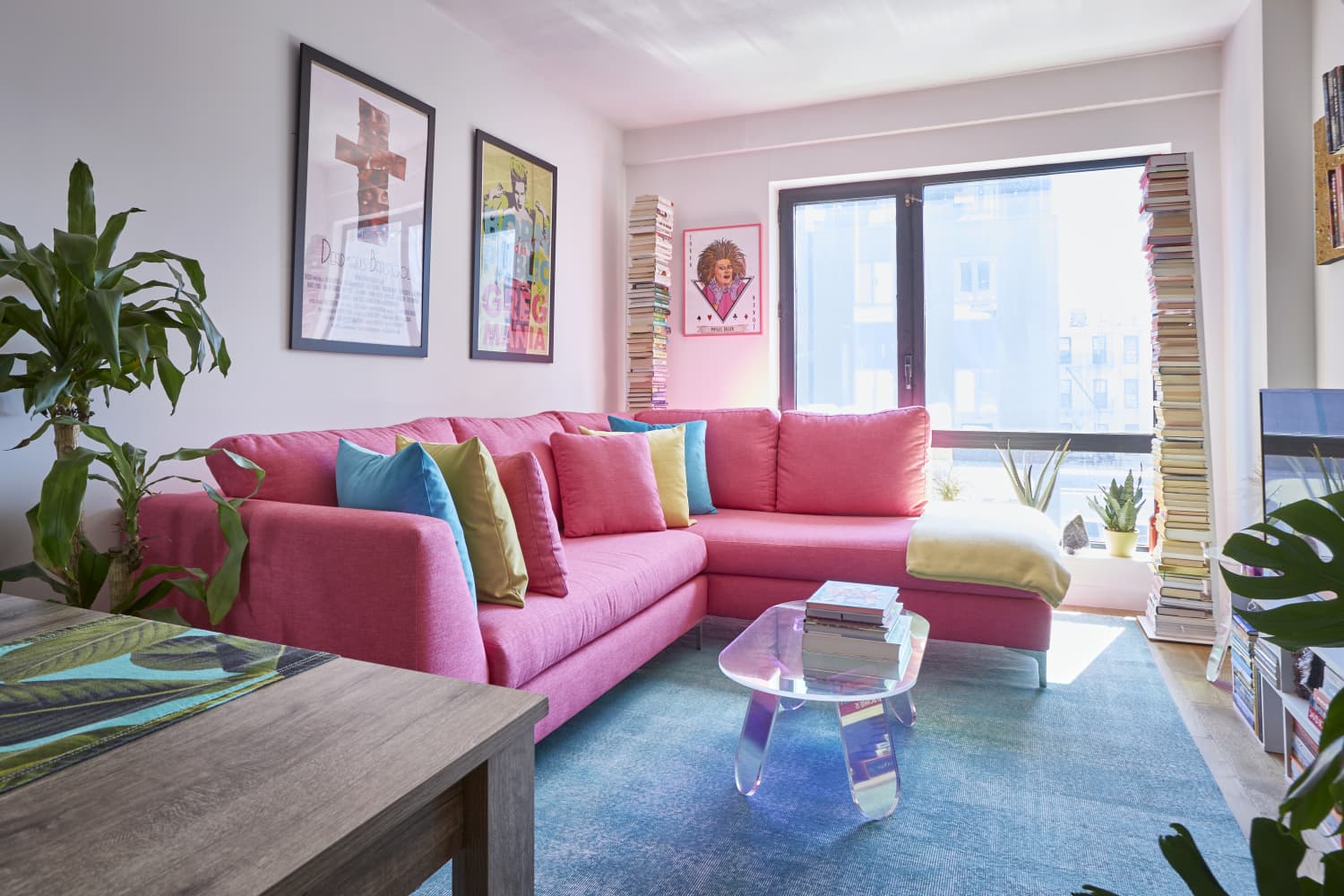 Greg Mania and his partner, Pete, live in a 700-square-foot apartment in Brooklyn that's filled with hundreds of books. Though the space is filled with meaningful objects galore, the rooms don't feel overly cluttered because the couple strategically placed just about all of their belongings. The most unique thing about Mania's home just might be how books are displayed everywhere, with stacks and rows used like sculptures nearly everywhere you turn. He has vertical book towers almost to the ceiling in his living room, books placed above the TV on floating shelves, and a line of volumes inside the media cabinet. "The floating bookshelves are so useful, not just for the sheer volume of books I own, but for anything that's sort of just marooned and needs a permanent home somewhere," Mania says in his house tour.
One spot in particular stands out as an unexpected place to display books, and that's the kitchen. In fact, Mania created a row of over a hundred books are organized by color on top of the kitchen cabinets. These aren't just cookbooks, either, which you do often see in kitchens. These books are all kinds of tomes from the couples' extensive collection.
When you think about your kitchen cabinets, often there's a gap in between their tops and the ceiling. Why not utilize this area for books of all types? The only issue is your books getting a little dirty, but that could be fixed with regular dusting. "My home is basically just a storage unit for my books — even the kitchen!" Mania says of his decision to use the tops of the cabinets. "Between work and pleasure, I amass a lot of books every year, so it's all about organizing them in a way that's pleasing to the eye, but also sustainable."
If your book collection is outgrowing your bookshelf, it may be time to consider some out-of-the-box storage solutions, and the top of your kitchen cabinets should be the next spot at the top of your search list.