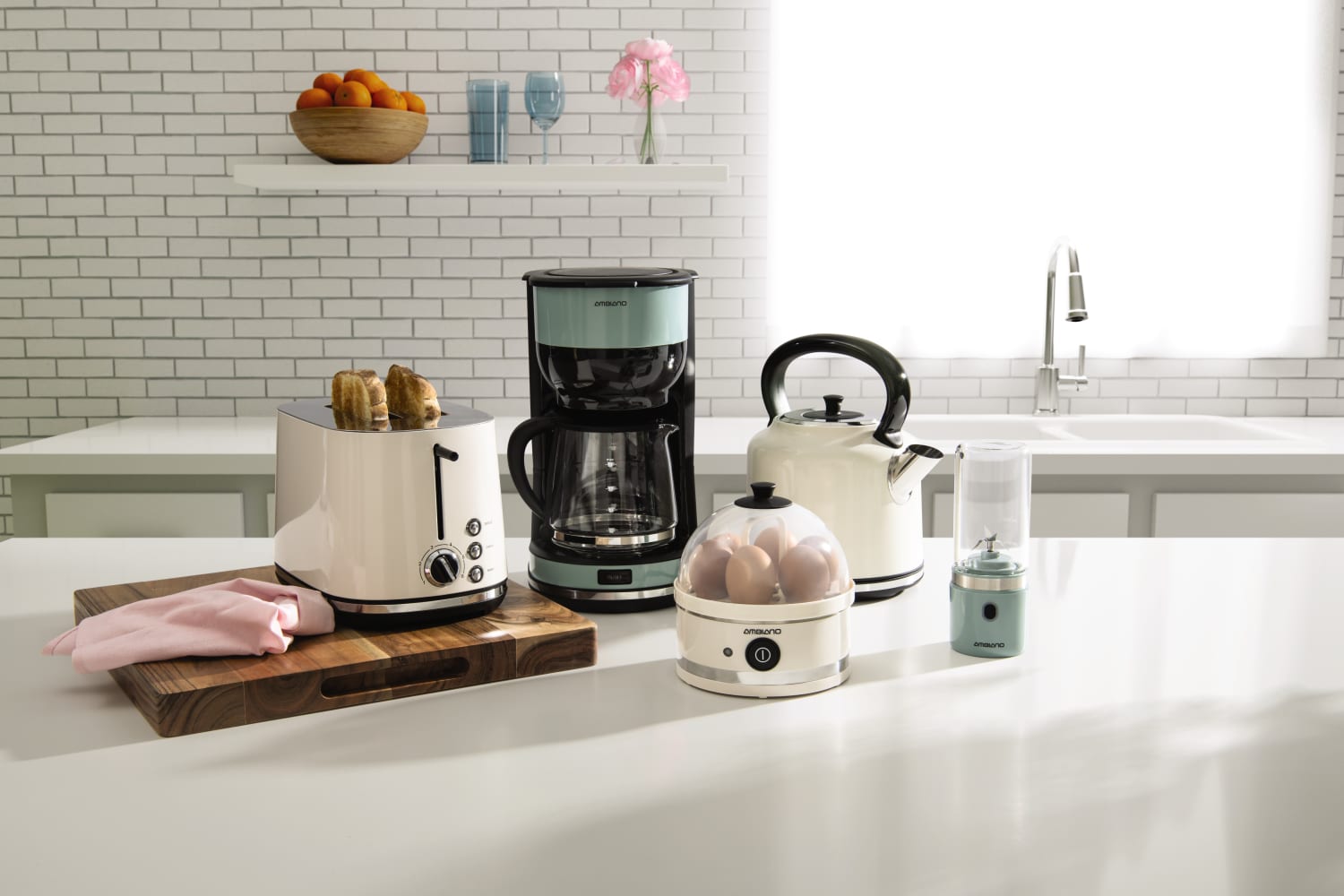 We independently select these products—if you buy from one of our links, we may earn a commission. All prices were accurate at the time of publishing.
ALDI is quickly becoming one of our favorite stores for homeware at an affordable price. Who doesn't want to buy a full new dining table or patio set while shopping for their weekly groceries. It's game changing, if you ask me.
Adding to their ever-growing catalog, the retailer recently launched a retro-style kitchen appliance set that'll keep your countertops looking super stylish. Run, don't walk.
Whether you're looking to add an accent to your countertop or coordinate your whole kitchen, you'll find kettles, toasters, blenders, coffee machines, and more. All products come in both Retro Cream and Retro Green colorways and prices range from $12.99 to $34.99.
The Retro Citrus Juicer ($16.99) has two cone sizes for multiple fruit types and a pulp filter for no mess or bits, while the Retro Portable Smoothie Maker ($16.99) is USB rechargeable for on-the-go smoothie making with ease.
For delicious coffee that will even rival your favorite cafe, the Retro 8 Cup Coffee Maker ($34.99) has a glass carafe and an anti-drip technology. The Retro Kettle ($24.99) has a 360-degree heating base for cordless pouring, and the Retro Round Egg Cooker ($12.99) makes perfect eggs every time, cooking up to seven at once.
Perhaps the star of the show is the Retro Toaster ($24.99). Made from stainless Steel and with two extra wide toaster slots, the appliance is making waves in the ever-popular ALDI Aisle of Shame Facebook group.
"Why no one is talking about these cute retro toasters is beyond me! It even toasts your buns for you. At 24.99 it was a steal! Caw Caw!!!" one person wrote, posting a photo of their new Retro Toaster in the Retro Green color.
With almost 200 comments, fellow ALDI fans were sharing their love for the toaster.
"I want this so bad! I almost bought one for my new kitchen." one person commented.
Another joked: "*throws current toaster on the floor* 'BAAAAAAAAAABE….. I think our toaster is broken. I'm going to go get a new one'"
The Retro kitchen appliances are available in select ALDI stores now.