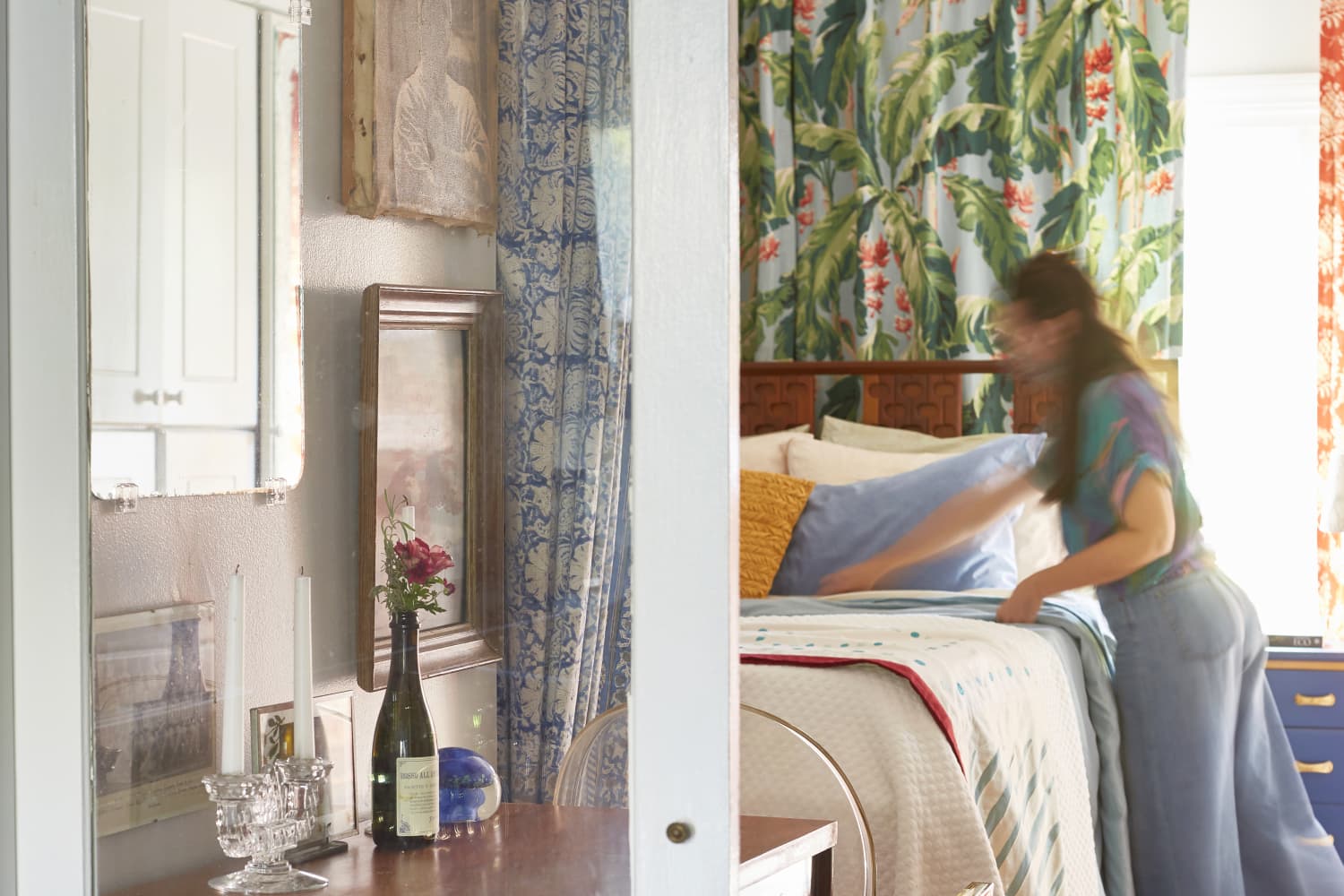 We independently select these products—if you buy from one of our links, we may earn a commission. All prices were accurate at the time of publishing.
I like for my bedding to feel and look immaculate. This bedding philosophy has usually led me to white sheets and duvets. There's something about sinking into an all-white bed that turns my brain toward sleep, plus I love that it's easy to spot any stray hairs or crumbs. And while there are loads of upsides to the plain, single-note bedding I love, I'll admit that sometimes I get a bit jealous of my Apartment Therapy co-workers who are confident rocking colorful, patterned sheets. Even though I don't feel prepared to undergo a bedroom decor crisis, I do feel like I'm capable of stepping out of my bedding comfort zone — at least a little.
So I turned to the makers of some of my favorite, affordable percale sheets for my grand debut into the world of not plain-white bedding. And as it turns out, Quince had just what I was looking for: A subtle, slightly textured duvet cover. The creamy, soothing, and versatile taupe hue, combined with its soft, subtle waffle weave, has transformed my bed from its sleek white landscape into an inviting sleep space.
The cover is actually available in white, as well as a cool, light gray, but I have totally fallen in love with the Sand color — it somehow changes hue throughout the day, contingent upon the light in the room. And much to my surprise, it works with all the preexisting decor in my room. But no matter what color you opt for, the real selling point of this elegant bedding is the waffle weave. The individual squares are small enough to give off a dappled effect, all while creating a uniform texture that never wrinkles or creases.
Unlike other waffled duvet covers, this Luxe Quince is single sided — and as someone who sleeps without a top sheet, it's game-changing. Even though the waffled side is super soft and comfy to lay atop pre-sleep, I love that I never have to worry about any funky grid imprints when I wake up in the morning. Plus, as someone who is obsessed with crisp bedding, the fact that the underside of the cover is constructed with the very same percale as my go-to Quince sheets is a win-win.
The added bonus, of course, is the price point. Like all Quince products, this duvet cover is handcrafted with the highest quality materials (in this case, organic cotton) but costs only a fraction of the cost of other comparable bedding. Quince is able to achieve this ultra-reasonable pricing thanks to their streamlined business model — AKA they've cut out all the middle men and ship their products themselves, directly from their factories. You can even see a fully transparent cost breakdown at the bottom of the page, cool, right?
When bedding feels and looks this fabulous and is this affordable (and environmentally conscious!), you'd be hard-pressed to find a reason not to order some right now. Even if you love a pop of color on your bed, Quince's got something for you too. No matter what your decor preferences are, I highly recommend the Luxe Waffle Duvet Cover.