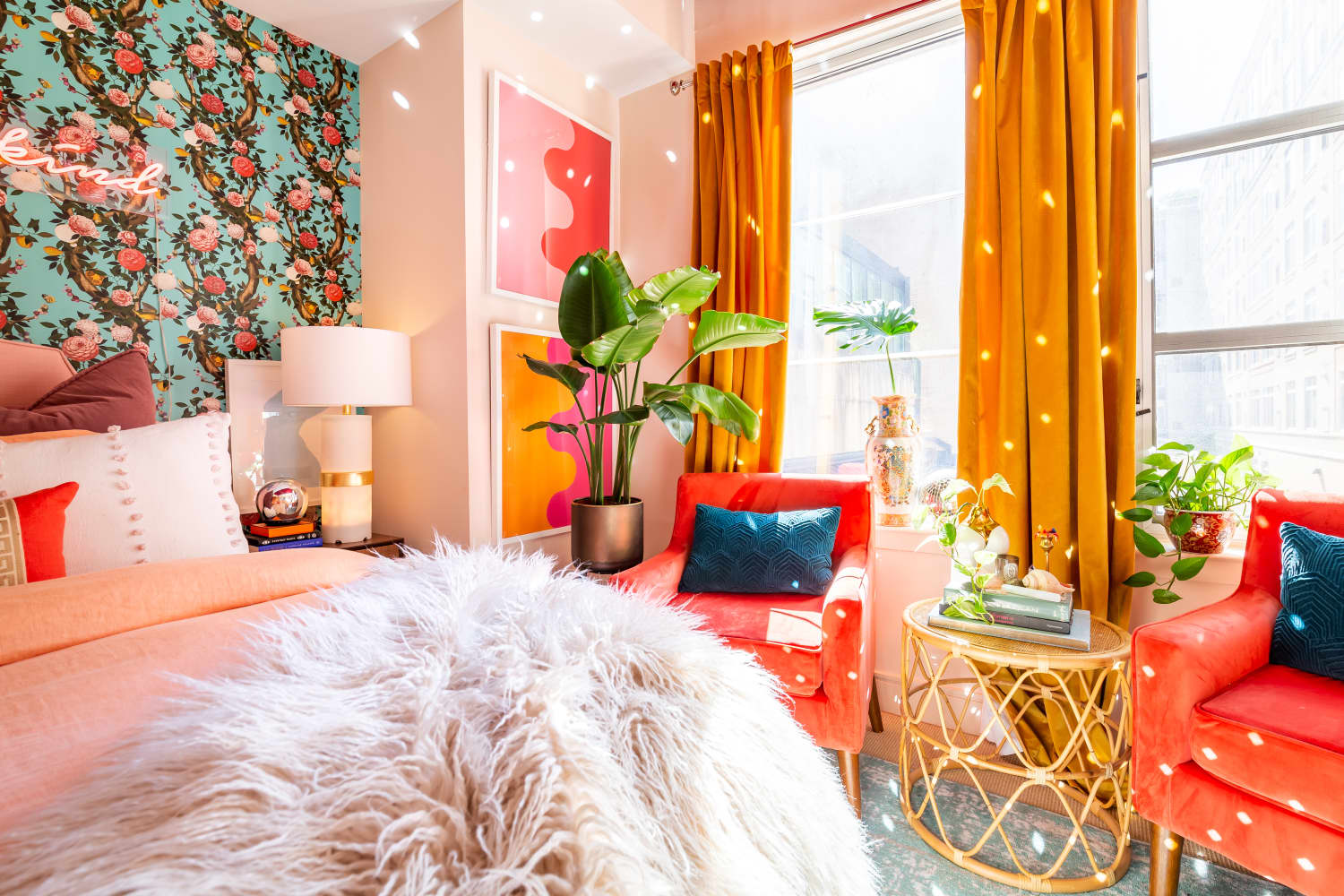 Moving into your first apartment is a big deal — you're finally in a space that's totally yours, and you've likely put a lot of time and energy into finding it. So, as you begin this new chapter, it's important to be intentional about what purpose you want your apartment to serve.
Of course, that's a big question. How do you figure that out, along with doing a million other things to get settled in? Well, you might want to take a hint from the stars. That's right: Your zodiac sign can offer plenty of insight into your personality and habits, and therefore what kind of space is best suited for you. Maybe that's a cozy home where you can reenergize, or perhaps it's just a place to crash in between your busy life appointments.
Curious to know how to set up your space? Ahead, find the best purpose for your apartment based on your sun sign — along with some handy tips for how to achieve it.
Aries: A Spot to Charge Up
Fiery Aries is ambitious and always on the go. As such, your home should be a place where you can recharge your batteries for your active lifestyle and high-powered career. Designating space for exercise or your creative endeavors could be especially helpful. Adding bold accent colors like red and yellow can further motivate an energetic ram, too, if you want to take it up a notch.
On the flip side, homey Tauruses thrive in an home that feels grounded and relaxed. Because your sign is ruled by the sensual Venus, infusing your home with soothing aromas and soft textures is ideal for your more sedentary lifestyle. The earth sign also savors rest, so your bedroom and living area should be priorities when you design. Think: plush rugs, knitted throws, and the warm scents of cooking and baking.
Gemini: An Entertainer's Pad
For playful Geminis, the apartment is the place for gatherings, filled with buzz and energy. An open space to enjoy the spontaneous get-togethers and celebrations you so love is key. It's not just about entertaining others — it's also an opportunity to entertain, well, yourself. Your first apartment is also the perfect place to satisfy your endless curiosity with eclectic finds and bright decor as you discover your multifaceted style.
Cancer: A Serene Shelter
As a Cancer, you're the nurturer of the Zodiac; in turn, your home is what nurtures you. The water sign values relaxation and security, so you'll be best served by an home that acts as a protective shell you can retreat into. Tranquil colors and hygge pieces will help you set that mood, while cherished, sentimental items can bring that sense of nostalgia you find comfort in. Most of all, you should listen to your gut — highly intuitive, you'll know exactly what you need to create a relaxing home.
People say "go big or go home," but for bold and passionate Leos, the place to go big is the home. Your first apartment should serve as a vessel to unleash your natural creativity — and share it with others, since you love to host. After all, a den for self-expression is fit for the lion sign. Rich colors and regal decor will help remind you that your home is a place to shine, just as much as anywhere.
Virgo: A Streamlined Structure
The Virgo is known as the perfectionist of the Zodiac, so you thrive in a practical home that serves all your needs. Having a home that doubles as a place to work and live will therefore satisfy the logical earth sign. Assign designated areas for office duties, play, and relaxation. Organization and cleanliness are also crucial, as these practices will help keep you calm, detail-oriented Virgo.
Libra: A Stabilizing Oasis
The sign of the scales, Libras are all about balance and harmony. So, your first apartment should be a beautiful place to recenter — visually or spiritually. For instance, look for pairs of tables or plants, and create symmetry when decorating. Tapping into your artistic sensibility will also come in handy so that you have a dreamy environment where you can feel at peace. Another tip? Libras flourish in all kinds of relationships since they are ruled by Venus, the planet of love, so it's helpful to have an area for guests where you can nourish those connections.
Scorpio: A Private Hideaway
For the elusive Scorpio, your first apartment is a place of refuge — finally, your own personal hideout. Because you appreciate privacy, this is where you can lock the doors, unwind, and escape the vulnerabilities of the outside world. Drawing boundaries is essential: You should have intimate areas and hidden spots that are just for you, as well as separate communal areas to enjoy when you do have close friends and family over — after all, you are deeply loyal.
Sagittarius: A Quick Rest Stop
The vivacious Sagittarius is always out and about — whether hanging with friends, enjoying nature, or traveling the world. Since you don't like to stay in one place too long, your apartment will mostly be a place to crash. But that doesn't have to mean sacrificing style. Your home can still reflect your worldly taste with trinkets and decor you pick up from your adventures — a reminder of all the places you've been, and all the places you want to go.
Capricorn: A Utilitarian Utopia
Capricorns are disciplined and dedicated, so you live best in a space that's functional and helps you achieve your goals. Things that appeal to your orderly nature: modular furniture, double-duty decor, and pieces that stand the test of time. As an ambitious, sometimes workaholic Capricorn, you'll also want to carve out a motivating work area. Still, make sure to prioritize a spot for some R&R — after all that working, you need (and deserve) it.
Aquarius: Turf to Be Totally You
Original and innovative, as an Aquarius, you deserve a space to show off your one-of-a-kind taste. While you may sometimes feel stifled in the outside world, your first apartment is your domain, where you can be completely yourself. An Aquarian might peruse vintage shops and flea markets for unique finds that speak to your essence and creativity.
Ah, the dreamers of the Zodiac. Intuitive, sensitive, and empathetic, you treasure a serene environment. Your apartment should reflect your penchant for fantasy, allowing you to relax, fill up your emotional gas tank, and daydream galore. Tingling all the senses will help ignite this feeling — consider calming music, ethereal decor, and fragrant candles.