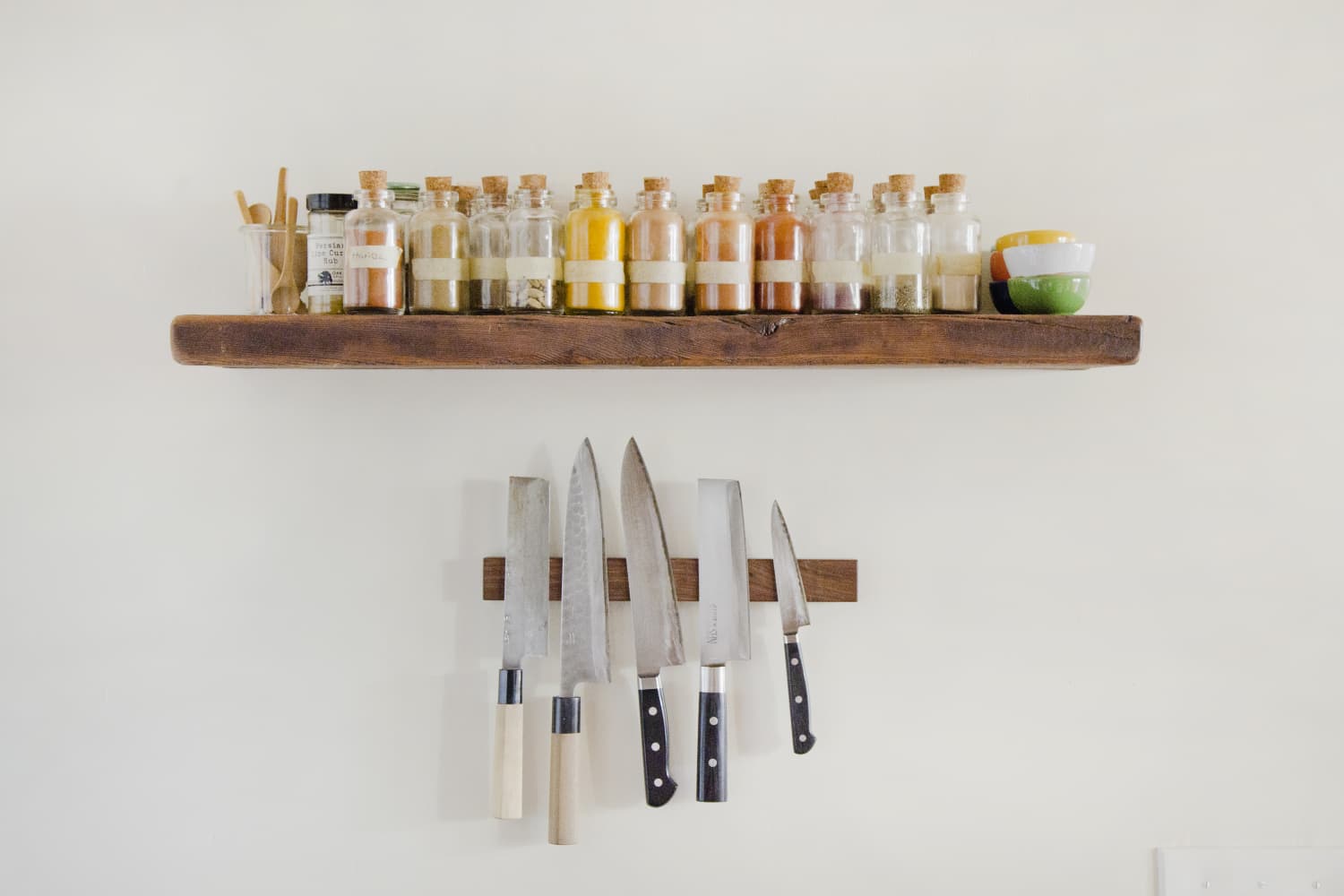 There often comes a time when you're ready to upgrade or move on from your kitchen equipment. Maybe you're working on a wedding registry. Perhaps you're moving into a new apartment and are eager to outfit your sparkling new kitchen, or you've expanded your culinary skills and want to splurge on new tools. Or maybe your old kitchen accoutrements have simply seen better days.
Whatever the reason, it can be difficult to know what to do with the old kitchenware — specifically the knives. Do you toss them? Donate them? How do you do this responsibly? I asked two chefs and a donation expert for their opinions on how to safely get rid of old knives that are sitting in kitchen purgatory.
If you have knives that are still in working order, donating them can be your best option. Kiele-Jael Stanton, a certified health-supportive chef and wellness culinary coach, says, "If you have knives that you don't want anymore, you can donate them to companies like Goodwill, Salvation Army, or secondhand stores."
Soup kitchens are often a great way to make sure the knives go straight from your kitchen to someone who can use them. Stanton explains, "Soup kitchens often have kitchens on site, provide meals, and have responsible staff to handle and care for the knives."
When you're ready to send your kitchen knives safely to a new home, Brendan J. Hurley, chief of collaboration, communication, and marketing at the Goodwill of Greater Washington, advises, "Tape them together and place them in a clear Tupperware container so the donation attendant can see what is inside before opening."
Metal can almost always be recycled, so that could be a great destination for a past-its-prime knife. Stanton says, "Most scrap metal recyclers in your area will take them, but it's best to check their websites or even call ahead before making the trip."
Option Three: Refurbish and Reuse
Mushka Haskelevich, a private chef based in NYC, says, "If you take good care of your knives, they should last forever! I'm a professional chef, and I've never had to dispose of a knife, largely because I properly clean, store, and care for them."
To take care of your knives properly and ensure they stand the test of time, Haskelevich recommends never putting your knife in the sink to avoid contact with stainless steel and other materials, always washing by hand with gentle soap, using a block or magnetic strip for storage, and sharpening them on a whetstone regularly.
Haskelevich adds, "Even if you think your knives are beyond repair, take them to a professional to see if they can be repaired or sharpened. Only from there would I consider donating or disposing of them."
However, not all things can be brought back to life. "If your knives are rusted through, then it's probably best to safely dispose of them," says Stanton.
To avoid an unfortunate accident, wrap an unsalvageable knife in cardboard, tape it tightly, and dispose of it. And give your knives a bit more TLC next time.