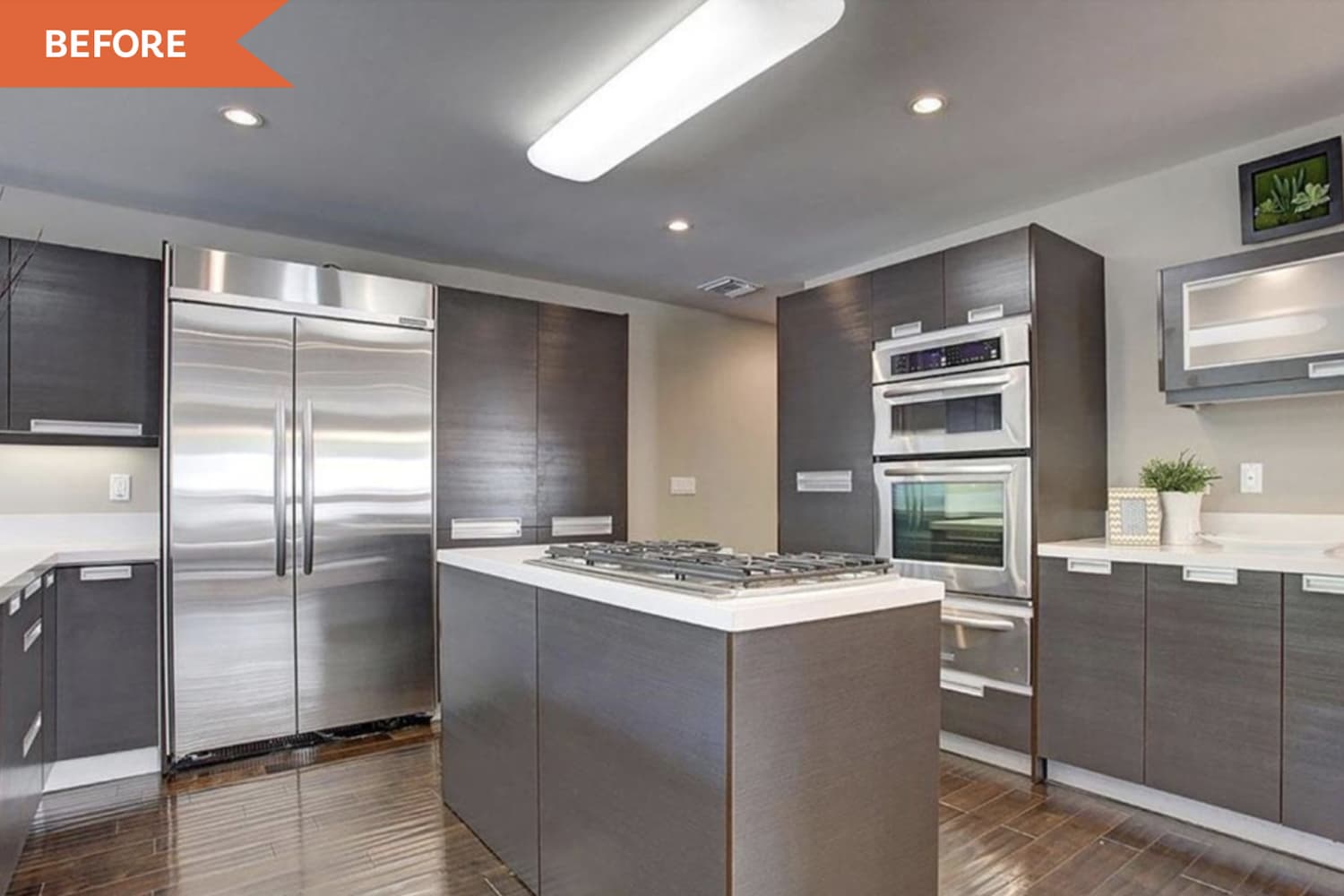 We independently select these products—if you buy from one of our links, we may earn a commission.
Sometimes a kitchen renovation can be the key to making your space feel like a forever home. California-based designer Jessica Nicastro experienced this firsthand just before the COVID-19 pandemic. Her clients loved their current house for so many reasons, but the cook space itself was almost a dealbreaker.
Even though the room was very spacious and looked fairly modern, the materials weren't of the greatest quality, and stylistically, it felt cold and disjointed from the rest of the floor. "The kitchen was very dark with veneer cabinets and dark shiny floors; there was not a ton of natural light," says Nicastro. "Our clients' family was growing, and they entertained a lot, so they needed an entertaining and family hub."
Once the family had the bandwidth for a kitchen renovation, they brought in Nicastro to create a light and breezy, classic meets modern design scheme to update the space. "We always knew we wanted a fresh and bright timeless kitchen that was low-maintenance and would with their lifestyle," says Nicastro.
Naturally, demo was first on the list, and then the group turned their attention to cabinetry elevations and the layout to improve functionality. They decided to keep the u-shaped footprint, only accented with a true statement island this time around. That island, once coated in a rich, traditional blueish-gray hue, would become a better natural focal point in contrast to the white Shaker-style upper and lower cabinets, which packed plenty of storage into the space without feeling visually heavy.
All finishes and features had to meet the criteria of pretty and practical. "We decided on a porcelain countertop and backsplash to allow for easy wipe-ability and a very large island to act as a kitchen/table/buffet/homework center," says Nicastro. In lieu of their dated overhead florescent lighting, Nicastro's clients wanted dome-shaped pendants but didn't want to break the bank. They ended up using Worley Lighting's Portea Pendants.
The group lightened up the flooring, too, and even though some of the windows were closed off or scaled-down in size, the room still manages to project airiness. Keeping all of the windows undressed helps to amplify that effect.
Throughout the space, they liberally mixed metals, installing stainless steel appliances and silver sink fittings alongside matte black hardware. For a fun little pop of personality along the sink wall, two slab-style open shelves went in and now hold a variety of dishes, glassware, and cookbooks.
Luckily, the group experienced no real setbacks with construction, but that doesn't mean the work — or thought that went into it — happened overnight. One thing Nicastro advises all of her clients is to take their time to get things right, especially with a kitchen, since it's such a high-traffic area. "A great kitchen is a worthy-investment," says Nicastro. "Invest in good cabinetry and appliances that will withstand the test of time. Make sure your kitchen is built for you."
Nicastro also suggests labeling where everything goes the moment you figure out your cabinetry plan. That'll save you so much time when you're resetting the space with your cooking gear, pantry supplies, and other things. It'll also ensure that items won't get lost in the shuffle as you transition into your new cook space.
As far as Nicastro's clients go, they're happier than ever with their kitchen and have been cooking up a storm in the space. "They love how bright the space is and how it allows them flexibility in furnishings for their great room," says Nicastro of the overall look and feel achieved in this project. "They love the new window over the sink, which overlooks the backyard." Anything to make doing dishes and cleaning up a little more enjoyable!