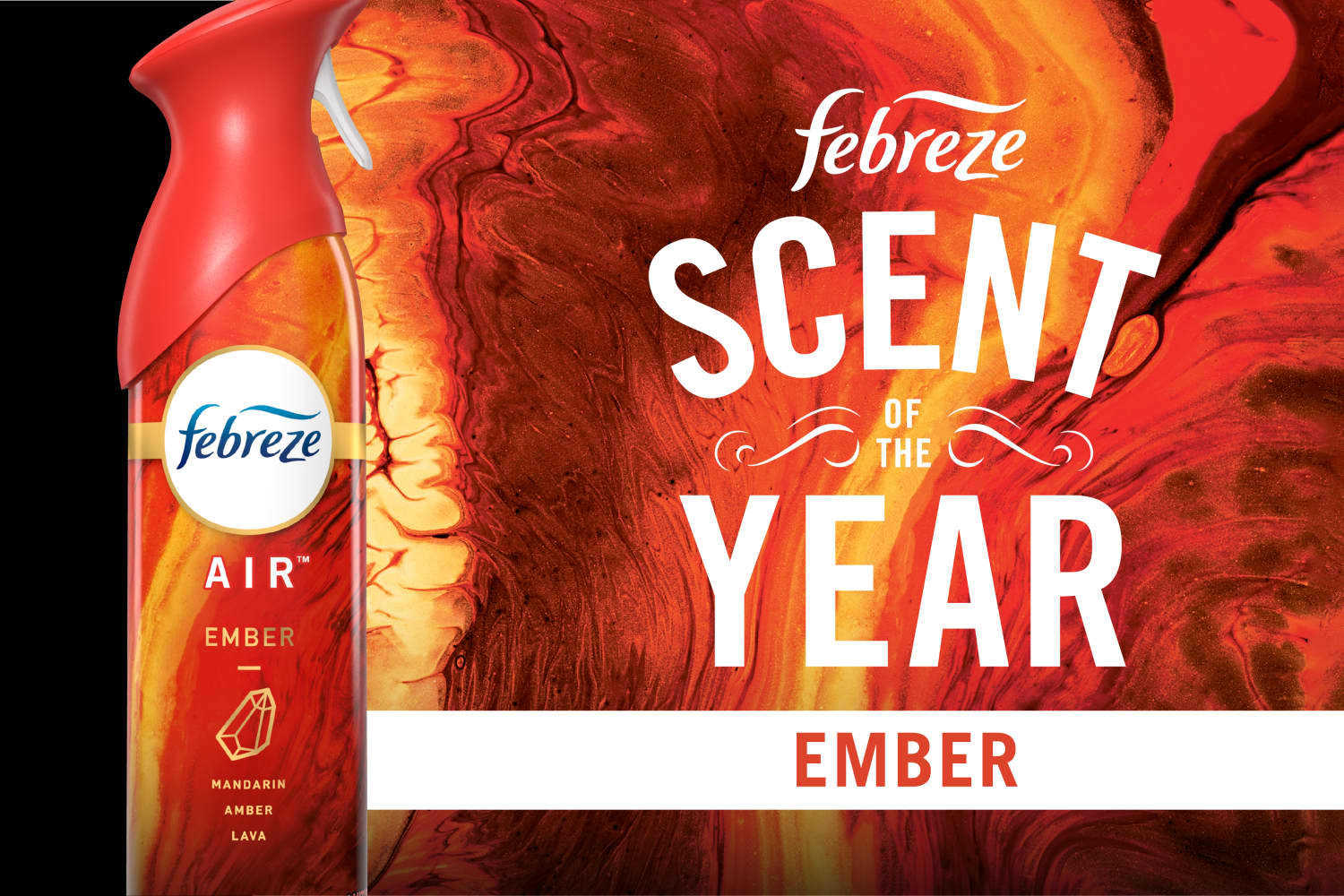 We independently select these products—if you buy from one of our links, we may earn a commission.
Febreze has been helping consumers across the globe eliminate odors and freshen up their home for decades and, this week, the brand has announced its first-ever Scent of the Year. Ember is a fiery new fragrance that features notes of mandarin, amber, and lava—yes, lava—with experts at the Febreze Fragrance Group "designing the Scent of the Year to reflect how consumers today are feeling and the scents they're craving in their home."
"It's no secret that the last two years have brought challenges to many of us, but the resilience we have seen from people is amazing," said Febreze master perfumer, Rafael Trujillo, in a press release announcing the scent. "We know that scent, emotion, and memory are intertwined, so to celebrate that we created this beautiful fragrance by combining key scent notes that reflect the spirit of where we've been, while evoking the positivity that's to come."
To come up with Ember, the team took part in intensive research and development process to create a rich scent that evokes joy and positivity. Top notes of mandarin were selected to "echo and manifest positivity", while the smoky, earthy hint of lava is said to resemble the resilience of the last two years. Finally, sweet notes of honeyed amber subtly rounds out the scent, bringing everything together to create a fresh, memorable smell.
Priced between $4.49 — $6.49, Ember is available to purchase online or in-store at major retailers across the nation, and comes in a variety of different sprays, plug-ins, from air fresheners and fabric sprays to wax melts and car accessories, to ensure a scent boost in every room of the house, and beyond.
Consumers who were selected to trial the scent have been sharing their thoughts, and many are loving the warm, earthy scent:
"Febreze Ember smells fresh and clean, but also slightly woodsy. It is definitely very homey—I spray it on my fabric sofa and loveseat regularly," wrote one person.
Another said: " Febreze Ember fabric spray is a more sophisticated scent than other fabric refreshers. The mandarin note is not overly sweet and is clean smelling and energizing,"
The true test though? Trying it out for yourself!