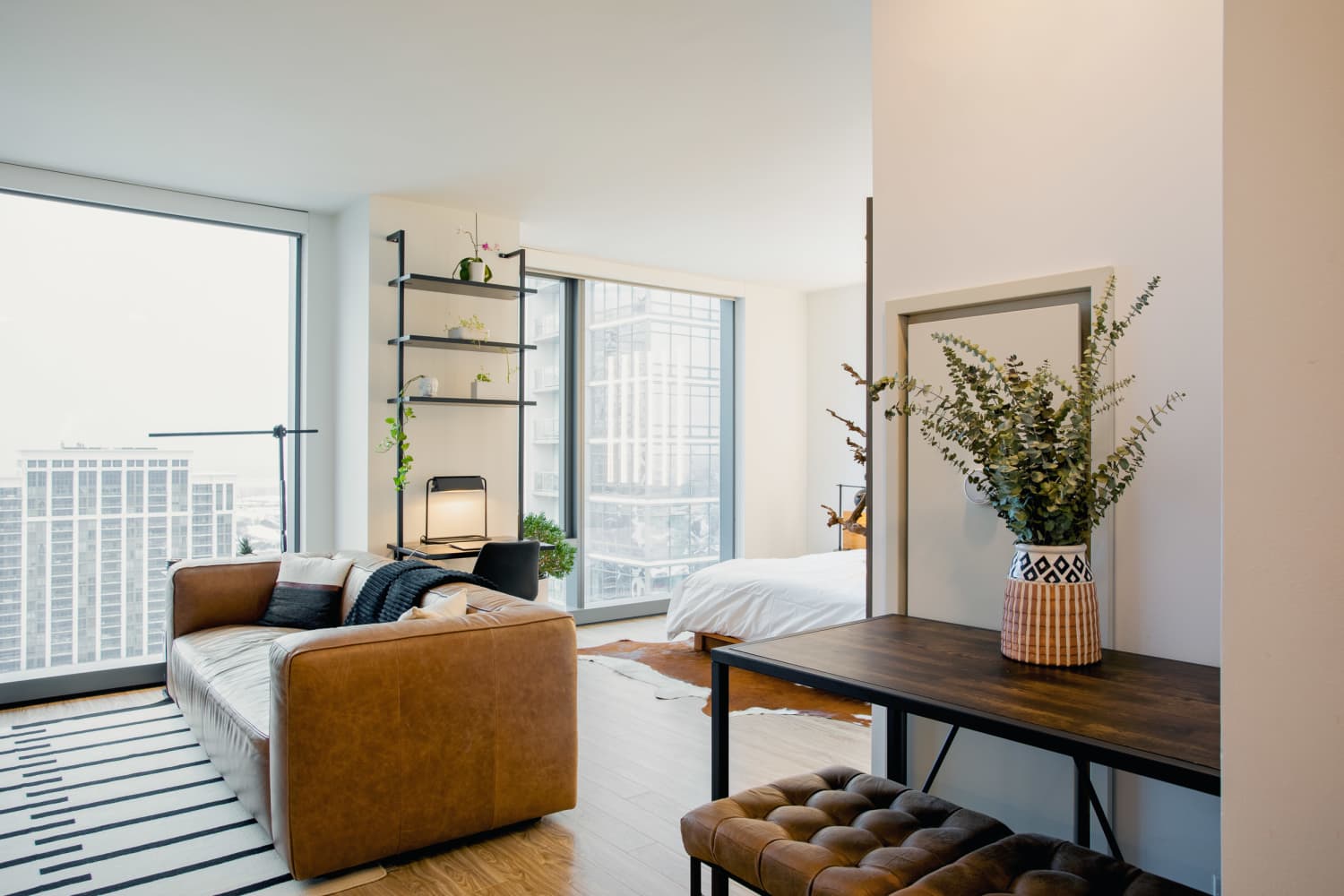 We independently select these products—if you buy from one of our links, we may earn a commission.
Name: Kevin Coleman and Langston the Labradoodle
Location: South Loop – Chicago, Illinois
Size: 642 square feet
Type of Home: Studio Apartment
Years lived in: 1.5 years, renting
Kevin Coleman says his life's mantra is "simplicity" and it's also a philosophy he employs in his home, this small studio apartment in Chicago's South Loop neighborhood. "The goal was to create a sanctuary not only for myself, but for anyone who enters my home," begins Kevin.
"My home is definitely a reflection of me; I'm a sucker for clean lines and neutral tones. I would like to think my studio abides by the Feng Shui principles with a slight twist, due to the nature of the room. One thing I pride myself in when it comes to my space is catering to all your senses. From the mood lighting to essential oils or the different fabrics to the ambient music, I like to create an elevated, memorable experience for anyone who enters my abode."
Apartment Therapy Survey:
My Style: Geometric Minimalism
Inspiration: Scandinavian design is the biggest influence for my home. The focus on clean, simple lines, minimalism, and functionality without sacrificing beauty plays a heavy role in the curation of my space.
Favorite Element: The view from my apartment must be the best element. I live on the 24th floor facing east, which gives me a view of a small park, so between watching the vegetation evolve throughout the seasons and waking up to the sunrise, it almost feels magical in a way to witness mother nature at work.
Biggest Challenge: The biggest challenge for me was finding a balance between being too sterile and having that homey sensation. I know sometimes "minimalists" tend to get a bad rep for their spaces feeling inhospitable. With the added textures, neutral colors, and vibrant plants, I believe my space brings a serene essence throughout my home.
Proudest DIY: Moss Wall Art – I initially was scrounging the internet for a large moss mural and quickly realized the price range for the size I wanted started at $2500. So instead, I did some recon via Amazon and created my own for less than $250.
Biggest Indulgence: Purple Hybrid Premier 4 Mattress; it's like levitating in your sleep.
Is there something unique about your home or the way you use it? I created "Routines" via the Google Home app, which allows me to set automatic sequences to accomplish different tasks. For instant, when I say "Good Morning Google," Google will turn on my bathroom light, tell me the weather, and play my favorite playlist. I have curated different routines depending on the time of day.
What are your favorite products you have bought for your home and why? Breville® Barista Pro and Vitruvi Stone Essential Oil Diffuser, both products bring an aromatic element to my home, which caters to your senses.
Please describe any helpful, inspiring, brilliant, or just plain useful small space maximizing and/or organizing tips you have: The tape measure is your best friend; knowing the measurements of the pieces you bring into your home can make a difference from a cluttered space to a free-flowing oasis.
Finally, what's your absolute best home secret or decorating advice? Deeply visualize your space and be intentional with the choices you bring into your home.
This house tour's responses were edited for length and clarity.