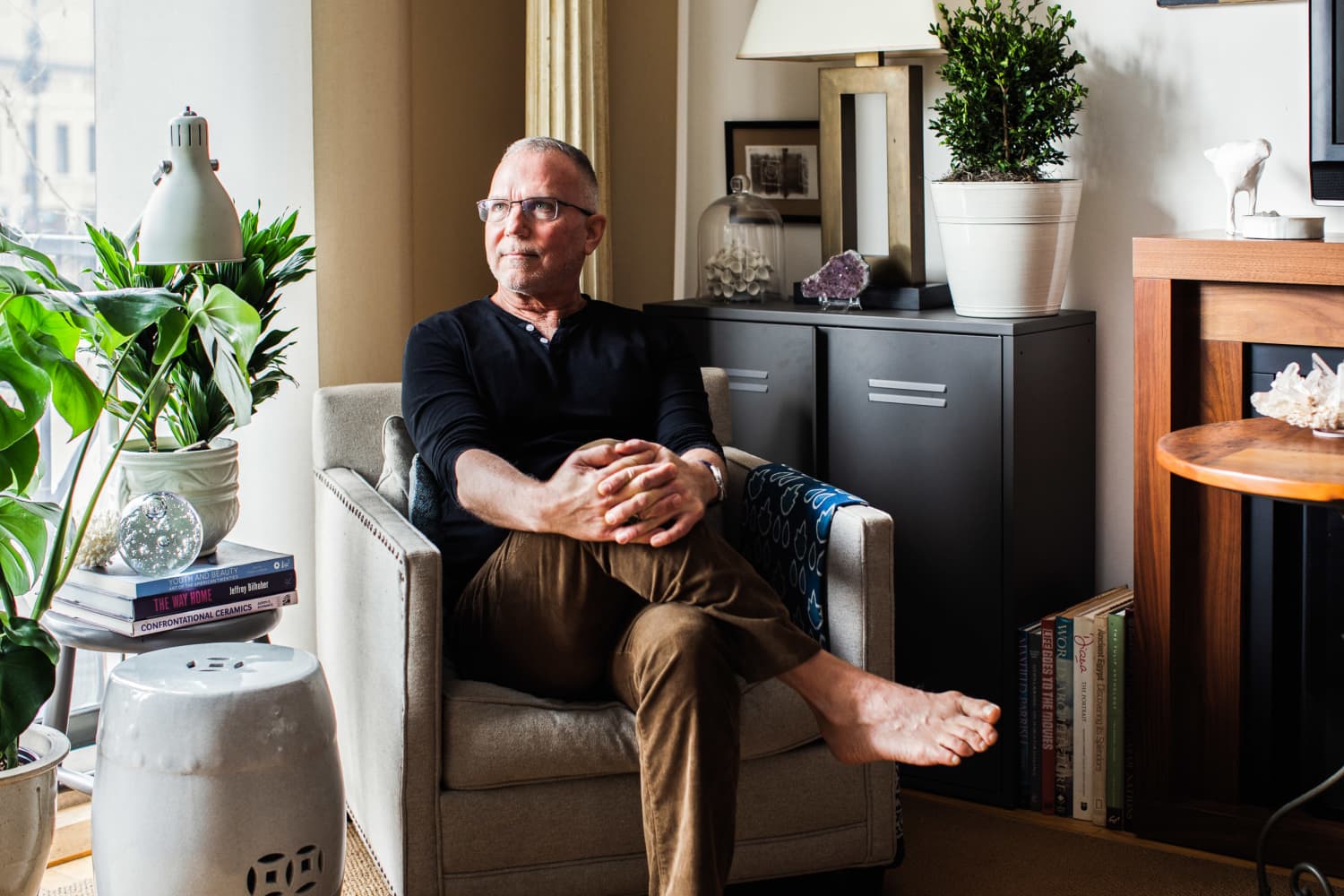 We independently select these products—if you buy from one of our links, we may earn a commission.
Name: Scott Kangas
Location: Wrigleyville — Chicago, Illinois
Size: 450 square feet
Type of Home: Condo
Years lived in: 18 years, owned
When Scott Kangas purchased this 450-square-foot, junior one-bedroom condo in Chicago's Wrigleyville neighborhood 18 years ago, he thought it would make a good starter home. Little did he know that it would actually become a long-term home! "All these years later I'm still so happy with this location," Scott writes. "It's a young, vibrant area, yet my apartment is peaceful and welcoming. I'm an avid cook and I was originally drawn to this 1927 building because of its fairly large kitchen space. I also loved the original hardwood floors and large skylight in the bathroom. This is a perfect amount of space for one person; I have everything I need and love."
Having just been converted to condos at the time Scott bought it, the newly-renovated building meant Scott was able to choose some of the materials in the space. He was also able to make a brilliant storage request to the developer: An existing IKEA bookcase is built right into the wall between the kitchen and bedroom.
Living in a small space for so many years has helped Scott cultivate a collection of things he really loves, like a matte white ceramics collection, or an antique Arts and Crafts quarter sawn oak clock he bought himself on his 21st birthday and still has on display. The whole home is an impressive mix of long-owned vintage treasures and efficient IKEA pieces.
"I grew up antiquing with my mom and aunt so I'm drawn to things with a history and patina," Scott writes. "I also strongly believe that the old needs to be countered with the contemporary; they help make each other look better."
Apartment Therapy Survey:
My Style: In five words or less: collected, curated, clean lined. Basically, I like things that are well designed, timeless, and a mix of old and new.
Inspiration: I grew up antiquing with my mom Myrna and my aunt Nancy so I've been a collector since I was young. Working in the design field and in furniture sales has increased my knowledge of contemporary styles. I find that mixing new and old together brings new life to each other.
Favorite Element: Since college at MSU, I've enjoyed living above businesses. There's something comforting about having the floor below me occupied during the day and then vacant when I'm home at night.
Biggest Challenge: Definitely the size. Luckily I have a good size storage room in the basement so I can change things out periodically. I'd love to have a dining room for dinner parties but that'll be for my next place. I keep finding tables and chairs that I want to buy!
Proudest DIY: Shortly after moving in I found a great bolt of suede fabric at a design sale and I decided to attach it to my kitchen wall and peninsula using spray adhesive. It has a depth and warmth that you can't get with paint. I trimmed the edges with a matching grosgrain ribbon. Then, I found a similar paint color to bring to my closet wall for consistency.
Biggest indulgence: I recently had a new five-burner Frigidaire gas range installed after my 18-year-old model conked out. As an avid cook, I'm amazed at how hot these burners get and how quickly my oven preheats. Plus, the design is great; it is true form following function. For a small space, I like that my kitchen is very roomy; I have a 5 x 8 rug in there.
Is there something unique about your home or the way you use it? When the developer was rehabbing the space I asked him if he could build my existing IKEA bookcase right into the wall between my kitchen and bedroom, I drew him a diagram on a napkin and he agreed. It's accessible from both sides and is deep enough for a double row of books, much needed by me. It's also great for displaying my antique clock that I bought myself for my 21st birthday along with some of my matte white ceramic collection.
What are your favorite products you have bought for your home and why? Probably my plants. I don't have a lot of room for them but they add so much life to a space. Once the warm weather comes I fill my balcony and planter boxes, gaining an extra 50 square feet along the way. I spend a lot of time out there in the summer; I wouldn't want to be without some kind of outdoor space again.
Please describe any helpful, inspiring, brilliant, or just plain useful small space maximizing and/or organizing tips you have: I find that a small space works best with fewer, but large-scale, pieces that are clean lined and simple, with a few sculptural pieces added for interest. Buy the biggest sofa that'll fit so you can stretch out rather than a cramped loveseat.
Play with scale: I'd rather see one large painting on a wall than lots of little pieces that'll just go crooked. I've done the gallery wall before but I think it looks cluttered in a small space.
And I filled my living room floor with a cut-to-size 9' x 9' wool carpet and had the edges bound; it's a very custom look without a huge cost, plus it's lasted for 18 years. I chose a color close to my wood floors to help keep the space open visually.
Finally, what's your absolute best home secret or decorating advice? Look at quality, go to museums and design centers, learn from the experts, and buy the best that you can afford. Thrift stores and estate sales can be rewarding, just go often and keep your eyes open. Good design is timeless and if you love it, it'll work, don't worry about naming your style.
This house tour's responses were edited for length and clarity.