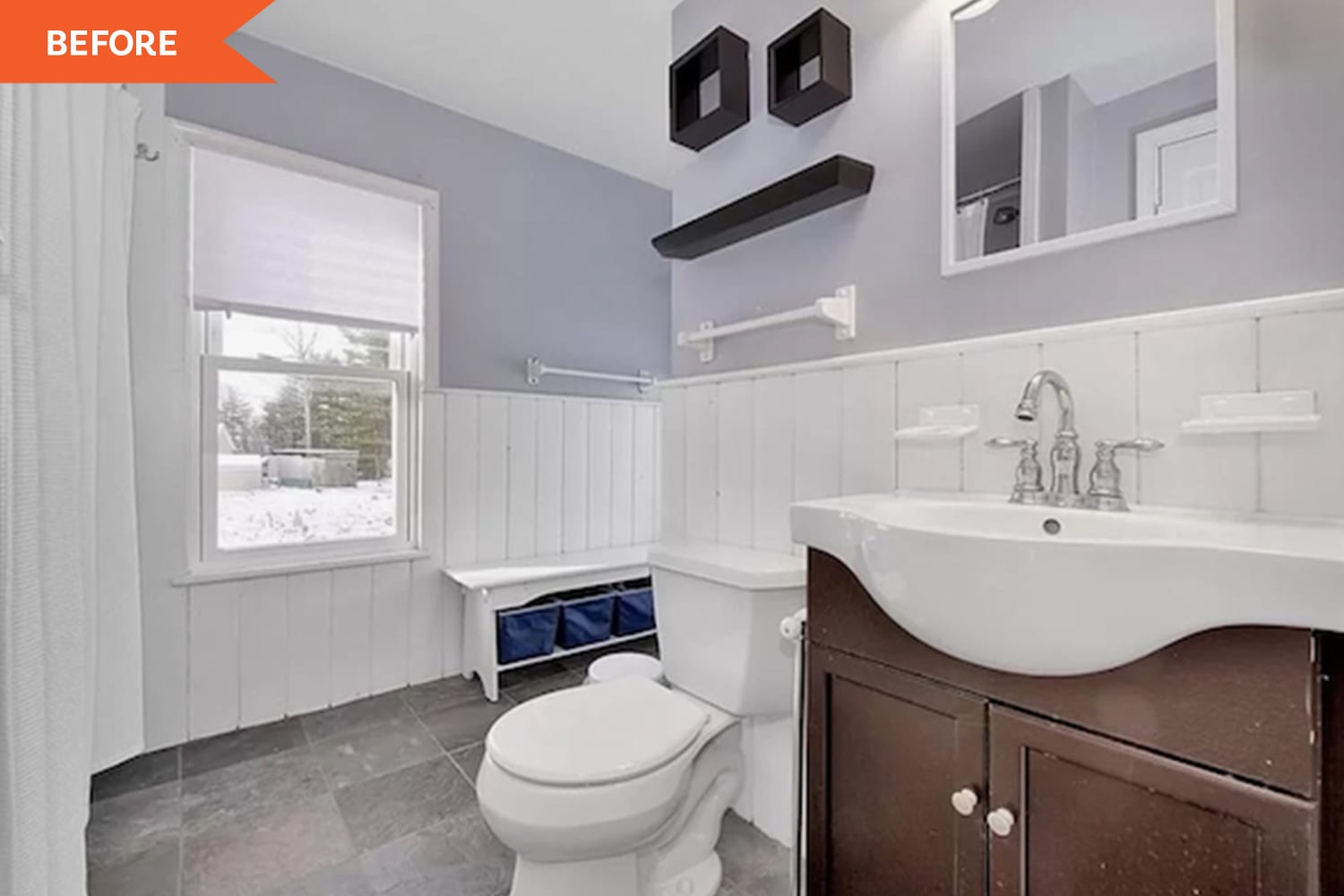 We independently select these products—if you buy from one of our links, we may earn a commission.
Paint is one of the fastest, cheapest ways to make a big impact on a space, whether you're going bold and bright to better match your style — or taking bold and bright colors down a notch with a softer, calmer palette.
In Marni and Willa Blank's farmhouse (@theblankfarmhouse), the sister design duo opted for paint that would better match the folksy, vintage-meets-modern vibe of their vacation rental space by painting over the lavender and white with caper green and cream.
The architectural detail of the beadboard was already there; Marni and Willa were just looking to make it a bit more pronounced with darker paint (they selected Benjamin Moore's Fatigue Green). The off-white shade used above took a long time to pick, Willa says. "We wanted it to be a bit creamy and warm, not too stark like my normal go-to white, Decorator's White." They selected the slightly richer Swiss Coffee (also by Benjamin Moore) instead.
Although they stuck with a dark brown-toned vanity, they did swap the old one out for a more vintage-looking one with a flat top and rectangular sink instead of a rounded one — which was slightly difficult to install because they had to re-route a water pipe to account for the added drawer under the sink. "Fortunately, we had a great contractor that took care of that for us," Willa says. And the new vanity is one of her favorite parts of the "after." She likes that the grainy wood matches the original floors throughout the rest of the over-100-year-old farmhouse, and she likes that the base was handmade by a carpenter in Pennsylvania.
"We kept the warmth in the wood vanity, so we knew we wanted to accent it with some matte black hardware to give it that modern contrast," Willa says. A new round mirror and light fixture help to give the room a refresh, as did scrubbing the floors; now, they look almost like new stone.
"The floors just needed a good cleaning to bring out the natural variant in color of the slate and really let it shine," Willa says. "You can do this with any soap, hard floor or stone cleaner mixed with some water."
Willa and Marni's other favorite touches are the pegboard towel hook, which matches other pegboard elements throughout the farmhouse, and the quilt-like DIY shower curtain, which Willa hand-pieced.
If Willa and Marni could change anything about their bathroom reno, they would have not splurged on their venting. "I think the only misstep in this room was putting in a Bluetooth speaker-enabled ceiling vent," Willa says. "When our contractor mentioned it, we thought, great! But in reality… sometimes simple is best."
Overall, they're proud of the drastically different old-meets-new feel they created in the space by making simple swaps. "Once we painted, it was almost instantly 100 percent better," Willa says. "I love the colors of the home. They are rich, warm, and inviting. I love the way the design aesthetic isn't cookie cutter. We tried to blend vintage pieces, artwork by friends and family, interesting Facebook Marketplace and Etsy finds, as well as new furniture to create a cozy yet visually interesting vibe."