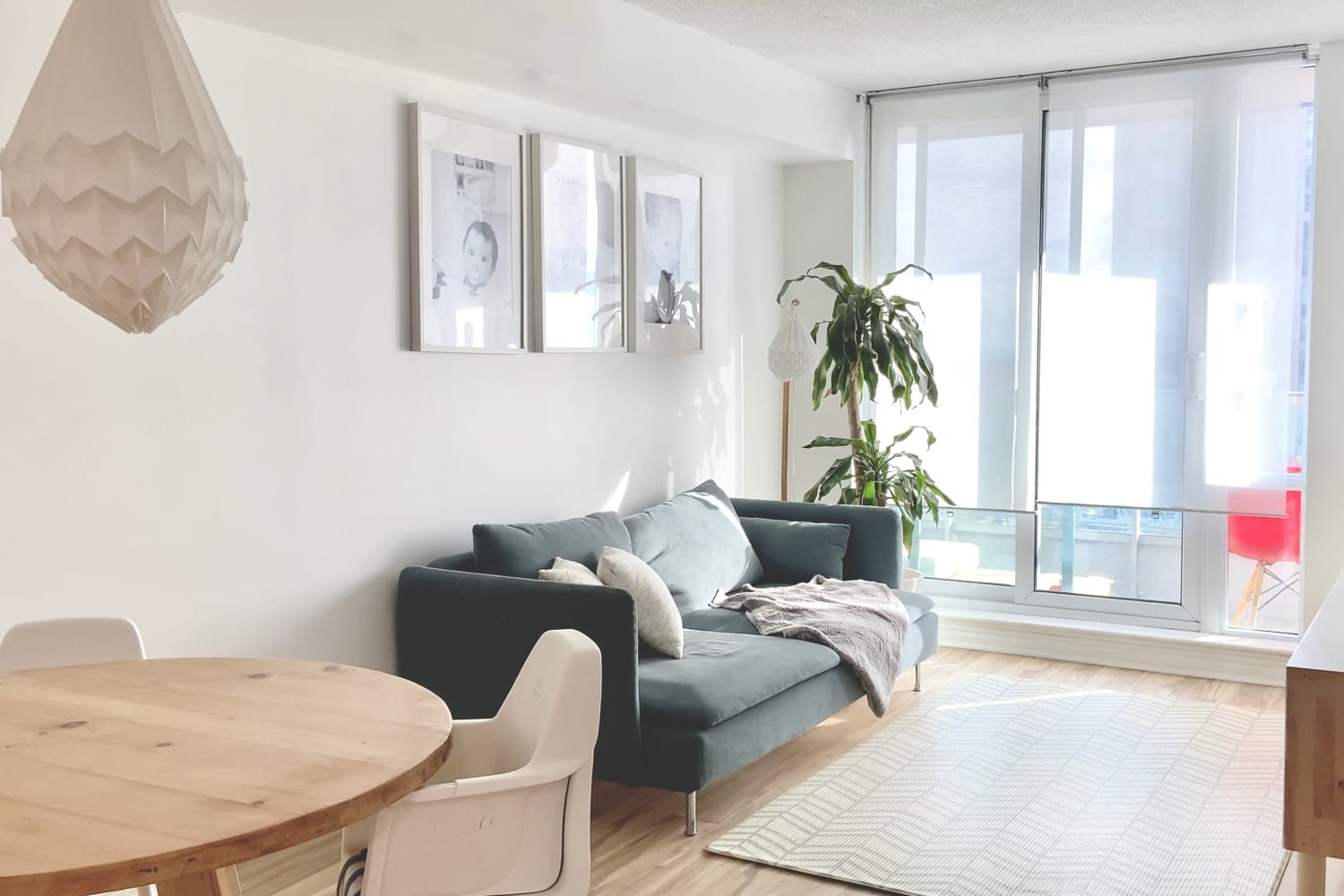 We independently select these products—if you buy from one of our links, we may earn a commission.
Name: Misella Hendrajat, husband Angga Imam, and three sons, ages 3, 2, and 1
Location: Mississauga, Ontario, Canada
Size: 700 square feet
Type of Home: Apartment
Years lived in: 1.5 years, owned
This one-bedroom (plus den) apartment is our first home purchase. We bought this home during the first few months of the pandemic. There were only a few houses listed in the market and the bidding war was crazy. It was a challenging time to buy a house and we were very lucky to get this apartment.
When we bought this unit, it was very dark and outdated. The walls were mustard yellow. The floors were old and squeaky. The kitchen cabinets were dark brown. We were able to put aside some money for the renovation of the unit. Yet, the budget was limited so we had to do most of the work ourselves. The most visible transformation was the white walls and the bright wooden flooring. They make the unit feel a lot bigger than it is. We love our small home because we designed it ourselves and tailored it to our style. We designed our home around our children and their needs. The most challenging part was to design a 700-square-foot apartment that has a large area for the kids to run around.
Since we bought the apartment during the pandemic, we've been staying at home a lot. The boys and I spent a lot of time in the living room where they enjoy various sensory plays. They always love playing with everyday materials that they can touch and feel such as paint, dough, colored water, and beans. We have this reversible waterproof mat in the living room to help ease the cleaning process after each play.
Apartment Therapy Survey:
My Style: Minimalist and Scandinavian
Inspiration: My father is an architect. When I was little, he loved to show me modern minimalist buildings wherever we traveled. It made me appreciate clean and practical designs in interior designs. Years before I bought this home, I had been creating my perfect home boards on Pinterest. You can say that this house is years in the making.
Biggest Challenge: Small renovation budget: We could not renovate every room in the beginning when we just bought the place. We put the bathroom reno on hold. Our main focus was on the kitchen, flooring, and painting the walls. We had to do a lot of DIY and used second hand furniture to reduce the cost.
The size of the place is also a challenge because we are a family of five living in a one-bedroom + den apartment. We have to be mindful of our belongings due to our minimum space. When we buy furniture and decor it has to be with intent and purpose.
Proudest DIY: Almost all aspects of our home are DIY. We installed the kitchen, put down the floor, and made the wooden furniture ourselves. However, our proudest DIY is the boys' room. We transformed a small den into a spacious bedroom for our boys with ample storage space. I've always wanted to have an imaginative and conceptual room for our children. For this project, we chose a forest as a theme. There was a small dead space on the left of the room. To maximize space, we built floor-to-ceiling cabinetry that resembles a tree trunk. This tree trunk consists of drawers, a diaper change station, and a spacious storage above them. We made three drawers, one for each boy's clothing. We purposely placed them in the lower section of the cabinet so that the boys can reach their own clothing. This is our conscious effort to promote independence and self care for our children.
We also built an overhead cabinet to store toys and craft supplies. We cut a big piece of solid pine board into various unique shapes to mimic the shape of a tree branch. These panels were then turned into doors for the overhead cabinet. At the end of the tree branch, we added a couple of leafy plants to complete the illusion of a forest.
We reused a lot of our old furniture to build it so we didn't need to buy a lot of new materials. For example, we repurposed our previous wooden table top for the changing station. We also used the old hinges from the old kitchen cabinets so that the only thing we needed to buy was the wood panels.
Biggest Indulgence: We spent most of our budget on building the kitchen from zero. We demolished the old kitchen until there was nothing but the floor. The old kitchen was old and dark-colored, so were all the appliances. To make a small space look bigger than it is, everything inside it needs to reflect light as much as possible. We didn't change the layout of the U-shape kitchen due to some condo regulations, but we managed to add several feet of depth inside the U-shape. Even though it's a small apartment, the kitchen has generous counter space and storage.
Everything in the kitchen was carefully chosen for its specific purpose. The cabinets are ceiling-height to maximize storage. They also have a gloss finish to make it effortless to clean up food and crayon mess. We opted for a push-to-open system to maintain a minimalist look. We also installed a built-in dishwasher and garbage drawer that are hidden behind the same style cabinet door. This creates a uniform look throughout the kitchen. As for the range, we chose a wide and slim microwave with a wide exhaust that can absorb smoke even if we are cooking using the front burner of our ceramic cooktop.
Although the installation was free as we did all the work, other than the plumbing, the cost of the appliances, the cabinets, and all the organizing boxes wasn't as cheap as we thought it would be. However, it is worth every penny.
Is there something unique about your home or the way you use it? Aside from the boys' unique bedroom, we transformed our bedroom closet into a home office. Since the pandemic, my husband has had to work from home. Our bedroom is the only room that has a door that separates itself from the other part of the apartment. We knew that it had to be in the bedroom so that he has a quiet space to focus during work. Between our bed and our dresser, there is not much space so we had to put the desk in the closet. This forced us to declutter our closets and organize the space to fit a home office. Here we also use containers and bins to keep it organized, which is crucial for maximizing a small space.
What are your favorite products you have bought for your home and why?
Please describe any helpful, inspiring, brilliant, or just plain useful small space maximizing and/or organizing tips you have:
Finally, what's your absolute best home secret or decorating advice?
This house tour's responses were edited for length and clarity.