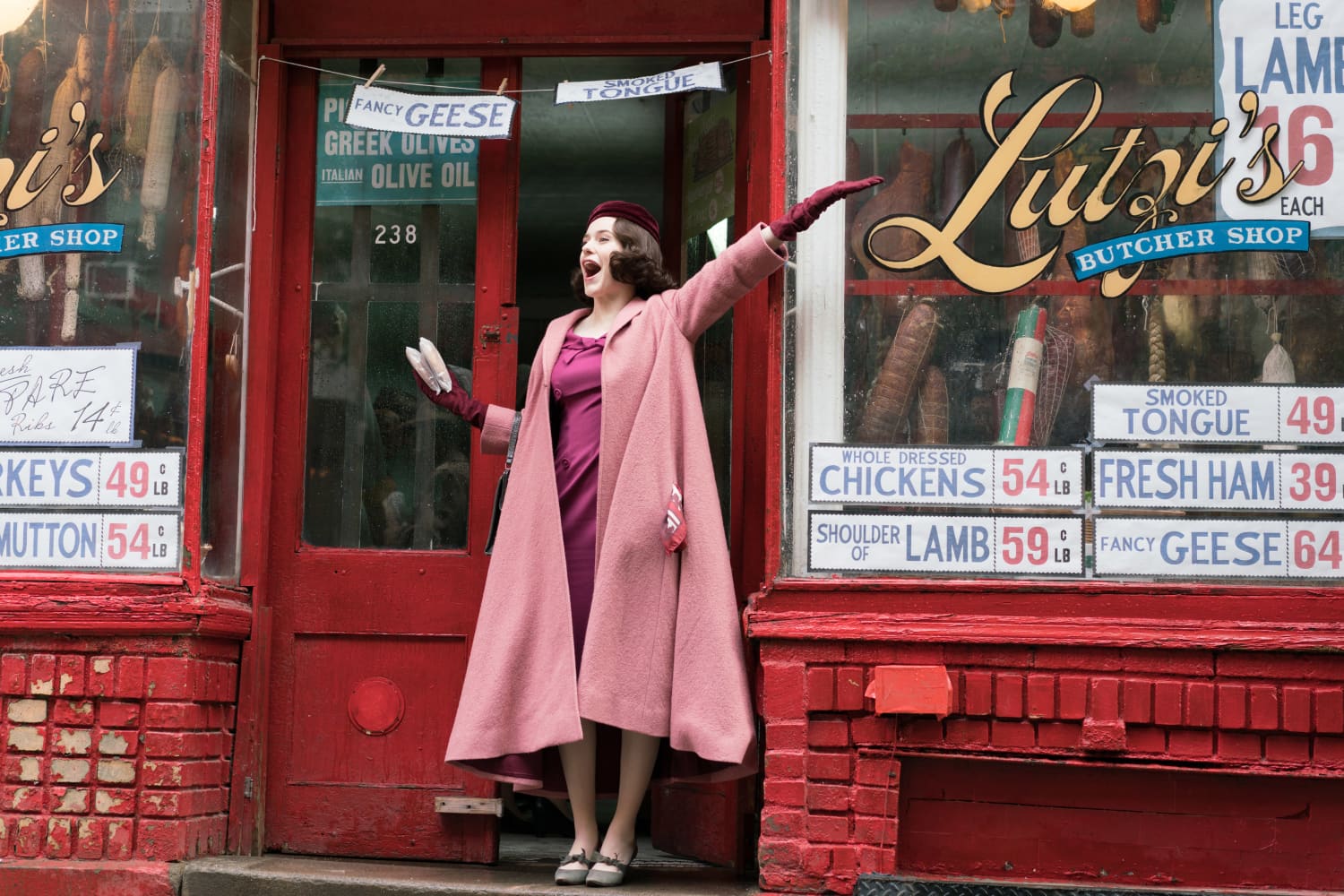 We independently select these products—if you buy from one of our links, we may earn a commission.
Season four of "The Marvelous Mrs. Maisel" (finally) returns to Prime Video on Feb. 18, and fans of the ever-popular comedy-drama series will be eager to immerse themselves in the whimsical and wonderful world of 1950s and 1960s New York once more.
To celebrate the much-anticipated new release, Modsy has has reimagined an entire house inspired by each of the series' most prominent characters and given them a 21st century updated them for modern day. From a bold and bright bedroom inspired by Midge's playful personality to a mid-century modern bachelor pad where Joel would feel right at home, these spaces are perfect for those who want to add a touch of the show to their home. Check out the spaces—along with expert commentary from the designers—below.
"Abe Weissman's study is a true reflection of his character- serious, studious and sophisticated. The Modern Grandmillenial style of this room (a top trend we're seeing continue in 2022!) features heirloom furniture with a strong, commanding presence tempered by luxury fabrics like velvet and silk that represent Abe's softer side – typically reserved for his grandson Ethan! Stacks of books haphazardly line the Merlot colored built-in bookcases (and punctuate every corner of the room, underscoring Abe's absent-minded-professor charm), while opulent decor such as oil paintings with gold gilded frames, antique brass light fixtures, and martini tables paired with wingback chairs indicate a strong Parisian influence. No doubt Mrs. Weissman had a hand in decorating this space!" – Hope Colling, Luxe Designer.
"Midge's room is a representation of her fabulous fashion sense—and loving character. Her space reflects the warmth of her personality, along with a playful edge represented in some of the more feminine touches, curved edges, welcoming textures and plush materials. Midge's desk area is the perfect place to jot down bit ideas, and a small entertaining area to practice her routine where Susie would no doubt hang out most of the time – plotting midge's acts and shows. Hat boxes are daintily decorated throughout the space, along with a vintage microphone and notepad on the sofa and desk—because there is never a moment when Midge can go without one! The furniture itself is a true reflection of mid-century forms and materials, mixed with more plush glam elements that speak to Midge's artful taste and exquisite style herself." – Karina Lameraner, Content & Imagery.
"A modern bachelor pad perfect for entertaining guests or lounging with a cocktail after work. Joel Maisel would feel right at home here with the tall industrial ceilings, bronze bare-bulb light fixtures, and tufted red leather sofa- all a nod to his makeshift apartment above his dad's dress factory. Mid-Century Modern silhouettes with classic patterns like gingham mixed in make this space feel retro yet tailored and masculine. I'm sure even the littlest Mr. Maisel, Ethan, would love visiting his dad here and playing with that shiny red toy car." – Mackenzie Rifkin, Senior Designer.
"The style of this bedroom is as straightforward as Susie Myerson herself. Simple, clean, modern, and takes subtle cues from Susie's well-known personal style, as seen in the striped patterns and leather touches throughout. What a perfect retreat in the midst of the bustling city to relax, smoke, and never stop taking calls!" – Becky Sturniolo, Senior VIP + Luxe Designer.