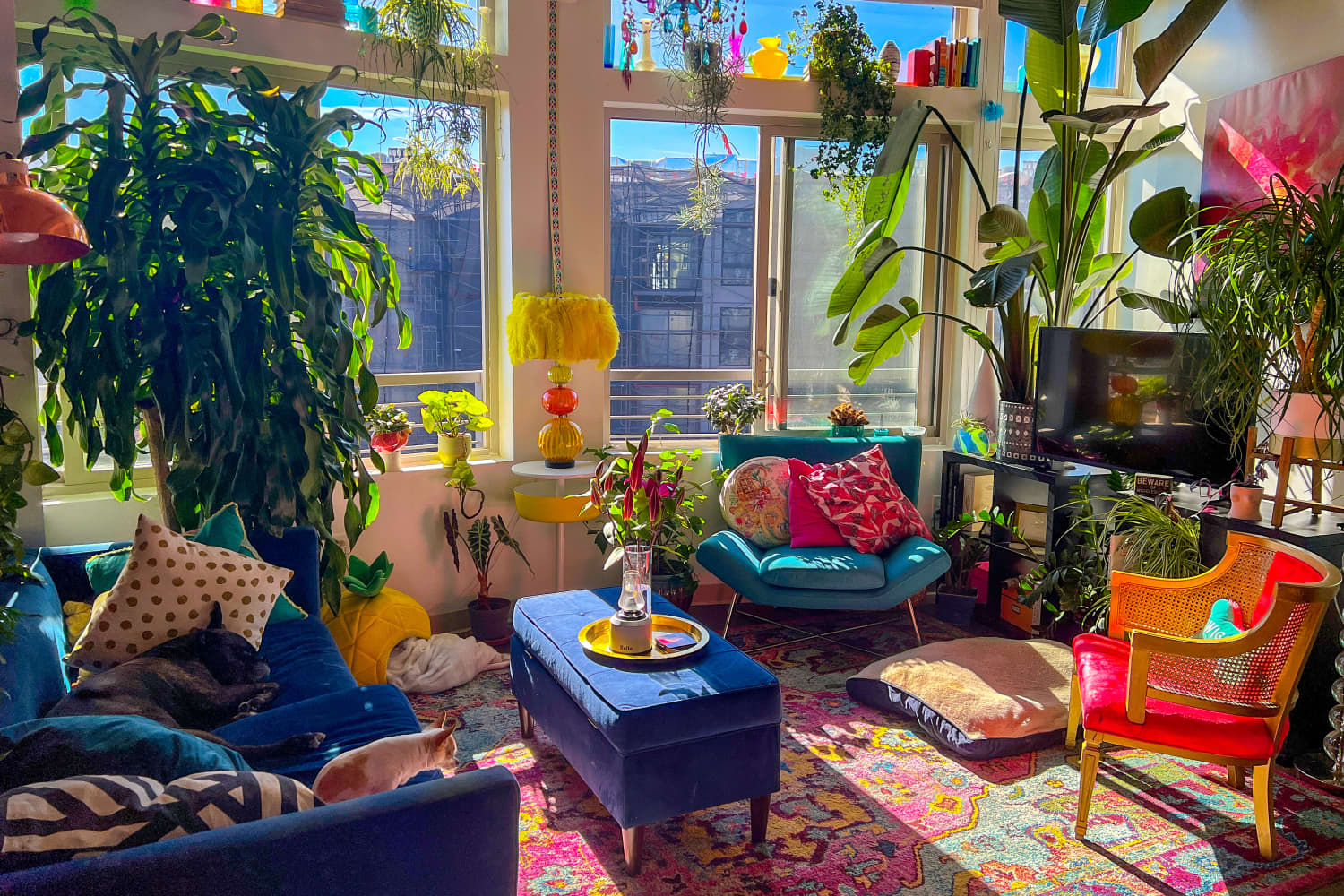 We independently select these products—if you buy from one of our links, we may earn a commission.
Name: Stephanie Wilson, boyfriend Matt, three-pound senior rescue Chihuahua, Gidget, and 80-pound Boxer, Sweet Pea
Location: Denver, Colorado
Type of home: Apartment
Size: 840 square feet
Years lived in: About 4 years, renting
Stephanie Wilson is the co-founder and editor-in-chief of Sensi Media, overseeing Sensi Magazine, a cannabis lifestyle magazine, so fittingly, she lives in the Mile High City — and in a really cool, colorful apartment.
Her 840-square-foot-space is in a retro mid-century-era apartment building. "I distinctly remember the first time I saw [the building]," Stephanie says. "I was on the requisite IKEA run one makes when they move to a new city when it caught my eye. 'Oh!' I thought. 'That place looks like home.'"
Two years after seeing the building, she moved into a window-filled unit with an incredible view of the Rocky Mountains, but eventually, because she was working from home, she outgrew the unit and moved into this similar two-bedroom unit where she would convert the second bedroom into an office.
She started her colorful, bold, and maximalist apartment-decorating journey by purchasing four foundational pieces (her blue sofa, a velvet bench with storage, an accent chair, and her colorful rug), and over the past three years, she's filled in the rest of her home with color and DIY artwork. "To this day, the vast majority of the art I own is related to either magazines or words," she says.
Read on to see how Stephanie turned archive issues of her many, many magazine subscriptions into one-of-a-kind, wall-to-wall artwork — and to see her fresh new take on bar carts.
Apartment Therapy Survey:
My Style: Maximalist to the max
Proudest DIY: I got into pour paints for a minute (or really a weekend, when Matt went away for Thanksgiving) and decided that the metal lampshades over the kitchen island were boring me.
Inspiration: I subscribe to a ton of magazines — like more than 20, typically. In my office/second bedroom, I installed a ClosetMaid Shelftrack system and filled it with magazine files that hold the archives of all the titles I subscribe to — more than 20 mainstream monthlies, give or take. Think: Esquire, Elle, Vogue, Vanity Fair, GQ, Wired, Marie Claire (RIP), New York, Harper's Bazaar, InStyle, Dwell, Cosmopolitan, Allure, Real Simple, Condé Nast Traveler, Food & Wine, House Beautiful, Health, Bitch, Apartamento, Broccoli, Gossamer, Double Blind…
I keep an archive of each title (stored alphabetically and chronologically — it's the only truly organized system I follow) and hate to part with old issues of most titles because I'll want to look at old issues for inspiration. (I've always worked for small, startup magazines that operate on startup budgets. As in, no money for research. I try to improvise by studying what the titles with big baller budgets are doing while devouring amazing indie magazines to keep my eye honed on what's new, what's now, what's next.)
Is there something unique about your home or the way you use it? We created Sensi in part to help change the conversation by presenting cannabis as a normal, everyday part of any wellness-driven lifestyle in a magazine targeting sophisticated urban readers. We shun stoner clichés and replace them with contemporary takes on cannabis-related topics. For example, instead of articles on how to grow your own plants, we ran a feature on how to incorporate cannabis plants into your home decor. My current mission in magazines is to make bong carts the hottest home decor trend of 2022. What's a bong cart? It's a bar cart with a bong on it, aka a water pipe, but really any pipe or stash box or vaporizing accessory will do. Why should bong carts be a thing? Why not?
Favorite Element: The main room — living room meets kitchen/great room — because it's the center of the apartment. It's a colorful core, it's where we gather, it's where life happens. And I find it to be incredibly inspiring and a complete reflection of the best parts of my personality. (I often joke it's like Miami exploded in this room a mile higher and 2,000 miles away from its tropical coast. Or something like that, but worded way better.) The huge southern-facing windows, the high ceilings with exposed concrete, and the stark white walls provided the PERFECT backdrop on which to create this living art project that's emerged all around us over the last four years. And it happened entirely by accident. I have zero formal design training … unless you count reading Apartment Therapy for the last decade "training."
Everything you see here was accomplished entirely by trial and error. There's the famous Picasso quote that says, "Learn the rules like a pro so you can break them like an artist," and I typically agree with that. But I don't know any of the design rules, so I wasn't afraid to break them. I throw paint around like confetti, I shove tacks in the wall and rearrange artworks with abandon, I play Tetris with the furniture whenever the mood strikes, I paste pretty magazine pages to canvases with nothing but a border of neon paint whenever the mood strikes (which is often). I read an article on Apartment Therapy about how painting a door jamb is an easy, renter-friendly way to add a pop of color to a room and then pull out a tube of neon yellow acrylic.
What are your favorite products you bought for your home and why? The chandelier in the living room was the finishing touch that ties the room together. I really wanted to go vintage but I needed something super light (read: plastic and new) because I couldn't drill into the concrete ceiling, but I had managed to get a tiny little hook nailed into the center beam, and it needed to plug in. The pandemic had also wreaked havoc on my finances, so it needed to be super affordable as well. I went back and forth on what size would be right for the room before settling on my chandelier. I love the way it looks.
Any advice for creating a home you love? Don't be scared of trying something different. It may turn out better than you ever could have dreamed. Hunting through thrift stores is a wonderfully inexpensive hobby that yields incredible treasures. January is the best time of year for great thrift store scores. People spend time over the holiday break cleaning out their homes to make room for the new. So if you pass a random thrift store in January, you're basically obligated to stop and see what they have in store for you.
Plants can make any room come alive. If you're one to forget to water regularly, get yourself a golden pothos and put it somewhere you can't miss, like on your kitchen counter. The plant lets you know when it's thirsty by getting super droopy — there's no ignoring it. And here's the best part: It does best when it's a little stressed, so when you notice it getting droopy, wait a day before you water it. Wait until even you feel parched looking at it, then give it a good soak. It will thank you by growing like the vine-like creature it is. Seriously. The only thing I give my plants is a little bit of powdered Miracle-Gro and water; the light takes care of the rest.
This house tour's responses were edited for length and clarity.